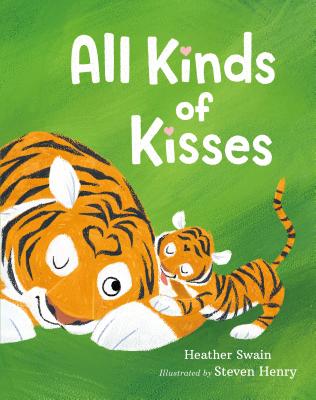 All Kinds of Kisses (Hardcover)
Feiwel & Friends, 9781250066503, 32pp.
Publication Date: December 26, 2016
Description
A grasshopper mouth opens east-west but not south. They're like scissors for chopping up leaves.
"Don't try to hide from a kiss on its side," says grandpa grasshopper to nymphs.
How would a grasshopper kiss?

Whichever it is, this much is true. When we say goodnight, I love all kinds of kisses from you
We humans smooch with our lips. But how do giraffes, whales, hummingbirds, tree frogs, and other creatures kiss? It's fun to wonder about and to see in the pages of this charming book, which includes facts about each animal at the end.
About the Author
Heather Swain's previous books for young readers include Me, My Elf and I, and Josie Griffin Is Not a Vampire. Hungry is her first novel for teens. She lives in Brooklyn, New York, with her family.Steven Henry (nee D'Amico) is the illustrator of It's Raining Bats and Frogs by Rebecca Colby, as well as the Ella the Elegant Elephant series. He lives in Seattle, Washington.
Advertisement