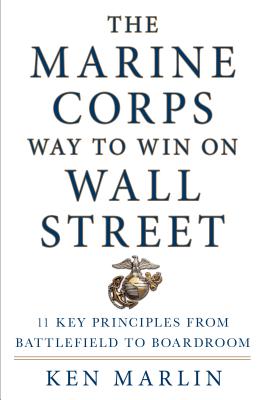 The Marine Corps Way to Win on Wall Street
11 Key Principles from Battlefield to Boardroom
Hardcover

* Individual store prices may vary.
Other Editions of This Title:
Digital Audiobook (8/29/2016)
CD-Audio (8/30/2016)
Description
Many Americans view Wall Street as a bastion of greed and corruption; a place that attracts people who don't deserve the money they make but are willing to break the law to get more of it. Yet for all their mistrust, many of these same Americans believe that Wall Street is essential for our economy to function. How do we fix it? Send in the Marines.

Known for its exemplary discipline, the Marine Corps ensures victory by obeying key commands, such as: establish clear, tactical objectives; know the terrain before heading into battle; identify and capitalize on combat advantages; control timing; leverage complementary skills within the unit; negotiate from a morally defensible position; harness strength of leadership to craft a bulletproof plan. Ken Marlin served ten years' active duty as a Marine officer before taking on the financial sector. He's seen this program of pride, professionalism, and fidelity work - from the battlefield to the boardroom.

Marlin is no socialist: he's a capitalist and risk-taker who enjoys earning money for himself and his clients. In The Marine Corps Way to Win on Wall Street, he teaches you the Marine Corps way to win on Wall Street and on Main Street: to sacrifice short-term gains for the long-term interests of your clients and your company. Deploying Marine-tested tactics, he engineers lasting, honorable success while lowering the ethical cost of doing business. That's the Marine Corps way.
Praise For The Marine Corps Way to Win on Wall Street: 11 Key Principles from Battlefield to Boardroom…
"Ken Marlin is a real player in the roller-coaster world of M&A and Wall Street. His formula for success in business is simple, and a great life lesson: understand the people you are doing a deal with and what they are trying to accomplish. Helping them get what they want gets you what you want -- success!"—Larry Kramer, Former Publisher of USA Today and current Chairman The Street.com

"In The Marine Corps Way to Win On Wall St., Ken Marlin lays out a compelling vision to improve Wall Street by returning to solid core values like taking the long view, behaving with honor, delivering excellence and working for a cause greater than money. Ken is one of the most knowledgeable and trustworthy investment bankers I know. He lives up to the standards in this book."--Joe Mansueto, Founder, Chief Executive Officer, Morningstar; Owner of Inc. and Fast Company magazines

"The attributes and virtues that have brought success to the Marine Corps since 1775 - honor, commitment, sacrifice, adherence to standards, striving to achieve a common purpose, unparalleled individual and organizational expertise, and team work - are not exclusive to Marines. They will work in almost any endeavor and especially on Wall Street. Ken Marlin hit a home run in describing just how that can and should be done."—Lt. General Robert R. Blackman, Jr., CEO of the Marine Corps Heritage Foundation

"Ken Marlin helped me sell my company iSuppli for $100 million. Forget all those other books on Wall Street. Ken Marlin's The Marine Corps Way to Win On Wall St. is the best book I've ever read on how to make money and win the right way."—Derek Lidow, Professor in Entrepreneurship, Princeton University, and author of START-UP LEADERSHIP.

"Ken Marlin's The Marine Corps Way to Win On Wall St. offers a fascinating re-think on how Wall Street ought to operate. This book resonates with practical insights from Ken's years as a Marine officer and as a Wall Street financier. I kept finding myself nodding my head in agreement!"—Royce Yudkoff, Cofounder ABRY Partners; Senior Lecturer, Harvard Business School

"The reputations of almost all institutions have suffered in recent years, certainly including the reputation of Wall Street. Ken Marlin, a rare Marine-turned-investment banker, shows how financial professionals can learn from the values of the highly regarded Marines to earn back the respect Wall Street needs from Main Street. America's return to confident, growing markets depends on it."—L . Gordon Crovitz, columnist; former publisher of The Wall Street Journal

"Few bankers are in Ken Marlin's league. And rarely does one of Wall Street's best take the time to explain the intersection of psychology, morality and experience that goes into a hard-won reputation as a "trusted advisor" and "honest broker." This book is a must-read for those seeking to up their business game, as well as for everyone else striving to achieve more in the game of life."--Barbara Yastine, Co-CEO, Lebethal Holdings LLC, Former Chair, CEO and President, Ally Bank

"A refreshingly frank, logical, and concise critique of Wall Street by Ken Marlin, who has both the moral courage AND the credentials--a Marine who became a successful Wall Street insider—to challenge the venerable Wall Street institution/culture. The Marine Corps Way to Win On Wall St. is a compelling must read."—Colonel Paul F. Pugh (USMC retired), Dean of Students at Villanova University; coordinator of relief efforts in Bosnia-Herzegovina

"Ken Marlin is an innovative and deeply experienced adviser. His clarion call for new standards of behavior in the capital markets is a fresh breeze. Ken applies The U.S. Marine Corps way to the markets in a manner that challenges all of us. His ideas are worth reading and debating."—Jules Kroll, CEO of Kroll Bond Ratings; founder and former CEO of Kroll Inc.

"Ken Marlin is well known for his straight-up Marine Corps approach to problem solving. I've observed his techniques personally, and they work. Every CEO would be well advised to read The Marine Corps Way to Win On Wall St.-whether or not they are contemplating dealing with Wall Street bankers."—Ed Miller, Chairman of American Express Bank, and former CEO of AXA Financial

"Ken Marlin 's book The Marine Corps Way to Win On Wall St. is right on target. And he is the real deal. As a banker with a successful m&a practice, an entrepreneur, a former tech company CEO; and a Marine, he brings a unique perspective to achieving success that resonates with practical insight that is rarely seen in practice. I've seen Ken's approach It works."— Sanjay Swani, General Partner, Welsh Carson Anderson & Stowe

"Ken Marlin's book The Marine Corps Way to Win On Wall St. should be required reading by CEOs on Main street as well as bankers on Wall Street – and those who would do business with them. He has been there – as a Marine, CEO, and a banker. The parallels between the Marine Corps teaching and success in the competitive financial sector are real. I've seen it first-hand."—Michael Geltzeiler, CFO ADT and former CFO New York Stock Exchange

Why do great military leaders so often make great CEOs? Ken Marlin answers that question in his new book "The Marine Corps Way to win on Wall Street". Marlin is a frequent and popular guest at the Harvard Business School's entrepreneurship class. At our classes and with this book he helps us see that the skills he learned and developed in the service of our country can greatly improve your chances of winning on Wall Street and in corporate America. With this book you no longer have to go through Marine Corps Basic Training to learn how to make your company a winner. Marlin provides a clear program for creating a successful culture and building toward long-term success.--Professor Richard S. Ruback, Willard Prescott Smith Professor of Corporate Finance, Harvard Business School
St. Martin's Press, 9781250066664, 256pp.
Publication Date: August 30, 2016
About the Author
KEN MARLIN is a Marine-turned-corporate executive. Between 1970 and 1981, he rose from the enlisted ranks to become a Marine captain and infantry commander. He's spent his thirty-plus years on Wall Street applying Marine Corps principles to business. The founder and managing partner of the award-winning investment bank Marlin & Associates, he is a member of the Market Data Hall of Fame, twice named one of Institutional Investor's "Tech 50." He lives in Manhattan with his wife and daughter.