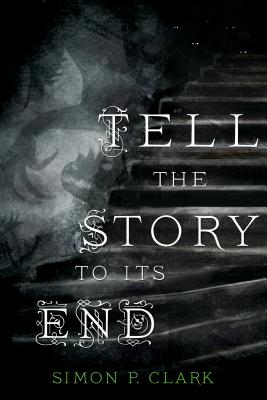 Tell the Story to Its End
A Novel
Hardcover

* Individual store prices may vary.
Description
"Tell the story to its end," says Eren with a grin.
His yellow eyes are glowing like embers in the night.
"When I reach the end," I say, "what happens? You'll have the whole story."
"Hmm," he says, looking at me and licking his lips with a dry, grey tongue. "What happens then? Why don't we find out?"
People are keeping secrets from Oli. His mum has brought him to stay with his aunt and uncle in the countryside, but nobody will tell him why his dad isn't there, too. Why hasn't he come with them? Has something happened? Why won't anyone talk about it? Oli has a hundred questions, and only an old, empty house in the middle of an ancient forest for answers. But then he finds a secret of his own: there is a creature that lives in the attic...
Eren is not human.
Eren is hungry for stories.
Eren has been waiting for him.
With Eren to listen, Oli starts to make sense of what's happening. But Eren is powerful, and though he's willing to help Oli, he's not willing to do it for free; he wants something in return. Oli must make a choice: he can learn the truth -- but to do so he must abandon himself to Eren's world, forever.
From striking new voice Simon P. Clark comes Tell the Story to Its End; richly atmospheric, moving, unsettling, and told in gorgeous prose, it is a modern classic in the making.
-----
"Sure-footed, distinctive, strange, poetic. Simon P. Clark is a truly interesting new voice."—David Almond, award-winning author of Skellig
"Unflinchingly dark and unforgettably creepy, Tell the Story to Its End will have you in its grip."—Anne Ursu, award-winning author of The Real Boy and The Shadow Thieves
"Offering a spiral of stories within stories, this atmospheric first novel features a boy searching for truth, who gets sidetracked by a remarkable discovery. Echoing the surreal quality and settings of David Almond's books, this novel adeptly mixes fantasy with reality and leaves some pressing questions unanswered." —Publishers Weekly
"Debut British-American author Clark creates a tale with mythic largesse…The book explores the relationship between truth and fiction, the essence of story, and the urgency of putting dreams and experiences into words 'to fire imaginations and break worlds.' Savvy readers and would-be writers will love this exploration of story as an art form, a panacea, and an endless part of life." —Kirkus Reviews
"The magical realism and storytelling details will draw fantasy readers, who will find meaty substance and enough Britishisms to lend flavor. While the conclusion is entirely logical, it's unexpected and will spark discussion, challenging readers to reflect on the nature of both stories and reality." —Booklist
"Eren has echoes of A Monster Calls by Patrick Ness or Skellig by David Almond. It's dark, poetic and feels as ancient as stories themselves."—Readings.com
"This is skillful storytelling; the kind that feels destined to become a classic."—Katelliswrites.com
"Incredibly dark and delicious."—Diva Book Nerd
"One of those books that you really have to read…The story was so beautifully written that it throws you into the borders of reality and fantasy."—Sporadic Reads
Praise For Tell the Story to Its End: A Novel…
"Savvy readers and would-be writers will love this exploration of story as an art form, a panacea, and an endless part of life." - Kirkus Reviews
"Clark does an admirable job of conveying Oli's wonder, confusion, and frustration as he strays farther and farther from reality... Adeptly mixes fantasy with reality." - Publishers Weekly
St. Martin's Griffin, 9781250066756, 208pp.
Publication Date: October 20, 2015
About the Author
Simon P. Clark is a founding member of We Are One Four bringing together UK & US authors with MG/YA debuts, in order to promote one another's work and spread awareness. He grew up in England, has taught English in Japan, and now lives in New Jersey. Tell the Story to Its End is his first novel.
or
Not Currently Available for Direct Purchase