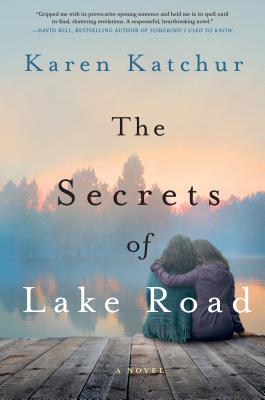 The Secrets of Lake Road
A Novel
Hardcover

* Individual store prices may vary.
Other Editions of This Title:
Hardcover, Large Print (11/25/2015)
Description
*A Library Journal best debut selection*
Jo has been hiding the truth about her role in her high school boyfriend's drowning for sixteen years. Every summer, she drops her children off with her mother at the lakeside community where she spent summers growing up, but cannot bear to stay herself; everything about the lake reminds her of the guilt she feels. For her daughter Caroline, however, the lake is a precious world apart; its familiarity and sameness comforts her every year despite the changes in her life outside its bounds. At twelve years old and caught between childhood and adolescence, she longs to win her mother's love and doesn't understand why Jo keeps running away.
Then seven-year-old Sara Starr goes missing from the community beach. Rescue workers fail to uncover any sign of her-but instead dredge up the bones Jo hoped would never be discovered, shattering the quiet lakeside community's tranquility. Caroline was one of the last people to see Sara alive on the beach, and feels responsible for her disappearance. She takes it upon herself to figure out what happened to the little girl. As Caroline searches for Sara, she uncovers the secrets her mother has been hiding, unraveling the very foundation of everything she knows about herself and her family. The Secrets of Lake Road by Karen Katchur is a riveting novel that is impossible to put down and hard to forget.
Praise For The Secrets of Lake Road: A Novel…
"This beautiful, heartbreaking, and affecting debut, reminiscent of the work of Heather Gudenkauf, will have readers craving more from Katchur." —Library Journal, starred review
"Karen Katchur's The Secrets of Lake Road gripped me with its provocative opening sentence and held me in its spell until its final, shattering revelations. This is a powerful thriller about buried secrets that painfully resurface, innocence lost across the generations, and the terrible price we pay for growing up and growing older. Karen Katchur knows how to write and write well about ordinary people stretched to their limits. A suspenseful, heartbreaking novel." —David Bell, bestselling author of The Forgotten Girl
"Karen Katchur's memorable debut is a haunting story taut with suspense and packed with hope, loss and poignancy. It's a tale about the heartbreak of parenthood, the exhilaration of first love, the evolution of friendship and the complexity of family. Readers won't want to put it down until the final page has been turned and the heart of the mystery revealed." —Marilyn Brant, New York Times bestselling author of The Road to You
"At once gripping and evocative, The Secrets of Lake Road conjures childhood's best and worst moments--its secret joys and terrors, its hopefulness and uncertainty. Katchur skillfully weaves between past and present, revealing devastating truths along the way." —Paula Treick DeBoard, author of The Mourning Hours and The Fragile World
"A lake's murky depths hide past secrets in this unforgettable debut. Karen Katchur deftly infuses a summer lake colony with nostalgia-damp bathing suits, the bang of a cottage door, a pavilion jukebox playing old songs. But this summer, no one goes into the water. Part tender coming-of-age, part edge-of-your-seat suspense, The Secrets of Lake Road lured me in from its opening pages. Pick up this book forewarned that you will do nothing else until you finish reading it." —Karen Brown, author of The Longings of Wayward Girls
"This is the perfect book for a sultry summer afternoon: it conjures cicada song in the heat, woodsy green shade, and a lake that hides its secrets deep. The Secrets of Lake Road is a true storyteller's story, at once a relentlessly gripping mystery that builds suspense from its opening words, and also a wise examination of the trouble with mothers and daughters." —Bethany Chase, author of The One That Got Away
"Drenched in atmosphere, mysterious and haunting, The Secrets of Lake Road dives deep into a community's secrets and shows how love and heartache can be equally binding. I lost days to this book as I couldn't stop reading." —Sara Foster, author of Beneath the Shadows
"The Secrets of Lake Road will have you turning the pages faster than you thought possible, desperate to find out what mysterious event has fractured the residents of this haunting lake. With her refreshing and affecting portrayals of mothers and daughters, summer communities, and the precarious age of twelve, Karen Katchur has written a book whose setting and characters will gnaw at you every time you try to put it down." —Taylor Jenkins Reid, author of Forever, Interrupted
"With chilling unease that keeps you turning pages, Katchur deftly evokes the way youthful actions echo through our lives. Nostalgia wrestles tragedy in this haunting tale." —Kathryn Craft, author of The Art of Falling and The Far End of Happy
"The rhythms of a summer community, the tensions of an unsolved crime, and the thrumming undertow of adolescence come together in this sparkling debut. Beautifully paced from captivating beginning to satisfying end." —Kelly Simmons, author of Standing Still and The Bird House
"The Secrets of Lake Road will grab you from the first sentence and pull you under with the power of the story contained within its depths. Karen Katchur perfectly renders the nostalgia of summers past, as well as the often unfathomable mystery of the lakes these summers are spent beside. Captivating and highly addictive, this story will break your heart - and then renew your faith in love." —Marissa Stapley, author of Mating for Life
"The Secrets of Lake Road is an engrossing debut, skillfully unearthing the complex secrets of a deftly-portrayed small resort town as it navigates the aftermath of tragedies past and present." —Jenn Crowell, author of Etched on Me
Thomas Dunne Books, 9781250066817, 320pp.
Publication Date: August 4, 2015
About the Author
Karen Katchur holds a Bachelor of Science degree in Criminal Justice from West Chester University and a Masters of Education degree from East Stroudsburg University. She lives in Eastern Pennsylvania with her husband and two children. She is the author of The Secrets of Lake Road.
or
Not Currently Available for Direct Purchase