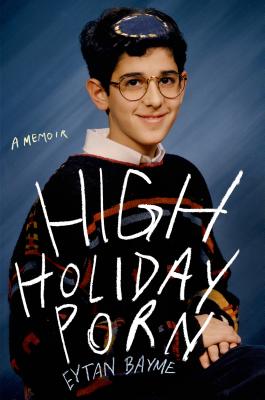 High Holiday Porn
A Memoir
Hardcover

* Individual store prices may vary.
Other Editions of This Title:
Paperback (12/6/2016)
Description
Eytan Bayme went to Jewish day school and Jewish camp. He lived across the street from a synagogue in the Bronx, which he attended weekly, and ate strictly kosher food for most of his childhood. Yet even at the age of six, he wanted to know what the deal was with those Pizza Huts and Burger Kings that he wasn't allowed into "God wouldn't put them on earth if He didn't mean for us to try them," he thought. Wasn't that obvious? Also, why can't he stop thinking about his female classmates in bed, late at night, with his little brother not five feet away; and how come the starting line-up for the 1986 Mets keep creeping into those fantasies? Religious life is difficult enough without the urges of a typical adolescent boy, yet Eytan's urges develop well before his teens, and they just keep on developing and developing.
High Holiday Porn is a heartwarming and hilarious story about learning to become an adult. It chronicles how an anxious boy finally stops masturbating in public, gets the girl, grows up, and begrudgingly makes peace with the unfairness of life and love. It's a funny, fantasy-laden, usually embarrassing, sometimes raunchy and always outrageous look at coming of age that will resonate with anyone who ever felt awkward growing up.
Praise For High Holiday Porn: A Memoir…
"Have you heard? Mark Twain is back among us, reincarnated as a Jewish kid from the Bronx named Eytan Bayme. Or so it must be. In High Holiday Porn, Bayme captures boyhood in a way not quite seen since The Adventures of Tom Sawyer-in other words, in all its mischievous, mysterious glory. Very few books make me laugh out loud, but High Holiday Porn did so on page after page. And when I wasn't laughing, I was nodding in understanding. The formative male is an enigma not easily cracked; Bayme nails it with laser insight-and an abundance of hilarity and heart." —John Grogan, author of "Marley & Me" and "The Longest Trip"
"A sad, funny, painfully honest peek behind the curtain and into the hormonal maelstrom of male adolescence." —Jonathan Tropper, author of "One Last Thing Before I Go" and "This is Where I Leave You"
"Most people have compulsions. Eytan Bayme discovers his at age six. And, given the title of his book, you might be able to guess their nature. If you ever thought you were an excessive self-soother, this laugh-out-loud memoir will definitely make you feel better about yourself. If you ever thought you were a precocious one, it may burst your bubble." —Mishna Wolff, author of "I'm Down"
"High Holiday Porn is a brutally honest and genuinely funny confession of an adolescence even more awkward than yours." —Kimberly Rae Miller, author of COMING CLEAN
"The combination of comedic Jewish coming-of-age story and masturbation can't help but conjure up images of Philip Roth's Portnoy's Complaint." —Kirkus Reviews
St. Martin's Press, 9781250067227, 304pp.
Publication Date: August 25, 2015
About the Author
Eytan Bayme is a graduate of McGill University and a former stage actor. Originally from New York City, he lives with his wife in London. High Holiday Porn is his first book.
or
Not Currently Available for Direct Purchase