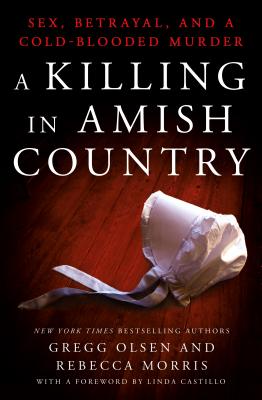 A Killing in Amish Country (Hardcover)
Sex, Betrayal, and a Cold-blooded Murder
St. Martin's Press, 9781250067234, 304pp.
Publication Date: July 5, 2016
* Individual store prices may vary.
Description
At just 30 years old, with dark-blonde hair and freckles, Barbara Weaver was as pretty as the women depicted on the covers of her favorite "bonnet" stories - romance novels set in Amish America. Barbara had everything she'd ever wanted: five beautiful children, a home, her faith, and a husband named Eli. But while Barbara was happy to live as the Amish have for centuries - without modern conveniences, Eli was tempted by technology: cell phones, the Internet, and sexting. Online he called himself "Amish Stud" and found no shortage of "English" women looking for love and sex. Twice he left Barbara and their children, was shunned, begged for forgiveness, and had been welcomed back to the church.
Barb Raber was raised Amish, but is now a Conservative Mennonite. She drove Eli to appointments in her car, and she gave him what he wanted when he wanted: a cell phone, a laptop, rides to his favorite fishing and hunting places, and, most importantly, sex. When Eli starts asking people to kill his wife for him, Barb offers to help. One night, just after Eli had hitched a ride with a group of men to go fishing in the hours before dawn, Barb Raber entered the Weaver house and shot Barbara Weaver in the chest at close range.
It was only the third murder in hundreds of years of Amish life in America, and it fell to Edna Boyle, a young assistant prosecutor to seek justice for Barbara Weaver.
About the Author
Gregg Olsen has been a journalist and investigative author for more than twenty years. He is the recipient of numerous writing, editing, and photojournalism awards, including citations of excellence from the Society of Professional Journalists (Sigma Delta Chi), the International Association of Business Communicators, Washington Press Association, Society of Technical Communication, and the Public Relations Society of America. He is the author of Abandoned Prayers, A Twisted Faith, and Cruel Deception, among others.
A resident of Washington state, Olsen has been a guest on dozens of national and local television shows, including educational programs for the History Channel, Learning Channel, and the Discovery Channel. Olsen also appeared several times on CBS's 48 Hours, MSNBC's Special Edition, Entertainment Tonight, Sally Jesse Raphael, Inside Edition, and Extra. He has been featured in USA Today, Salon Magazine, Seattle Times, and the New York Post. His true crime books include If I Can't Have You and Cruel Deception.
Rebecca Morris is the New York Times bestselling author of Bodies of Evidence as well as If I Can't Have You: Susan Powell, Her Mysterious Disappearance and the Murder of Her Children (both with Gregg Olsen). They are also the authors of a series of books, Notorious USA, about infamous crimes in every state.
She is the author of the bestseller Ted and Ann: The Mystery of a Missing Child and Her Neighbor Ted Bundy, and Bad Apples: Inside the Teacher/Student Sex Scandal Epidemic.
As an award-winning reporter Rebecca Morris worked in journalism in New York City; Portland, Oregon; and Seattle, Washington. She lives in Seattle.
Praise For A Killing in Amish Country: Sex, Betrayal, and a Cold-blooded Murder…
"Olsen's [writing] is both gossipy and sympathetic, searing and brilliant. . . . A must read for true crime aficionados and students of abnormal psychology! I read until 3 a.m.!" —Ann Rule on If Loving You is Wrong
"Gregg Olsen is one of this country's favorite true crime writers…Olsen takes readers behind the scenes of this fascinating case." —Tucson Citizen on A Twisted Faith
"As good as it gets." —Lee Child on A Wicked Snow
"A rapid-fire page-turner." —Seattle Times on A Twisted Faith
"A disturbing portrait of a community undone by its appealing young pastor…. An unsettling story of a man who committed murdered and then used his charm and his power as a man of God to exploit his congregants and satisfy his sexual obsession." —Publishers Weekly on A Twisted Faith
"Dark, atmospheric, riveting suspense . . . Gregg Olsen is one of the best." —Allison Brennan, New York Times bestselling author of Fear No Evil on A Cold Dark Place