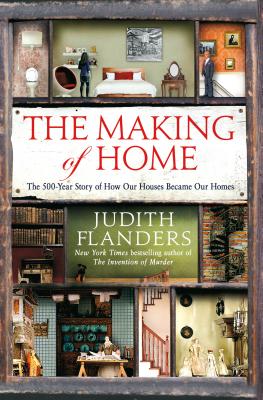 The Making of Home
The 500-Year Story of How Our Houses Became Our Homes
Hardcover

* Individual store prices may vary.
Other Editions of This Title:
Paperback (10/25/2016)
Description
The 500-year story of how, and why, our homes have come to be what they are, from the critically acclaimed New York Times bestselling author of The Invention of Murder and The Victorian City

The idea that "home" is a special place, a separate place, a place where we can be our true selves, is so obvious to us today that we barely pause to think about it. But, as Judith Flanders shows in her most ambitious work to date, "home" is a relatively new idea.

In The Making of Home, Flanders traces the evolution of the house from the sixteenth to the early twentieth century across northern Europe and America, showing how the homes we know today bear only a faint resemblance to homes though history. What turned a house into a home? Why did northwestern Europe, a politically unimportant, sociologically underdeveloped region of the world, suddenly became the powerhouse of the Industrial Revolution, the capitalist crucible that created modernity? While investigating these important questions, Flanders uncovers the fascinating development of ordinary household items--from cutlery, chairs and curtains, to fitted kitchens, plumbing and windows--while also dismantling many domestic myths.

In this prodigiously researched and engagingly written book, Flanders elegantly draws together the threads of religion, history, economics, technology and the arts to show not merely what happened, but why it happened: how we ended up in a world where we can all say, like Dorothy in Oz, "There's no place like home."
Praise For The Making of Home: The 500-Year Story of How Our Houses Became Our Homes…
"Judith Flanders's new book isn't just smart and diverting but it is also brave… Flanders uses books well and pictures intelligently, searching images for hidden meaning… this book has charm and learning."—The New York Times Book Review

"The heart of Ms. Flanders's book traces the physical alteration of houses over the past five centuries… A useful synthesis for those interested in architectural history and material culture"—The Wall Street Journal

"When did houses evolve into homes? You'll find out in Flanders' lively trek through some 500 years of history."—Entertainment Weekly, "Fall Books Preview, Riveting Nonfiction"

"Flanders, a historian best known for her works on Victorian culture, has a knack for finding surprising, alternative perspectives on the familiar. In her new book, she takes an unconventional look at how our modern idea of home came to be." —The Washington Post

"No one writes about history like Judith Flanders. Reading her work (The Victorian City, Inside the Victorian Home) is like going back in time with an expert guide at your side.… In The Making of Home, Flanders helps us appreciate how much there is to know about something we care about so deeply."—BookPage

"[Flanders] provides illuminating discussions about evolving home life as impacted by societal and economic changes. Some segments, for their value in understanding home traditions from the past, beg to be broken off and expanded into their own books… Flanders has written a book that is chock-full of absorbing information that will change how readers think about and understand their own homes – whether they are squeezed into a city apartment or lost in a multi-room manor."—The Christian Science Monitor

"An engrossing tour... It's a fascinating, eye-opening examination of just how far we've come in five centuries...It's possible to pick out any one of 100 different threads in Flanders's work and marvel at how they're all interconnected; you'll never take a fork for granted again."—Publishers Weekly, starred review

"Over 500 years we moved out of huts and into McMansions, but British social historian Flanders says there are many aspects to home, including some that are just a state of mind."—St. Louis Post-Dispatch, "Fall Book Preview"

"Extensively researched and eminently readable… Flanders' treatise is an encyclopedic examination of how humans have redefined what it takes to survive."—Booklist

"The content is scholarly and well researched but is presented in a manner accessible to the general reader...Recommended for social historians as well as fans of HGTV and design blogs who are interested in learning more about the history of the home."—Library Journal

"Covering all aspects of home life, Flanders even delves into modern architecture, popular in the house countries, which creates designs for ostentation rather than usefulness. The author's extensive knowledge of lifestyles and simple, concise writing combine for an enjoyable book showing how families have joined, separated, and rejoined over the last 500 years."—Kirkus Reviews

"Flanders' prose is witty and lucid, her ideas stimulating... In this clever and entertaining book she gives the everyday, from bed-making to drain-pipes, all the vivid interest of something newly made strange." —London Sunday Times

"Enthralling... A delicious yet nerdy treat." —London Times

"A treasure chest, bursting with facts and thoughts about what homes mean and how they have been lived in: a perfect book to curl up with in the comfort of your own." —Mail on Sunday (UK)

"Magnificent... wonderfully rich and witty." —Times Literary Supplement (UK)

"Flanders is at her riveting best when she gets right down to the housework. Flanders demonstrates how nakedly the measure of our social worth is laid out in domestic consumables. She is an efficient debunker of myths about poverty, family and the past. In her search for meaning she wipes the dust, clears the cobwebs and pulls the stuffing out of the cushions. It is in the down and dirty of the home that our hopes and delusions are revealed." —Financial Times (UK)

"From the humble shack to the modern high-rise, Judith Flanders brilliantly illuminates the meaning of 'home' throughout history. The Making of Home is a fascinating and ambitious exploration into the soul of family life. We are more than what we eat, we are also how we live." —Amanda Foreman, New York Times bestselling author of The Duchess

"A well-stuffed compendium on the transformational era in the history of London that fed both Charles Dickens' imagination and his well of outrage.... Flanders writes with bubbling enthusiasm about the old markets, Covent Garden and Smithfield, with their accompanying din and smells, and the plethora of life we only know through Dickens' eyes: the street vendors and artists, matchstick sellers, slum dwellers, prostitutes, habitués of gin palaces and prisoners. A terrific companion while reading Boz himself." —Kirkus on THE VICTORIAN CITY

"Flanders (The Invention of Murder) successfully recreates the feel of London at Dickens's peak as she delves deep into the rhythms and architecture of particular neighborhoods…. Flanders's expertise shines when exposing Dickens's embellishments, particularly when his character Fagin faces execution rather than the less powerful but more realistic punishment of deportment. This well-researched sociological overview provides highly detailed context for cultural touchstones, while shattering the popular yet inauthentic image of a pristine Victorian age that never existed." —Publishers Weekly on THE VICTORIAN CITY

"Outstanding." —Sunday Times (London) on THE VICTORIAN CITY

"The teeming, bustling, hand-to-mouth and often smelly facts of mid-19th century urban life have seldom been more vividly presented than in this book." —Literary Review on THE VICTORIAN CITY

"With infectious enthusiasm Judith Flanders dives into the sights, smells, sounds and grit of what was then the largest city the world had ever known: London." —Sunday Telegraph (London) on THE VICTORIAN CITY

"Full of detail and colour about everyday life in Dickens's London, and leaves you with a sense not only of how hard life was then, but how strange. Even if you've read Dickens and the contemporary historians of the poor, there is still more to marvel at here." —Sebastian Faulks, Mail on Sunday Books of the Year (London) on THE VICTORIAN CITY

"A quite extraordinary book, which I read with much enjoyment: an intoxicating blend of London, life and literature... I think it's Judith Flanders' best book yet, which is saying something." —Andrew Taylor

"Meticulous and gripping... Flanders says that Dickens appealed to contemporaries because he gave them a voyage into the unknown: into parts of London they did not know and where they would not venture. She does something similar for us. The strangeness remains, but the voyage is unforgettable." —Independent (UK) on THE VICTORIAN CITY

"Flanders captures the variety and colour of 19th-century London, stirring admiration and indignation by turns. To lead us through the Victorian capital, through its hustle and sprawl, its dangers and entertainments, you couldn't hope for a better guide." —New Statesman (UK) on THE VICTORIAN CITY

"Recreates the textures of everyday life with an anthropologist's understanding of human behaviour alongside a storyteller's eye for character." —Daily Telegraph (UK) on THE VICTORIAN CITY

"Judith Flanders's wonderful, sometimes appalling The Invention of Murder: How the Victorians Reveled in Death and Detection and Created Modern Crime, is a guidebook to notably grisly true-life tales... [Flanders] shines in her readings of literary novels containing criminal and detective elements, such as Oliver Twist, Mary Barton and Tess of the D'Urbervilles, but can be sharp and very funny about the vagaries of melodramatic and sensational plotting. Holmes once chided Watson, 'You see but you don't observe.' Ms. Flanders does both. This is an enticing book for any reader who, like the genteel lady in Emily Eden's The Semi-Detached House (1859), admits: 'There is such a grand murder in the paper . . . a whole family poisoned . . . it is very shocking, but I like to hear about it.'" —Wall Street Journal on THE INVENTION OF MURDER

"Flanders' meticulous research, personable style and keen insights are bliss for anyone interested in the Victorians and their quirks." —Seattle Times on THE INVENTION OF MURDER

"Superb... Flanders's convincing and smart synthesis of the evolution of an official police force, fictional detectives, and real-life cause célèbres will appeal to devotees of true crime and detective fiction alike." —Publishers Weekly, starred review on THE INVENTION OF MURDER

"Brilliantly researched and rendered, this is an indispensible read for anyone—scholars and the general public alike—who harbors an interest in the evolution of the notion and representation of murder….Flanders presents a fascinating narrative in well-crafted and at times suitably ironic praise." —Library Journal, starred review on THE INVENTION OF MURDER
Thomas Dunne Books, 9781250067357, 368pp.
Publication Date: September 8, 2015
About the Author
JUDITH FLANDERS is an international bestselling author and one of the foremost social historians of the Victorian era. Her book Inside the Victorian Home was shortlisted for the British Book Awards History Book of the Year. Judith is a frequent contributor to the Daily Telegraph, Guardian, Spectator, and the Times Literary Supplement. She lives in London.
or
Not Currently Available for Direct Purchase