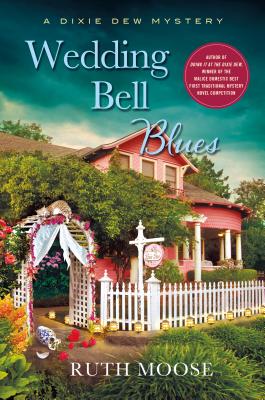 Wedding Bell Blues
A Dixie Dew Mystery (A Beth McKenzie Mystery #2)
Hardcover

* Individual store prices may vary.
Description
Beth McKenzie, owner of the Dixie Dew Bed and Breakfast, is enjoying an exciting affair with her new love, Scott. Meanwhile, the town of Littleboro, North Carolina is abuzz with gossip about Crazy Reba's upcoming nuptials. Most brides go crazy at some point, but Littleboro's resident homeless lady has had a head start: she's beloved, indulged, and most of all, eccentric. But at almost 60—or thereabouts—her marriage seems a little peculiar. Sure, she's sporting a diamond big enough to choke a horse, but no one can tell if it's real, or just a Cracker Jack prize she pilfered from a yard sale.

Crazy Reba's wedding plans go confirmedly awry when the bride-to-be is arrested for her fiancé's murder. Beth, determined to clear Reba's name, gets in over her head when a lady wrestler who threatened to kill her books a room at the Dixie Dew, and Robert Redford, her neighbor's white rabbit, disappears.

Then Littleboro's First Annual Green Bean Festival gets up and running, a famous food writer becomes deathly ill, and Beth must battle through madcap mayhem to apprehend the culprit and save the day.

Wedding Bell Blues is Ruth Moose's sequel to her winning debut, featuring her colorful array of characters and more laughs and hilarity.
Praise For Wedding Bell Blues: A Dixie Dew Mystery (A Beth McKenzie Mystery #2)…
"Ruth Moose is at it again, using her considerable wit and humor to chronicle the lives of her small town Southeners, Wedding Bell Blues is a worthy successor to Doing it at the Dixie Dew."-- Ron Rash

"Beth is an appealing character, and the southern, small-town setting and the quirky secondary characters, especially Beth's employee, Ida Plum, are interesting and well drawn"-- Booklist

"Plenty of quirky characters and Southern charm."--Kirkus Reviews

"The variety of personalities makes for a fun cast of characters."--Publishers Weekly

"Moose's delightful first cozy, winner of the Malice Domestic Competition for Best First Traditional Mystery Novel, stars Beth McKenzie, who returns to her hometown of Littleboro, N.C., to open the Dixie Dew Bed and Breakfast…Little old ladies in gloves and hats, financial shenanigans, a large rabbit, and the fishbowl life of a small town add to the fun." —Publishers Weekly on Doing It at the Dixie Dew

"Quirky characters, the beginnings of a romance, and the southern setting add to a story that will appeal to fans of Mary Daheim's Bed-and-Breakfast mysteries and Sarah Graves' Home Repair Is Homicide series." —Booklist on Doing It at the Dixie Dew

"Welcome to the Dixie Dew where the mysterious Miss Lavinia Lovingood meets her unfortunate end in a small Southern town peopled with zany–and I might add, suspicious–characters. I felt right at home there, although I did look over my shoulder during the whole delightful visit. A cuddle-up-by-the-fire kind of book. Put on the kettle!" —Mignon F. Ballard, author of Miss Dimple Picks A Peck Of Trouble, on Doing It at the Dixie Dew
Minotaur Books, 9781250067418, 336pp.
Publication Date: August 23, 2016
About the Author
RUTH MOOSE is the 2013 winner of the Minotaur Books/Malice Domestic Competition. She won the PEN Award for Syndicated Fiction, the Robert Ruark Award for the Short Story, and the Sam Ragan Fine Arts Award. She has received 3 Pushcart nominations and a National Endowment of the Arts Fellowship. She's published three collections of short stories and six collections of poetry, and is the author of Doing It at the Dixie Dew. She was on the Creative Writing faculty at UNC Chapel Hill for fifteen years. Moose lives in Pittsboro, North Carolina.
or
Not Currently Available for Direct Purchase