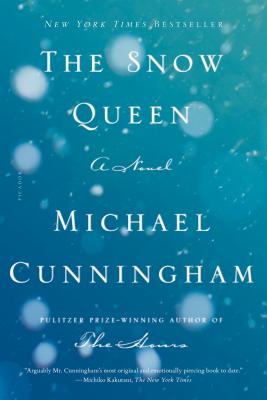 The Snow Queen (Paperback)
A Novel
Picador, 9781250067722, 272pp.
Publication Date: May 5, 2015
Other Editions of This Title:
Digital Audiobook (5/5/2014)
Digital Audiobook (5/12/2014)
Paperback, French (3/19/2015)
CD-Audio (5/6/2014)
Hardcover (5/6/2014)
Pre-Recorded Audio Player (9/15/2014)
Library Binding, Large Print (6/1/2015)
* Individual store prices may vary.
Description
Pulitzer Prize-Winning Author of The Hours

"Michael Cunningham's best novel in more than a decade."-Megan O'Grady, Vogue

It's November 2004. Barrett Meeks, having lost love yet again, is walking through Central Park when he is inspired to look up at the sky; there he sees a pale, translucent light that seems to regard him in a distinctly godlike way. At the same time, in Brooklyn, Barrett's older brother, Tyler, is struggling to make his way as a musician-and to write a wedding song for Beth, his wife-to-be, who is seriously ill. While Barrett turns unexpectedly to religion, Tyler grows increasingly convinced that only drugs can release his creative powers, and Beth tries to face mortality with as much courage as she can summon.
Michael Cunningham follows the Meeks brothers as each travels down a different path in his search for transcendence, demonstrating a singular understanding of what lies at the core of the human soul. Beautiful and heartbreaking, comic and tragic, The Snow Queen proves again that Cunningham is one of the great novelists of his generation.
About the Author
Michael Cunningham is the author of A Home at the End of the World, Flesh and Blood, The Hours (winner of the PEN/Faulkner Award and the Pulitzer Prize), Specimen Days, By Nightfall, The Snow Queen, and A Wild Swan, as well as Land's End: A Walk in Provincetown. He lives in New York.
Praise For The Snow Queen: A Novel…
"Arguably Mr. Cunningham's most original and emotionally piercing book to date." —Michiko Kakutani, The New York Times
"Michael Cunningham's best novel in more than a decade." —Megan O'Grady, Vogue
"At its best, the novel is Cunningham in his sweet spot, compassionate, emotionally exhilarating, devilishly fun." —Maria Russo, The New York Times Book Review (Editors' Choice)
"That voice, Cunningham's inimitable style, is the real miracle of The Snow Queen.... Remarkable." —Ron Charles, The Washington Post
"The miraculous returns to earth in sentences so gorgeous that we can barely feel the wheels touch down.... This is a masterful performance." —John Freeman, The Boston Globe
"Michael Cunningham writes some of the most beautiful prose in contemporary American fiction, and his gorgeous way with words is on full display in his new novel, The Snow Queen . . . The author is tender with his characters even when they're obnoxious or dumb. And he's particularly tender with Tyler, a self-deluding drug addict who is also that quintessential Cunningham protagonist, the artist struggling with his muse. As in his Pulitzer prize-winner, The Hours, Cunningham writes with specificity and intimate knowledge about the desire 'to make something … marvelous, something miraculous.' Failure is not a threat inevitably overcome; it happens. The wedding song Tyler composes for Beth is, he knows, 'more sentimental than searing.' His wincing analysis of the song's weaknesses gives a much truer portrait of the artistic process than the gauzy romanticism we usually get. Art is Cunningham's deepest faith, the Big Subject he approaches with a passion and conviction . . . There aren't any final answers in Cunningham's hauntingly inconclusive novel, which fittingly enough, closes with a question." —Wendy Smith, The Daily Beast
"Cunningham weaves an ode to the immortal city of New York and its artistic souls and lost citizens. His books remind us that the mythologies we imagine about our lives stem from seemingly ordinary moments and seemingly ordinary people . . . With elegant prose that peeks into the most private thoughts of his characters, Cunningham challenges the reader to imagine a pervasive, indifferent god--if any god even exists." —Allie Ghaman, The Washington Post
"Like By Nightfall (2010), Cunningham's elegant and haunting new novel examines the complex dynamics among a couple and a brother. In this configuration, Barrett Meeks, a poetically minded man in his late thirties who has just been dumped by his most recent boyfriend via text message, shares a Brooklyn apartment with Tyler, his older musician-bartender brother, and Beth, Tyler's great love. Beth and Barrett work in Liz's vintage shop. She's 52; her current lover, Andrew, is 28. Beth is undergoing full-throttle treatment for cancer. Tyler is struggling to write the perfect love song for their wedding, and breaking his promise not to do drugs. Barrett, long afflicted by his flitting interest in everything, remains in an altered state after seeing a strangely animated "celestial light' over dark and snowy Central Park. As his characters try to reconcile exalted dreams and crushing reality, Cunningham orchestrates intensifying inner monologues addressing such ephemeral yet essential aspects of life as shifting perspectives, tides of desire and fear, 'rampancy' versus 'languidness,' and revelation and receptivity. Tender, funny, and sorrowful, Cunningham's beautiful novel is as radiant and shimmering as Barrett's mysterious light in the sky, gently illuminating the gossamer web of memories, feelings, and hopes that mysteriously connect us to each other as the planet spins its way round and round the sun." —Donna Seaman, Booklist (starred review)
"The omniscience that runs throughout the novel's narration allows readers to not only glimpse, but take deep and heart-wrenching looks into the lives of these very tangible characters . . . Truths that other characters are ignorant to, moments that other characters are blind to, become welcome knowledge for readers in Cunningham's twisted and often disparaging world. Cunningham weaves whispers of spirituality, questions of mortality, themes of family and lessons on life's finer, more subtle pleasures. A work infused with passion, hatred, beauty and disgust, I found myself hard pressed to put the book down." —Chicagoist
"Michael Cunningham is known for his lyric and evocative language, and his sixth novel, The Snow Queen, is no exception . . . An emotionally charged story, simply told, about four people who come to defy that term 'middle age.'" —Alex Gilvarry, New Orleans Public Radio
"Michael Cunningham is among America's most gifted writers: graceful, delicately hued, wise." —Earl Pike, The Plain Dealer (Cleveland)
"Some books I don't want to read on my iPad. I want to go to a bookstore, buy a hardcover and slowly savor every brand-new page, preferably in a hot bath with a serious box of chocolates at my side. One such book is The Snow Queen . . . The narrative is almost amorphous, constructed of seemingly random scenes, all of which are situations set on the brink of something -- a presidential election, New Year's Eve, any one of the characters' hopes about to be realized or shattered. And the sense they make together is one of almost understanding one's life, or just about grasping the meaning of the universe, or practically but not quite realizing why we care about our friends and lovers. Or why we don't. In the end there's no doubt a story has been told and it's one that can easily stay with its readers for the rest of their lives. But it would be a fool's errand to try to go back to connect all the dots. It's like our own lives, full of seemingly pointless moments that add up to something that matters, a vision realized, perhaps, even if we never quite get to the bottom of what it all means . . . by reading his work, he reminds us that we are not alone in our desires, despair and dreams, and in our quests to find meaning in our lives together." —Rob Phelps, Wicked Local
"The Snow Queen is inspired by classic fairytales, though Cunningham's sensibilities skew in a thoroughly modern (even post-modern) direction, resulting in a very beautiful hodgepodge . . . The lush writing is gorgeous throughout . . . At a technical level The Snow Queen is extraordinary." —Ed Power, The Irish Independent
"The Snow Queen wears its contemporaneity lightly, because the novel really concerns itself with eternal themes: the quest for love, the unfairness and inevitability of death and the hope of a meaningful life . . . [A] thoughtful, intimate novel." —Martha T. Moore, USA Today
"The attention to the quotidian creates the best parts of the book. In the quiet moments between the chaos of illness and new relationships, Cunningham gives the characters time to slow down and think." —Lindsay VanAsdalan, The City Paper (Baltimore)