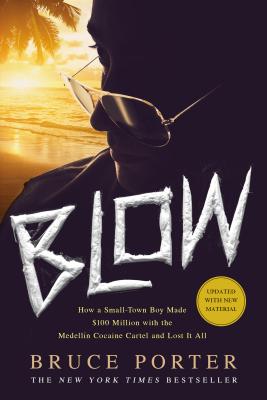 BLOW (Paperback)
How a Small-Town Boy Made $100 Million with the Medellín Cocaine Cartel and Lost It All
St. Martin's Griffin, 9781250067784, 352pp.
Publication Date: May 19, 2015
* Individual store prices may vary.
Description
BLOW is the unlikely story of George Jung's roller coaster ride from middle-class high school football hero to the heart of Pable Escobar's Medellin cartel-- the largest importer of the United States cocaine supply in the 1980s. Jung's early business of flying marijuana into the United States from the mountains of Mexico took a dramatic turn when he met Carlos Lehder, a young Colombian car thief with connections to the then newly born cocaine operation in his native land. Together they created a new model for selling cocaine, turning a drug used primarily by the entertainment elite into a massive and unimaginably lucrative enterprise-- one whose earnings, if legal, would have ranked the cocaine business as the sixth largest private enterprise in the Fortune 500.
The ride came to a screeching halt when DEA agents and Florida police busted Jung with three hundred kilos of coke, effectively unraveling his fortune. But George wasn't about to go down alone. He planned to bring down with him one of the biggest cartel figures ever caught.
With a riveting insider account of the lurid world of international drug smuggling and a super-charged drama of one man's meteoric rise and desperate fall, Bruce Porter chronicles Jung's life using unprecedented eyewitness sources in this critically acclaimed true crime classic.
About the Author
Bruce Porter, a former newspaper reporter and editor of Newsweek, teaches at the Columbia University Graduate School of Journalism. He is the author of Blow: How a Small-Town Boy Made $100 Million with the Medellin Cocaine Cartel And Lost It All, and he has also written for The New York Times Magazine, The Washington Post, Rolling Stone, Playboy, and Connoisseur, among other publications.
Praise For BLOW: How a Small-Town Boy Made $100 Million with the Medellín Cocaine Cartel and Lost It All…
"Extraordinarily interesting...Mr. Porter has done an excellent job telling the tale of a very unusual entrepreneur." —The New York Times Book Review
"Porter has written an undeniably entertaining book--a People Magazine article writ large, with a dose of Miami Vice and more than we need to know about kinky sex between Jung and his companera, Mirtha." —The Boston Sunday Globe
"The story belongs to anyone who has ever savored a well-told tale of adventure, greed, deceit, and revenge. Best of all, it's true." —Houston Chronicle
"An eye-opening, often hilarious account . . . larded with anecdotes" —Toronto Star
"A sleigh-ride-to-hell story of how '60s hippie innocence turned into '80s megadepravity...finely researched, told with pizzazz." —Kirkus Reviews
"With drama and detail, former Newsweek writer Porter reconstructs the fast, amoral life of George Jung . . . adventures with stacks of cash, kinky sex, and dangerous deals hold voyeuristic fascination." —Publishers Weekly
"An incredible tale that traces Jung's beginnings as a hippie marijuana smuggler in California to the top of the cocaine trade." —Houston Post
"Bruce Porter tells a powerful story and doesn't pull his punches. You have to keep reminding yourself it isn't fiction." —Detroit Free Press
"Told with such flair, one can't turn the pages fast enough." —Chicago Daily Southtown Star
"Fascinating, sometimes humorous, sometimes titillating, and always intriguing . . . a page-turner, thanks to Porter's easy-to-read style." —News-Press, Glendale, CA