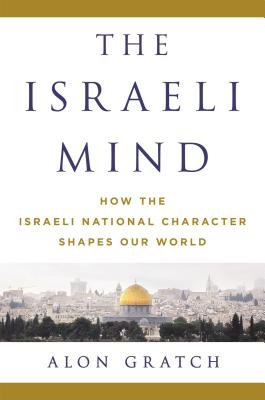 The Israeli Mind
How the Israeli National Character Shapes Our World
Hardcover

* Individual store prices may vary.
Description
Israelis are bold and visionary, passionate and generous. But they can also be grandiose and self-absorbed. Emerging from the depths of Jewish history and the drama of the Zionist rebellion against it, they have a deeply conflicted identity. They are willing to sacrifice themselves for the collective, but also to sacrifice that very collective for a higher, and likely unattainable, ideal. Resolving these internal conflicts and coming to terms with the trauma of the Holocaust are imperative to Israel's survival as a nation and to the stability of the world.
Alon Gratch, a clinical psychologist whose family has lived in Israel for generations, is uniquely positioned to confront these issues. Like the Israeli psyche that Gratch details, The Israeli Mind is both intimate and universal. Intelligent and forthright, compassionate but sometimes maddening, it is an utterly compelling read. Drawing on a broad cultural and historical canvas, and weaving in the author's personal and professional experience, The Israeli Mind presents a provocative, first-hand portrait of the Israeli national character.
Praise For The Israeli Mind: How the Israeli National Character Shapes Our World…
"Alon Gratch's book intends to explain the Israeli mind to the world, because of Israel's importance to other countries. But it is first and foremost a beautiful love song to Israel, by a post-Israeli, who is able to look at us from a certain distance, understand us better than we can understand ourselves, warn us against existential dangers, and encourage us to do the right things." —Yossi Beilin, former Israeli Minister of Justice

"Alon Gratch has wielded his Israeli mind to produce an incisive and provocative analysis of how his countrymen think about life, culture and the politics of the Middle East. His brilliant riff on the roots of the oppositional Israeli character is worth the price of the book alone. You may not always agree with Gratch but you will certainly be stimulated, absorbed and entertained." —Joseph Berger, author of The Pious Ones and Displaced Persons

"[A] provocative blend of psychological profile and foreign policy analysis... Illuminating and full of fresh insights into contemporary geopolitics...a fascinating thought exercise, and worth the read." —Publishers Weekly

"Gratch demonstrates a mastery of the delicate inner workings of the human mind and, at the same time, a profound insight into the epochal movements of history — a rare but essential balancing act. He is a compassionate but exacting observer of the Israel character at a moment of great peril and consequence. That's why his book is not only a work of genius but also, and more important, a beacon of light and hope." —The Jewish Journal
St. Martin's Press, 9781250067807, 288pp.
Publication Date: September 1, 2015
About the Author
Dr. Alon Gratch is an Israeli-American clinical psychologist, organizational consultant, and author. He is the author of two previous books: If Men Could Talk, and If Love Could Think. He has also written for The New York Times and The Wall Street Journal. Dr. Gratch lives in New York City.