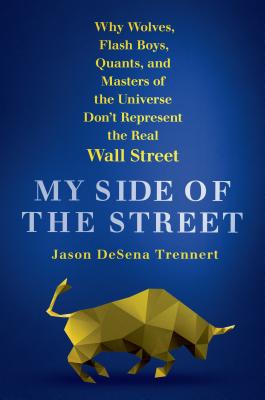 My Side of the Street (Hardcover)
Why Wolves, Flash Boys, Quants, and Masters of the Universe Don't Represent the Real Wall Street
St. Martin's Press, 9781250068279, 240pp.
Publication Date: May 26, 2015
* Individual store prices may vary.
Description
On a sticky summer morning at the end of the Eighties, 19-year-old Jason DeSena Trennert-a bright, unconnected Georgetown undergrad with big dreams and an even bigger power tie-set out for Wall Street. Mustering the perceived panache of the bigwigs, he burst through the doors of America's oldest financial firms.

He was roundly rejected. And entirely undeterred.

Trennert accepted a position as a cold-caller and charged ahead with the blind zeal of inexperience, finding in the process a genuine affinity for the customs and history of his work. Clinging to his dream from humble beginnings in financial sector Siberia-Morgan Stanley's Brooklyn outpost-and enduring the vilification of a respectable profession across two boom-bust cycles, he opened his own boutique company, now one of the world's leading research firms.

Part memoir, part love letter to an institution popularly viewed as a necessary (or as just plain) evil, My Side of the Street delivers the long-overdue defense of the investment banking industry critiqued by Michael Lewis and others, illuminating the ethical and decent majority who take the subway, worry about mortgages, and keep the entire enterprise on its feet. Introducing the general reader to captains of finance, famous on The Street but invisible to outsiders, Trennert lays on display the absurdity and unbridled joy of big business-a comic tale of unlikely success in America's most notorious industry.
About the Author
Jason DeSena Trennert is the founder, Managing Partner, and Chief Investment Strategist of Strategas Research Partners and CEO of Strategas Securities LLC. A graduate of Georgetown and Wharton, he is the author of New Markets, New Strategies (McGraw Hill, 2004). A regular guest host on CNBC's Squawk Box, he appears frequently on network news programs and writes for The Wall Street Journal, The Financial Times, and Investor's Business Daily. He lives in Manhattan with his wife and two children.
Praise For My Side of the Street: Why Wolves, Flash Boys, Quants, and Masters of the Universe Don't Represent the Real Wall Street…
"The heart and soul of Wall Street revealed through the personal experiences of one of its leading thinkers. Trennert discards the myths and shows the dignity and grit still driving American finance." —Jimmy Dunne, Senior Managing Principal, Sandler O'Neill + Partners

"Jason Trennert provides a candid picture of life in the rough-and-tumble world of Wall Street. Don't miss his colorful account of how it was and how the financial markets are changing, for better and for worse." —Martin Fridson, Chief Investment Officer, Lehmann Livian Fridson Advisors, LLC

"From one of the most respected young minds and the biggest hearts on Wall Street, this book honors the hard-working, honest pros who fuel American growth and innovation. Jason Trennert's My Side of the Street is a must-read." —Larry Kudlow, CNBC Senior Contributor and Radio Host of, The Larry Kudlow Show

"Jason Trennert's book is a wonderful read about one man's personal journey through an industry whose often underrated successes and in-the-cross-hairs failures have been at the heart of this new century." —Liz Ann Sonders, Senior Vice President and Chief Investment Strategist,, Charles Schwab & Co., Inc.

"My Side of the Street takes you along on the exciting and compassionate personal journey of entrepreneur Jason Trennert as his career on Wall Street evolves. Filled with essential truths, Trennert's memoir will enrich the career of the novice and the veteran alike, providing more than a few good laughs along the way." —Byron R. Wien, Vice Chairman, Blackstone Advisory Partners, LP

"With wit and insight, he shares lessons learned and concludes with recommendations as he describes his career; personal ups and downs; the valuable influence of his father, also a poet; and the remarkable industry changes he witnesses, including the impact of technology and the 2008 financial crises." —Booklist

"The author of this engaging memoir acknowledges that Wall Street is not without its wolves and flashboys...But he manages to persuade us that his 'side of the street' also exists, peopled by those 'who take the subway to work and worry about paying their mortgage every month.' ...The outsider voice adds tension, as he becomes an insider who can draw smart lessons from his mistakes and take shrewd risks toward advancement." —Barron's
or
Not Currently Available for Direct Purchase