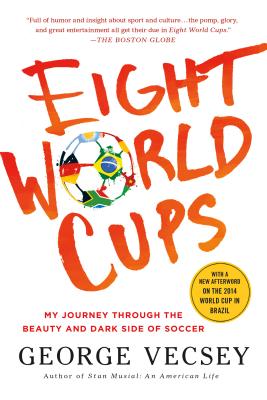 Eight World Cups
My Journey through the Beauty and Dark Side of Soccer
Paperback

* Individual store prices may vary.
Description
"Full of humor and insight about sport and culture.... The pomp, glory, and great entertainment all get their due in Eight World Cups."—The Boston Globe

Blending witty travelogue with action on the field—and shady dealings in back rooms—George Vecsey offers an eye-opening, globe-trotting account of eight World Cups. He immerses himself in the great national leagues, historic clubs, and devoted fans and provides his up-close impressions of charismatic soccer stars like Sócrates, Maradona, Baggio, and Zidane, while also chronicling the rise of the U.S. men's and women's teams.

Vecsey shows how each host nation has made the World Cup its own, from the all-night street parties in Spain in 1982 to the roar of vuvuzelas in South Africa in 2010, as the game in the stadium is backed up by the game in the street. But the joy is sometimes undermined by those who style themselves the game's protectors.

The paperback edition also includes a new afterword about the 2014 World Cup in Brazil, which reached new levels of excitement and interest, especially in the United States. Vecsey's sharp reporting and eye for detail make his book an unforgettable journey.
Praise For Eight World Cups: My Journey through the Beauty and Dark Side of Soccer…
"George Vecsey … writes eloquently and passionately about the sport on a journey from Spain in 1982 to South Africa in 2010." —The New York Times

"Full of humor and insight about sport and culture… Vecsey had me on page 202 of his new book when he characterized Cristiano Ronaldo as 'the most annoying great player in captivity.' Nah, he had me well before that… The pomp, glory, and great entertainment all get their due in Eight World Cups." —The Boston Globe

"No one has ever described sports better than Vecsey and he describes soccer...better than any other sport. Every run to the goal, every great defensive stop, is discussed in this book by details that will remind readers of such descriptive writers as Hemingway, Thomas Wolfe, and John Updike… You don't find writing like this these days in novels and poetry, much less sportswriting. Vecsey's book is a masterpiece." —Florida Times-Union

"Vecsey proves himself a comfortable Cup companion…A few days reading Vecsey and life on the pitch becomes a beautiful (and understandable) game." —The Christian Science Monitor

"For anyone with even the most pedestrian knowledge of soccer, [Eight World Cups] is an entertaining read, a terrific primer on the sport's modern history, and a profound take on America's own soccer renaissance occurring right now." —Men's Fitness

"A witty, inviting companion/introduction to the joys of soccer on the world stage…Throughout, Vecsey's narrative is full of fun and gentle wisdom. There are few things greater than great sports writing, as Vecsey proves in these fine pages." —The Daily Herald (Chicago)

"George Vecsey's stories on the eight World Cups that he has covered is perhaps the best book written on the subject by an American author. Vecsey's stories of the various actors in the game, from the players on the field to the faceless bureaucrats of FIFA, comes with a certain freshness." —Soccerly

"I can't think of a better gateway to the World Cup for non-fans, as well as for obsessives, than George Vecsey's Eight World Cups.… Vecsey's always had just the right touch when it comes to writing about anything, soccer in particular, and this is a treat for all." —Extracurriculars

"Action-packed reportage…one of soccer's earliest advocates in this country, Vecsey writes with expertise and flair about the otherworldly plays, volatile personalities and sticky politics that make the game so fascinating.… Vecsey's delight in soccer culture is palpable, and he makes his audience--even the reader who isn't smitten with the sport--care, too." —BookPage

"Five Stars … Vescey has written a book that provides detailed World Cup history with an American flavor. It will make a great addition to your sports library and the perfect reference for the upcoming World Cup … Brilliant." —The Soccer Translator

"George Vecsey gets it … [He] provides a freshness that many other titles are lacking, something that both casual and hardcore fans would enjoy … Consumers will certainly have a lot to choose from this summer when it comes to titles related to the World Cup, but Eight World Cups …has to be #1 on everyone's list. Everyone will get something out of this one." —The International Soccer Network

"An exceedingly enjoyable blend of travelogue, sports writing, and social analysis…with infectious enthusiasm that makes clear the game's appeal…. Eight World Cups makes a wonderful background to the World Cup kicking off this June in Brazil." —Booklist

"New York Times columnist Vecsey … was among the earliest major sports journalists in the United States to embrace wholeheartedly the world's most beloved game…. Timed to appear before the 2014 tournament in Brazil, the book provides a readable personal story and a history of America's coming-of-age on the pitch." —Kirkus Reviews

"Of the many recent excellent books on soccer, Vecsey's work stands out." —Library Journal

"Spectators at an event as extraordinary as the World Cup deserve a tour guide equal to the task. During his remarkable career as a New York Times sportswriter and columnist, George Vecsey has opened his heart and mind to eight of these quadrennial spectacles, and here he takes us with him on his journey, enhancing our own every step of the way." —Joe McGinniss, author of The Miracle of Castel di Sangro

"Long before half the kids in the U.S. were decked out in Lionel Messi and Manchester United jerseys, one of our most gifted sportswriters was writing intelligently about soccer. In Eight World Cups, George Vecsey gives us much more than the story of one man's journey from novice to aficionado. This is also an elegant, absorbing primer on the world's game. No one but Vecsey could have given us so much insight, so much humor, such a smart take on soccer and the World Cup." —Jeremy Schaap, author of Cinderella Man and Triumph

"In Eight World Cups, George Vecsey writes with his usual elegance, humanity, and insight. As ever, his view goes beyond the field, and in this case well beyond our shores." —Bob Costas, NBC Sports

"Baseball is America's game but soccer is the world's game, and no American writer knows more about the world's game than George Vecsey. All of that knowledge is reflected in his terrific and timely book, which is a wonderful guide to a game whose inscrutability I have only now come to appreciate." —Tom Werner, chairman, Boston Red Sox and Liverpool FC

"What fun to weave through these World Cups as the book reads part diary, part travel guide, part voyeuristic glimpse into how the best teams and players operate at the highest level. The cultural musings, mixed with a love of the game that is endearingly pure, makes me want to travel to the next eight World Cups right alongside George Vecsey." —Julie Foudy, co-captain, 1999 Women's World Cup champions

"With the eye of a reporter and the soul of a fan, George Vecsey has perfectly captured the magic and allure of the World Cup. Eight of them, in fact. This sporting event captivates and unites the globe as no other, and George's personal journal – from the stadiums and stars, to the many people encountered on his global journeys – is a remarkable history by a gifted writer." —Bob Ley, ESPN
St. Martin's Griffin, 9781250068286, 336pp.
Publication Date: June 2, 2015
About the Author
George Vecsey has written more than a dozen books, including the bestseller Stan Musial: An American Life. He joined The New York Times in 1968, wrote the "Sports of the Times" column from 1982 to 2011, and is now a contributing columnist. He was honored in 2013 by the National Soccer Hall of Fame for his contributions as one of the first columnists at a major U.S. newspaper to cover the sport. He lives in Port Washington, New York.