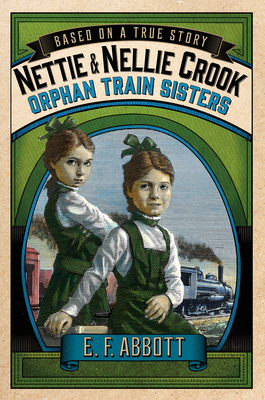 Nettie and Nellie Crook (Hardcover)
Orphan Train Sisters (Based on a True Story)
Feiwel & Friends, 9781250068354, 176pp.
Publication Date: February 16, 2016
* Individual store prices may vary.
Description
Can you imagine being placed in an orphanage while your parents are still alive? That's what happens to Nettie and Nellie Crook, who are only five years old in 1910 when they are removed from their home in New York.
No one tells Nettie and Nellie why their parents can no longer care for them, and later, no one explains why the orphans are put on a train headed west. The girls soon find themselves put on display in various small towns, where prospective parents examine and select children for adoption. Nettie and Nellie are taken by Mr. and Mrs. Chapin—will this be a happy ending for the twins?
Based on a True Story books by E.F. Abbott are exciting historical fiction about real children who lived through extraordinary times in American History. This title has Common Core connections.
About the Author
E. F. Abbott is a pseudonym for Kristin O'Donnell Tubb, author of Selling Hope and The 13th Sign. She and her family live in Tennessee.
Praise For Nettie and Nellie Crook: Orphan Train Sisters (Based on a True Story)…
John Lincoln Clem: Civil War Drummer Boy (Based on a True Story series):
"Johnny's pluck, erstwhile patriotism, and sheer determination make him a likable and sympathetic hero.... the blend of strong story and illustrations brings to life a unique Civil War tale." —Booklist

"In one of four titles launching the Based on a True Story series, Abbott (a pseudonym for author Kristin O'Donnell Tubb) profiles the youngest known soldier in the American Civil War.... Twenty short chapters, interwoven with archival photos and Noble's line drawings, depict the grueling realities of a being a Civil War soldier...while dashes of hope...help keep this war story palatable for younger audiences." —Publishers Weekly

Nettie and Nellie Crook: Orphan Train Sisters (Based on a True Story series):
"This engaging narrative portrays children facing real hardships.... An appended note from Abbott (a pseudonym for Susan Hill) provides information about child welfare in the early 1900s, the orphan trains, and the lives of the real Nettie and Nellie Crook." —Booklist

Sybil Ludington: Revolutionary War Rider (Based on a True Story series):
"War becomes a family affair in this women-centered tale.... Readers will admire Sybil for her fortitude and appreciate the insight they gain into her time." —Booklist

"Abbott does a fine job in creating the 18th-century world of the American Revolution. History teachers will delight in the thorough descriptions of rebel espionage strategies and the images of their coded messages." —School Library Journal