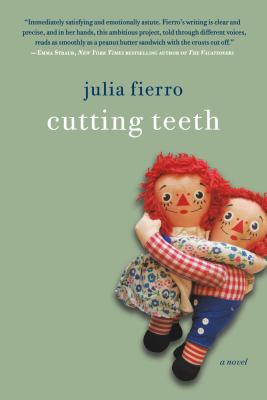 Cutting Teeth
A Novel
Paperback

* Individual store prices may vary.
Other Editions of This Title:
Digital Audiobook (9/29/2014)
MP3 CD (9/30/2014)
Compact Disc (9/30/2014)
Description
One of the most anticipated debut novels of 2014, Cutting Teeth takes place one late-summer weekend as a group of thirty-something couples gather at a shabby beach house on Long Island, their young children in tow.

Nicole, the hostess, struggles to keep her OCD behaviors unnoticed. Stay-at-home dad Rip grapples with the reality that his careerist wife will likely deny him a second child, forcing him to disrupt the life he loves. Allie, one half of a two-mom family, can't stop imagining ditching her wife and kids in favor of her art. Tiffany, comfortable with her amazing body but not so comfortable in the upper-middle class world the other characters were born into, flirts dangerously, and spars with her best friend Leigh, a blue blood secretly facing financial ruin and dependent on the magical Tibetan nanny everyone else covets. Throughout the weekend, conflicts intensify and painful truths surface. Friendships and alliances crack, forcing the house party to confront a new order.Cutting Teeth is about the complex dilemmas of early midlife—the vicissitudes of friendship, of romantic and familial love, and of sex. It's about class tension, status hunger, and the unease of being in possession of life's greatest bounty while still wondering, is this as good as it gets? And, perhaps most of all, Julia Fierro's warm and unpretentious debut explores the all-consuming love we feel for those we need most, and the sacrifice and compromise that underpins that love.
Praise For Cutting Teeth: A Novel…
"When a group of thirty-something parents gather at a ramshackle beach house called Eden, no serpent is required for the sins, carnal and otherwise, to pile up. Fierro, founder of Brooklyn's Sackett Street Writers' Workshop, argued in The Millions last year that writers need to put the steam--and the human sentiment--back into sex scenes in literary novels. You may want to keep Fierro's debut novel on a high shelf, away from children and prudish literary snobs." —The Millions

"Entertaining, wise, heart-breaking at times, Cutting Teeth is an outstanding debut. Julia Fierro's particular genius is her ability to understand and render the vagaries of the human heart." —Therese Anne Fowler, author of Z: A Novel of Zelda Fitzgerald

"Immediately satisfying and emotionally astute. Fierro's writing is clear and precise, and in her hands, this ambitious project, told through different voices, reads as smoothly as a peanut butter sandwich with the crusts cut off." —Emma Straub, author of Laura Lamont's Life in Pictures

"Julia Fierro's Cutting Teeth offers immense rewards to readers far beyond those who will identify with the frantic, conflicted, yearning parents who fill the novel (though many will). It's for any reader seeking a tale rich in character, strong in voice and filled with both incisive social critique and a luminous generosity of spirit, a rare combination indeed." —Megan Abbott, author of Dare Me and The End of Everything

"One of the most compelling and trenchant novels I've read in years. A fearless and unrelenting portrait of urban parenting--its nuanced complexities, its ceaseless labor, its rare but transcendent moments of pleasure--done with dark humor, refreshing intelligence, and bottomless empathy." —Bret Anthony Johnston, author of Corpus Christi: Stories

"Funny, warm and dead-on smart, Julia Fierro has written a tremendous novel about the having-it-all generation, now forging their own paths and families. After all the talk and the revolution, after leaning in and shouting it out, the blueprints for creating a balanced life between work and family are still elusive. To most of us. Cutting Teeth reads like a conversation with your best friend, over wine, after the kids have been tucked in, and the truth comes out." —Deborah Copaken Kogan, author of The Red Book

"Julia Fierro's debut novel Cutting Teeth is filled with honesty, humor and intelligence. First, I fell in love with the insightful, graceful voice, then with the complex, deeply flawed yet appealing characters, and finally with the narrative arc that carried me from beginning to end in one rush. Compelling, and infused with compassion." —Jean Kwok, author of Girl in Translation

"Timely and observant, Julia Fierro's writing feels like real life. She captures the anxiety of our times with the authority, insight-and humor-of lived experience." —Karen Thompson Walker, author of The Age of Miracles
St. Martin's Griffin, 9781250068408, 336pp.
Publication Date: July 7, 2015
About the Author
JULIA FIERRO is the author of the novels The Gypsy Moth Summer and Cutting Teeth. Her work has been published in The Millions, Poets & Writers, Buzzfeed, Glamour, and other publications, and she has been profiled in The Observer and The Economist. A graduate of the Iowa Writer's Workshop, Julia founded The Sackett Street Writers' Workshop in 2002, a creative home to more than 3,500 writers in NYC, Los Angeles and Online. SSWW was named "Best Writing Classes" by The Village Voice, Time Out NY, and "Best MFA-Alternative" by Poets & Writers. Julia lives in Brooklyn and Los Angeles.