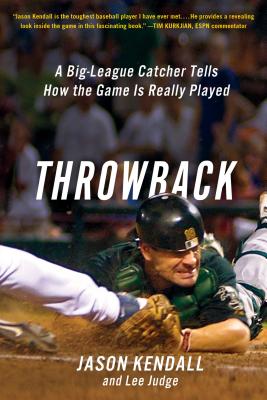 Throwback
A Big-League Catcher Tells How the Game Is Really Played
Paperback

* Individual store prices may vary.
Other Editions of This Title:
Hardcover (5/13/2014)
Description
Ever Wonder What's Being Said at Home Plate?
How a Team Silently Communicates?
What Goes on in the Clubhouse Behind Closed Doors?
America's pastime has always left fans and amateur players alike yearning for the answers to questions about how pros play the game.
Jason Kendall is an All-Star catcher who has seen just about everything during his years with the Pittsburgh Pirates, Oakland Athletics, Chicago Cubs, Milwaukee Brewers, and Kansas City Royals. He's a player's player, a guy with true grit--a throwback to another time with a unique view on the game that so many love.
Jason Kendall and sportswriter Lee Judge team up to bring you the fan, player, coach, or curious statistician an insider's view of the game from a player's perspective. This is a book about pre-game rituals, what to look for when a pitcher warms up between innings, the signs a catcher uses to communicate with the pitcher, and so much more.
Some of baseball wisdom you will find inside:
* What to look for during batting practice.
* The right way to hit a batter.
* Who's a tough guy and who's just posing.
* How to spot a dirty slide.
* Why you don't look at the umpire while you're arguing.
Based on Kendall's 15 years of professional MLB experience, THROWBACK is an informative, hilarious, and illuminating look into the world of professional baseball-and in a way that no one has ever seen before.
Praise For Throwback: A Big-League Catcher Tells How the Game Is Really Played…
"Jason Kendall is the toughest baseball player I have ever met, and one of the most insightful. He provides a revealing look inside the game in this fascinating book. It was written with the mangled fingers of an old school catcher, my favorite people in the game." —Tim Kurkjian, ESPN Commentator
"Give this book a read. I've known Lee Judge for over 20 years. He has passion for the game and an unquenchable thirst for "Why" questions. He doesn't just want the answer- He wants the understanding. I've spent time with him in Minor League and Major League cities and clubhouses and we are still friends! There is a sincere effort and old school way this book has been put together and it is deserving of your time. You WILL laugh.You WILL learn. You WILL leave with a greater understanding and appreciation for the game WE love." —Clint Hurdle, Manager for the Pitsburgh Pirates and NL Manager of the Year
"Jason Kendall is the ultimate competitor, a modern-day gladiator. If you had nine Jason Kendalls, you could never lose." —John Gibbons, Manager, Toronto Blue Jays
"I've had the pleasure of knowing Lee Judge for over 20 years and have always admired his intellectual curiosity as it relates to the strategy and psychology of the game. I'm certain that his passion for the game and unique perspective will stand out to readers in the same way it's always stood out to me." —Jerry Dipoto, former pitcher for the Cleveland Indians, New York Mets and Colorado Rockies and current General Manager for the Los Angeles Angels
"Old-school and throwback player don't encompass Jason as a player. The game consumed him and he played it with an unparalleled passion. You can't emulate him. It would destroy many players." —Mike MacFarlane, former catcher for the Kansas City Royals, Boston Red Sox and Oakland Athletics
"Jason Kendall may be one of the toughest players I've ever been around. He's a straight shootin', no nonsense, old school guy who holds nothing back from how he really feels, and he's as solid as it comes when you're talking Major League." —Kevin Seitzer, former player for the Kansas City Royals, Oakland Athletics, Milwaukee Brewers and Cleveland Indians
"Do you know why catchers work so hard to block errant pitches, even if no one is on base? To protect the ump; an ump who doesn't get nicked by a fastball in the dirt may be your friend later...This is exactly the kind of color analysis fans long for while watching a game, but usually don't get. Great information sprinkled with salty humor." —Booklist, Starred Review
St. Martin's Griffin, 9781250068668, 304pp.
Publication Date: May 19, 2015
About the Author
Having played for the Pittsburgh Pirates, Oakland Athletics, Chicago Cubs, Milwaukee Brewers and Kansas City Royals, JASON KENDALL can boast three All-Star games and a broad national fan base. He is the author of Throwback.

LEE JUDGE is a well-known writer at the Kansas City Star whose baseball blog gets 100,000 hits. He is the author, along with Jason Kendall, of Throwback.