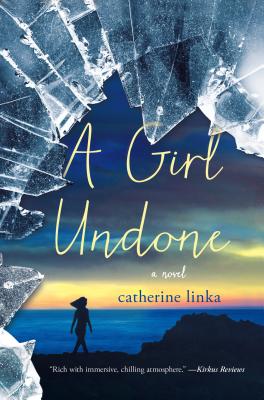 A Girl Undone
A Novel (The Girl Called Fearless Series #2)
Hardcover

* Individual store prices may vary.
Other Editions of This Title:
MP3 CD (7/19/2016)
Description
From Catherine Linka, the sequel and explosive conclusion to A Girl Called Fearless.
Having survived a violent confrontation with the US government, Avie is not out of danger. Both she and the young man she loves, Yates, have been declared terrorists, and Yates is hospitalized in critical condition, leaving Avie with the perilous task of carrying information that can bring down the Paternalist party, if she can get it into the right hands.
Forced on the run with handsome, enigmatic woodsman Luke, Avie struggles when every turn becomes a choice between keeping the two of them alive or completing their mission. With her face on every news channel and a quarter million dollar reward from the man who still owns her marriage Contract, Avie's worst fears are about to come true.
Equal parts thrilling and romantic, A Girl Undone is sure to keep your heart racing right until the very end.
Praise For A Girl Undone: A Novel (The Girl Called Fearless Series #2)…
"A deftly plotted portrait of the evolution of a teenage girl into a dystopian heroine." —Kirkus Reviews on A Girl Called Fearless
"I find myself wanting to demand the sequel right now, this very second, to find out just what Avie has planned and what was in Sparrow's message. All in all, very dystopian, very hard (emotionally) to read and very interesting." —USA TODAY on A Girl Called Fearless
"Linka's world-building is detailed and thought-provoking, recalling aspects of Atwood's The Handmaid's Tale." —Horn Book Review on A Girl Called Fearless
"The concept of a nation mourning multiple generations of women (other countries had long since banned American meat) is gripping, and the action flows at a steady and satisfying pace, propelling readers through to the cliffhanger ending...There is something achingly vulnerable in this novel where almost everyone seems to search in vain that will likely linger with readers." —Center of Children's Books Review on A Girl Called Fearless
"Readers who are fans of dystopian fiction will appreciate the action and suspense that both Avie and Luke have to work through, as well as the rebellious nature that both characters exude." —Voya Magazine
"A thought-provoking look at what it means to be a revolutionary and how change can be brought about by just one person." —Booklist
"Gripping, memorable, and heartrending. An ordinary girl becomes extraordinary in her fight for freedom." —C.C. Hunter, NYT bestselling author, Shadow Falls series, on A Girl Called Fearless
"Breathlessly written and terrifying in its implications, Linka's debut is not only a thriller but a warning." —Gennifer Albin, author of Crewel, on A Girl Called Fearless
"With a frightening reality, a forbidden romance, and a main character to root for, Fearless is a riveting read." —Megan Miranda, author of Fracture, on A Girl Called Fearless
"With civil liberties on the ropes and paternalism gone rampant, it's time for a brave young heroine to ring out the news. Can it be merely coincidence that her name is Reveare?" —Tim Wynne-Jones, author of Blink & Caution, on A Girl Called Fearless
St. Martin's Griffin, 9781250068675, 304pp.
Publication Date: June 23, 2015
About the Author
CATHERINE LINKA was almost thrown out of boarding school for being "too verbal." Fortunately, she learned to channel her outspokenness and creative energy into writing. A passionate traveler who has visited Iceland, the Amazon, and the Arctic circle, Catherine has seen five types of whales in the wild, but no orcas. Yet. She doesn't believe in fate, but she did fall in love with her husband on their first date when he laced up her boots, because she had a broken hand. She is the author of A Girl Called Fearless.
or
Not Currently Available for Direct Purchase