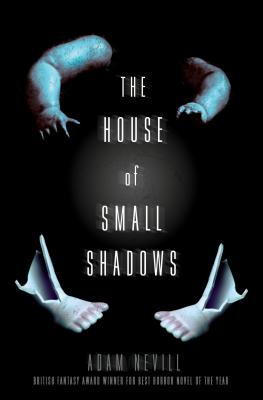 The House of Small Shadows
Paperback

* Individual store prices may vary.
Other Editions of This Title:
Hardcover (7/15/2014)
Description
Catherine's last job ended badly. Corporate bullying at a top TV network saw her fired and forced to leave London, but she was determined to get her life back. A new job and a few therapists later, things look much brighter. Especially when a challenging new project presents itself — to catalogue the late M. H. Mason's wildly eccentric cache of antique dolls and puppets. Rarest of all, she'll get to examine his elaborate displays of posed, costumed and preserved animals, depicting bloody scenes from the Great War. Catherine can't believe her luck when Mason's elderly niece invites her to stay at Red House itself, where she maintains the collection until his niece exposes her to the dark message behind her uncle's "Art." Catherine tries to concentrate on the job, but Mason's damaged visions begin to raise dark shadows from her own past. Shadows she'd hoped therapy had finally erased. Soon the barriers between reality, sanity and memory start to merge and some truths seem too terrible to be real... in The House of Small Shadows by Adam Nevill.
Praise For The House of Small Shadows…
"Adam Nevill is a fantastic storyteller, a master of slow-building tension, and he's written a fever dream of a book. House of Small Shadows is chilling, disorienting, and deeply creepy. It has the feel of a cult classic, something horror fans will still be reading with immense delight fifty years from now." —Scott Smith, New York Times Bestselling author of The Ruins
"Modern storytelling...and old school terror. Very scary, highly recommended." —Jonathan Maberry, NYT bestselling author
"One of the most subtle and powerful writers of dark fiction - a unique voice." —Michael Marshall Smith, New York Times Bestselling author
"Adam Nevill is a spine-chiller in the classic tradition, a writer who draws you in from the world of the familiar, eases you into the world of terror, and then locks the door behind you. The House of Small Shadows grows darker and takes on more menacing life with each step forward." —Michael Koryta, New York Times Bestselling author of THE PROPHET
"All I can say is, wow. What an amazing book. Last Days has just about everything I look for in a horror novel; it is well crafted, has a strong plot with believable characters and the horror sequences get under your skin and into your mind. And the images just won't go away. You'll find yourself replaying scenes in your mind for days." —Fangoria on Last Days
"There are moments in Last Days that are so frightening, it feels like Neville is giving your heart a bare-handed squeeze. And as a rudimentary crash course in the art of guerrilla filmmaking, Last Days is top notch." —Bloody Disgusting on Last Days
"Deliciously chilling." —Publisher's Weekly on Last Days
"Horror fans will revel in this appropriately chilling tale of modern-day murder and mayhem that stretches back several centuries." —Booklist on Last Days
"Obsession and megalomania, sex and power make for a sophisticated, literate and well-crafted paranormal horror." —Kirkus Reviews on Last Days
"This is what a horror book should be." —Suspense Magazine on Last Days
St. Martin's Griffin, 9781250068811, 384pp.
Publication Date: July 21, 2015
About the Author
Adam L. G. Nevill was born in Birmingham, England, in 1969, and grew up in England and New Zealand. A graduate of the University of St Andrews Masters programme, he is the author of The Ritual and Banquet for the Damned, an original novel of supernatural horror inspired by M. R. James and the great tradition of the British weird tale. In his working life he has endured a variety of occupations, including from 2000 to 2004 both nightwatchman and day porter in the exclusive apartment buildings of west London.