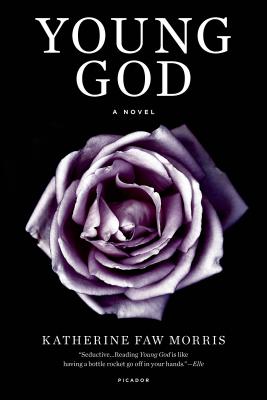 Young God
A Novel
Paperback

* Individual store prices may vary.
Other Editions of This Title:
Hardcover (5/6/2014)
Description
Longlisted for the Flaherty-Dunnan First Novel Prize
Named a Best Book of the Year by Buzzfeed, The Times Literary Supplement (Selected By Eimear McBride), and the Houston Chronicle

"This is a furious blaze of a book that will rough you up and reorder your sense of the world and what's possible in it. It's a debut for the ages. Read it."-Laura van den Berg, author of Find Me

Nikki is the most determined young woman in the North Carolina hills. Determined not to let deadbeats and dropouts set her future. Determined to use whatever tools she can get her hands on to shape the world to her will. Determined to preserve her family's domination of the local drug trade. Nikki is thirteen years old.

Opening with a fatal plunge from a high cliff, Young God rushes forward as it charts Nikki's battles against isolation and victimhood. Nikki may be young, but she's a fast learner, and soon she learns exactly how to wield her powers over the people around her. The only thing slowing her down is the inheritance she's been promised but can't seem to find, buried somewhere in those hills and always just out of reach."A coming of age story by way of Breaking Bad" (The Rumpus), Young God is a brash and electrifying novel that demands your attention and refuses to be forgotten.
Praise For Young God: A Novel…
"Stark [and] seductive.... Reading Young God is like having a bottle rocket go off in your hands." —Elle

"Badass" —Vanity Fair

"The cumulative result is a powerful portrait of humanity in the face of everyday atrocity.... It's a quick read but likely to leave even the sturdiest stunned." —The Guardian (London)

"Radical, and at times shocking ... An altogether remarkable debut." —Financial Times (London)

"Katherine Faw Morris' first novel, Young God, returns to the scene of Southern Gothic, invoking the dysfunctional families and bleak landscapes of Flannery O'Connor, William Faulkner, and Dorothy Allison.... It is boundary-pushing fiction at its best." —Pittsburgh Post-Gazette

"This book is so clean and dirty: thirteen-year-old Nikki's nipples pop like buttons; Kool Kings come in a hard box; white goo tastes a little salty but mostly like nothing. The best dreams are of nothing. Except that it is not nothing. It is charged white space: These pages happen to you and now you're awakening, groping groggily to reconstruct. Get mixed up by it. Enter the single-wide and find some ecstasy with Katherine Faw Morris." —Richard Hell

"Like a bullet, like a bolt of lightning, like a speeding car, this debut novel goes faster and harder than anything you're likely to read this year. Welcome to an astonishing talent, and an unforgettable heroine." —Stacey D'Erasmo, author of The Art of Intimacy

"This is maybe the best first novel I've read since Fight Club. It comes on like a few too many pulls of Wilkes County moonshine chased with some kind of punk rock Lucinda Williams and finishes with a hit of Dorothy Allison's Bastard Out of Carolina. Raw, spare, and goddamned poetic, this badass debut will haunt you." —Frank Bill, author of Crimes in Southern Indiana and Donnybrook

"Sweet Jesus is Young God terrifying and great. Katherine Faw Morris's style is singular and ferocious and Nikki is one of the toughest, most electrifying, most unforgettable heroines I have ever encountered on the page. This is a furious blaze of a book that will rough you up and reorder your sense of the world and what's possible in it. It's a debut for the ages. Read it." —Laura van den Berg, author of The Isle of Youth

"Young God is a poetic, grim, and beautifully dark novel about backwoods violence and horror recounted in a numbed, laconic voice. Morris writes with splendid economy, chapters short as contes, and plenty of slashing insights on the rough world of throwaway lives and varieties of wrong." —Daniel Woodrell, author of Winter's Bone
Picador, 9781250069245, 208pp.
Publication Date: July 7, 2015
About the Author
Katherine Faw Morris, the author of Young God, was born in northwest North Carolina. She lives in Brooklyn with her husband and two pit bulls.

Katherine Faw's debut novel, Young God, was long-listed for the Flaherty-Dunnan First Novel Prize and named a best book of the year by The Times Literary Supplement, The Houston Chronicle, BuzzFeed, and more. Her second novel is Ultraluminous. Formerly known as Katherine Faw Morris, she was born in North Carolina, and lives in Brooklyn.