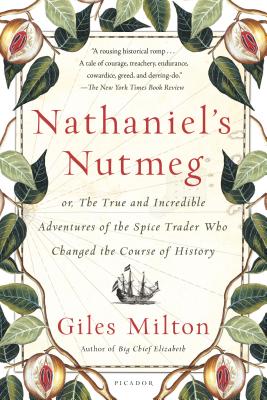 Nathaniel's Nutmeg
or, The True and Incredible Adventures of the Spice Trader Who Changed the Course of History
Paperback

* Individual store prices may vary.
Description
A true tale of high adventure in the South Seas.

The tiny island of Run is an insignificant speck in the Indonesian archipelago. Just two miles long and half a mile wide, it is remote, tranquil, and, these days, largely ignored.

Yet 370 years ago, Run's harvest of nutmeg (a pound of which yielded a 3,200 percent profit by the time it arrived in England) turned it into the most lucrative of the Spice Islands, precipitating a battle between the all-powerful Dutch East India Company and the British Crown. The outcome of the fighting was one of the most spectacular deals in history: Britain ceded Run to Holland but in return was given Manhattan. This led not only to the birth of New York but also to the beginning of the British Empire.

Such a deal was due to the persistence of one man. Nathaniel Courthope and his small band of adventurers were sent to Run in October 1616, and for four years held off the massive Dutch navy. Nathaniel's Nutmeg centers on the remarkable showdown between Courthope and the Dutch Governor General Jan Coen, and the brutal fate of the mariners racing to Run-and the other corners of the globe-to reap the huge profits of the spice trade. Written with the flair of a historical sea novel but based on rigorous research, Giles Milton's Nathaniel's Nutmeg is a brilliant adventure story by a writer who has been hailed as the "new Bruce Chatwin" (Mail on Sunday).
Praise For Nathaniel's Nutmeg: or, The True and Incredible Adventures of the Spice Trader Who Changed the Course of History…
"A rousing historical romp." —The New York Times Book Review

"[Nathaniel's Nutmeg] deftly and arrestingly captures the sorry history of the European lust for nutmeg and its devastating impact on the Spice Islands....Milton is a storyteller of the first rank." —Kirkus Reviews

"Milton's book tells an absorbing story of perilous voyages, greed and political machinations in the Age of Exploration." —Publishers Weekly
Picador, 9781250069283, 400pp.
Publication Date: June 2, 2015
About the Author
Giles Milton is the internationally bestselling author of a dozen works of narrative history, including Soldier, Sailor, Frogman, Spy, Airman, Gangster, Kill or Die: How the Allies Won on D-Day. His previous work, Churchill's Ministry of Ungentlemanly Warfare, is currently being developed into a major TV series. Milton's works—published in twenty-five languages—include Nathaniel's Nutmeg, serialized by the BBC. He lives in London and Burgundy.