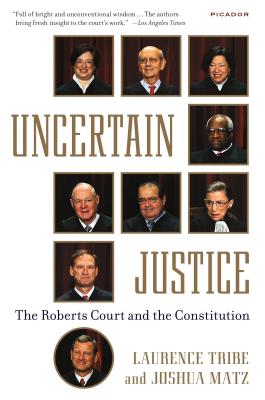 Uncertain Justice
The Roberts Court and the Constitution
Paperback

* Individual store prices may vary.
Other Editions of This Title:
Digital Audiobook (6/2/2014)
Hardcover (6/3/2014)
CD-Audio (6/3/2014)
Description
"Irresistible...A brilliantly layered account of the Roberts Court filled with memorable stories...This book is a joy to read from start to finish."-Doris Kearns Goodwin, author of Team of Rivals and The Bully Pulpit

From Citizens United to its momentous rulings regarding Obamacare and gay marriage, the Supreme Court under Chief Justice John Roberts has profoundly affected American life. Yet the court remains a mysterious institution, and the motivations of the nine men and women who serve for life are often obscure. Now, in Uncertain Justice, Laurence Tribe and Joshua Matz show the surprising extent to which the Roberts Court is revising the meaning of our Constitution.

This essential book arrives at a make-or-break moment for the nation and the court, and the court's decisions on key topics-including free speech, privacy, voting rights, and presidential power-could be uniquely durable. Tribe, one of the country's leading constitutional lawyers, and Matz dig deeply into the court's rulings to deliver original insights and compelling human stories. In the end, Uncertain Justice illuminates the most colorful story of all-how the Supreme Court and the Constitution frame the way we live.
Praise For Uncertain Justice: The Roberts Court and the Constitution…
"Tribe and Matz set out to portray the Roberts court in what they see as its messy complexity. It is no doubt difficult to write with clarity about uncertainty, but Tribe and Matz largely succeed. Surveying a shifting legal landscape, they offer crisp accounts of key cases." —The New York Times Book Review

"Well-written and highly readable…. The strength of the book is its painstaking explanation of all sides of the critical cases, giving full voice and weight to conservative and liberal views alike…. The common-sense tone that prevails in most of the book is a tribute to the mastery of the Supreme Court by Tribe, a keen observer of the justices and of constitutional law for more than four decades." —The Washington Post

"Full of bright and unconventional wisdom… Rejecting tiresome conventions of court reporting -- liberals vs. conservatives, restraint vs. activism -- the authors bring fresh insight to the court's work." —The Los Angeles Times

"Marvelous…Tribe and Matz's insights are illuminating…. [They] offer well-crafted overviews of key cases decided by the Roberts Court … [and] chart the Supreme Court's conservative path, clarifying complex cases in accessible terms." —The Chicago Tribune

"Tribe is a particularly effective messenger… [and] is among the nation's most celebrated legal scholars…. By giving the Justices their due, this book reminds us what it really means to respect the Constitution and its mission." —The Los Angeles Review of Books

"A well-researched, unsettling investigation of recent trends in the nation's highest court… A near-forensic dissection of the court's work under Roberts ... Many of their conclusions will be eye-openers." —Kirkus Reviews

"[An] insightful perspective on the Supreme Court… [and a] nuanced look at how the court under Chief Justice Roberts has arrived at momentous decisions from Citizens United to support for Obamacare." —Booklist

"Laurence Tribe and Joshua Matz have produced a brilliantly layered account of the Roberts Court. Filled with memorable stories and striking references to literature, baseball and popular culture, this book is a joy to read from start to finish--an irresistible narrative that will delight the general public as well as journalists and scholars." —Doris Kearns Goodwin, author of Team of Rivals and The Bully Pulpit

"Laurence Tribe, the foremost constitutional scholar and advocate of his generation, and Joshua Matz have written a brilliantly insightful and engaging account of the Roberts Court. Relentlessly fair-minded in its judgments about the justices and their work, Uncertain Justice is an indispensable guide to the Court's recent history and, more importantly, to its future." —Jeffrey Toobin, author of The Nine and Senior Legal Analyst, CNN

"Uncertain Justice is a fascinating, penetrating, and highly readable analysis of the Supreme Court's jurisprudence. Anyone who aspires to understand how and in what ways the Court is influencing our lives and our laws will want to read this superb and evenhanded book." —Theodore B. Olson, U.S. Solicitor General for President George W. Bush

"No one knows the Supreme Court like Laurence Tribe, and no one brings its decisions to life like Tribe and Joshua Matz. Uncertain Justice is spellbinding--whether you care about gay marriage, health care, NSA surveillance, or gun control, this magnificent book will widen and deepen your understanding of our constitutional landscape." —Kathleen M. Sullivan, Dean, Stanford Law School (1999-2004)

"Uncertain Justice provides a uniquely valuable perspective on the often confusing swirl around the most divisive legal, social, and political issues of our time. Once I started reading it, I just could not stop." —Ron Klain, Chief of Staff, Vice Presidents Biden (2009-11) and Gore (1995-99)

"Uncertain Justice is must reading for anyone interested in the current unannounced agenda of the Supreme Court. Lucidly written and impeccably reasoned, this essential book documents the ways in which the Roberts Court has engaged in a wholesale revision of the Constitution." —Scott Turow, author of One L, Presumed Innocent, and Identical

"We need this book. It is a brilliant discussion of the murky, quirky, troubling, and uncertain Roberts Court. Written in simple, elegant prose for the general public, Uncertain Justice is the best explanation we have of how this Court reaches its most important decisions." —John Jay Osborn Jr., author of The Paper Chase

"Uncertain Justice offers a page-turning and accessible analysis of the Roberts Court and its individual justices. It illuminates the often sharp disagreements and occasionally surprising agreements that mark the Court's performance. For those seeking a thoughtful, balanced, and fair-minded review of the Roberts Court, this is the book to read." —Geoffrey Stone, Dean, University of Chicago Law School (1987-94)

"Put simply, Uncertain Justice is a great book. Timely and important, it tells it like it is and captures the essence of the Court's changing role in American life. It is an amazing piece of work." —Charles J. Ogletree, Jr., Jesse Climenko Professor of Law, Harvard Law School
Picador, 9781250069351, 416pp.
Publication Date: June 9, 2015
About the Author
Laurence Tribe has taught constitutional law at Harvard for four decades and written widely about the law—including the most frequently cited treatise on the U.S. Constitution. He has argued dozens of cases at the Supreme Court, including the first argument in Bush v. Gore.

Joshua Matz, a graduate of Harvard Law School and a frequent contributor to SCOTUSblog, is a clerk for a federal judge in Los Angeles. Together, Tribe and Matz taught an acclaimed course at Harvard about the Supreme Court and the Constitution. Tribe lives in Cambridge, Massachusetts; Matz lives in Los Angeles, California.