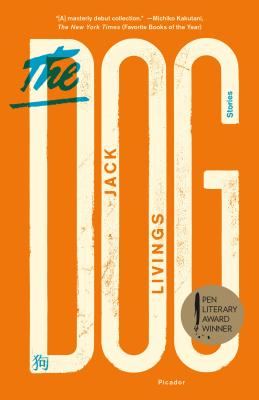 The Dog (Paperback)
Stories
Picador, 9781250069641, 240pp.
Publication Date: July 28, 2015
Other Editions of This Title:
Hardcover (8/5/2014)
* Individual store prices may vary.
Description
Winner of the Pen/Robert W. Bingham Prize
Nominated for the Frank O'Connor International Short Story Prize
"Exceptional . . . A poisoned world, with ruthless people, apparatchiks, Stakhanovites, rude, cruel, anxious chancers, and all subtly alien, quite without the American gene."-Michael Hofmann, The Times Literary Supplement (A Best Book of the Year)
Set in the shifting landscape of contemporary China, this riveting, richly imagined collection explodes the country's cultural and social fault lines, revealing a nation accustomed to bitter struggle and the stranglehold of communism as it confronts a generation rife with the promise of unforeseen prosperity.
A wealthy factory owner-once a rural peasant-donates repeatedly to earthquake relief efforts, but digs in his heels when government pressure requires him to give even more; a marginalized but powerful Uyghur gangster clashes with his homosexual grandson; and a dogged journalist is forced to resign as young writers in "pink Izod golf shirts and knockoff Italian loafers" write his stories out from under him. With spare, penetrating prose, Livings gives shape to the anonymous faces in the crowd and illuminates the tensions, ironies, and possibilities of life in modern China. As heartbreaking as it is hopeful, The Dog marks the debut of a startling and wildly imaginative new voice in fiction.
About the Author
Jack Livings is author of The Dog, which was awarded the 2015 PEN / Robert W. Bingham Prize for debut fiction. The Dog was named a Best Book of the Year by the Times Literary Supplement, and The New York Times critic Michiko Kakutani included the book as one of her ten favorites of 2014. Livings' stories have appeared in A Public Space, The Paris Review, StoryQuarterly, Tin House, The New Delta Review, Guernica, Best American Short Stories, and have been awarded two Pushcart Prizes. He is a graduate of the Iowa Writers' Workshop and was a Wallace Stegner Fellow at Stanford. He lives in New York with his family and is at work on a novel.
Praise For The Dog: Stories…
"[A] masterly debut collection." —Michiko Kakutani, The New York Times (Favorite Books of the Year)
"Exceptional . . . A poisoned world, with ruthless people, apparatchiks, Stakhanovites, rude, cruel, anxious chancers, and all subtly alien, quite without the American gene." —Michael Hofmann, The Times Literary Supplement (A Best Book of the Year)
"Stunning . . . With The Dog, Mr. Livings has made an incisive-and highly impressive-debut." —The New York Times
"[Livings] is unusually perceptive about political realities and the moral cost they exact from ordinary citizen." —The New Yorker
"One of the rewards of this book is the range of vividly human experience its presents... Jack Livings is a very gifted storyteller." —The Atlantic
"Extraordinary ... In prose that is razor sharp but also compellingly poetic and poignant, he brilliantly portrays a society undergoing searing transformational change." —Toronto Star
"These stories, one after another, accomplish those miraculous great-fiction tricks of taking you to places you've never been and can't otherwise go, making the exotic familiar and the ordinary otherworldly, getting you inside the heads of compelling people who seem absolutely real--and they do all this in impeccable prose while being excellent tales that are by turns witty and scary and wise. Jack Livings is a superb and singular writer." —Kurt Andersen, author of True Believers
"Jack Livings's The Dog presents a kaleidoscopic view of the small ironies and stupendous lies of contemporary China. Ranging from the last days of the Cultural Revolution to the first days of the Sichuan earthquake, these stories do what stories do best: they filter history and ideology through the experiences of individuals, with compassion, biting wit, and unsparing honesty." —Jess Row, author of The Train to Lo Wu
"In prose that is at once unadorned and poetic, with a Chekhovian tenderness for even his most corrupt characters, Jack Livings presents us with a startling new portrait of contemporary China. Ruthless and compassionate in its depiction of social, cultural, and familial strife, this is raw, vital storytelling from a voice we cannot ignore. The Dog should be read and studied alongside the stories of Joyce and Cheever, Faulkner and Carver. Listen up, America: We need this book." —Jamie Quatro, author of I Want to Show You More
"Jack Livings's stories of China are marvels of the imagination. Rendered in precise and exquisitely observed detail, they read like directly reported dispatches from the tragic, ruthless, beset, nearly hopeless souls of China. It is Livings's genius, though, to know that nearly hopeless is not the same thing as hopeless. What gives these stories their dark, upsetting grandeur is in every case the luminosity of hope, no matter how fragile, how vulnerable, how very nearly extinguished." —Paul Harding, author of Tinkers
"A socially complex and pitch-perfect account of modernization's grueling aftermath." —Publishers Weekly
"[Jack Livings] writes so simply, and so well . . . These stories are sneaky, almost subliminal, in their ambitions and connections." —Kirkus Reviews (starred review)