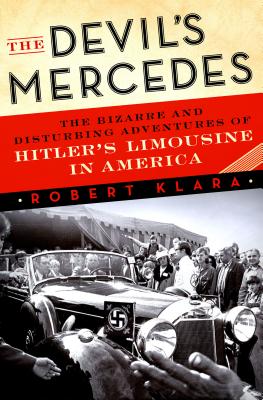 The Devil's Mercedes
The Bizarre and Disturbing Adventures of Hitler's Limousine in America
Hardcover

* Individual store prices may vary.
Description
In 1938, Mercedes-Benz began production of the largest, most luxurious limousine in the world. A machine of frightening power and sinister beauty, the Grosser 770K Model 150 Offener Tourenwagen was 20 feet long, seven feet wide, and tipped the scales at 5 tons. Its supercharged, 230-horsepower engine propelled the beast to speeds over 100 m.p.h. while its occupants reclined on glove-leather seats stuffed with goose down. Armor plated and equipped with hidden compartments for Luger pistols, the 770K was a sumptuous monster with a monstrous patron: Adolph Hitler and the Nazi party.
Deployed mainly for propaganda purposes before the war, the hand-built limousines—in which Hitler rode standing in the front seat—motored through elaborate rallies and appeared in countless newsreels, swiftly becoming the Nazi party's most durable symbol of wealth and power. Had Hitler not so thoroughly dominated the scene with his own megalomania, his opulent limousine could easily have eclipsed him.
Most of the 770Ks didn't make it out of the rubble of World War II. But several of them did. And two of them found their way, secretly and separately, to the United States.
In The Devil's Mercedes, author Robert Klara uncovers the forgotten story of how Americans responded to these rolling relics of fascism on their soil. The limousines made headlines, drew crowds, made fortunes and ruined lives. What never became public was how both of the cars would ultimately become tangled in a web of confusion, mania, and opportunism, fully entwined in a story of mistaken identity.
Nobody knew that the limousine touted as Hitler's had in fact never belonged to him, while the Mercedes shrugged off as an ordinary staff car—one later abandoned in a warehouse and sold off as government surplus—turned out to be none other than Hitler's personal automobile.
It would take 40 years, a cast of carnies and millionaires, the United States Army, and the sleuthing efforts of an obscure Canadian librarian to bring the entire truth to light.
As he recounts this remarkable drama, Klara probes the meaning of these haunting hulks and their power to attract, excite and disgust. The limousines' appearance collided with an American populous celebrating a victory even as it sought to stay a step ahead of the war's ghosts. Ultimately, The Devil's Mercedes isn't only the story of a rare and notorious car, but what that car taught postwar America about itself.
Praise For The Devil's Mercedes: The Bizarre and Disturbing Adventures of Hitler's Limousine in America…
"Engaging and entertaining... For starters, it's a little jewel of investigative journalism that carefully traces the path traveled by two massive if utilitarian pieces of machinery over a span of seventy years. Most of all, it's a great story that features a cast of characters and plot twists even Hollywood wouldn't dare to invent." —Christian Science Monitor
"[Robert Klara] does an admirable sleuthing job in debunking some of the myths surrounding this legendary car…An entertaining story of the irresistible cult of a creepy car."—Kirkus Reviews
"Endlessly riveting...A thoroughly uncomfortable study of the high hopes, smashed dreams, and undying nightmares inherent in any troubling historical relic."—Booklist, starred review
"Klara's fast-paced and lively book will satisfy automobile fans with sensual details of cast-en-bloc eight-cylinder motors, inlaid firewalls, and toolboxes lined in velvet. After forty years, an unlikeable Canadian librarian untangles the cars' ownership, rewarding both history and mystery buffs. The cars' disparate fates should satisfy both their devotees and detractors." —Historical Novel Society
"The Devil's Mercedes is an engrossing mystery with thematic depth, a look at how cars, admittedly impressive ones, became symbols of Nazi horror, and what those symbols have meant for generations of Americans." —Shelf Awareness
"The Mercedes-Benz Grosser 770K was one mean automobile: imposing, fast, and built like a fortress. Klara brings readers along for an entertaining--and on occasion, outlandishly surreal—ride through its history. Enjoy!"—Neal Bascomb, New York Times bestselling author of The Perfect Mile and The Winter Fortress
"Carefully researched and artfully written, Klara's story of history's most infamous Mercedes-Benz, and its impact on postwar American culture, is a compelling read. The Devil's Mercedes is highly recommended for car lovers and history buffs alike."—Kurt Ernst, Editor, Hemmings Daily, Hemmings Motor News
"So Hitler's car, a monstrous five-ton Mercedes-Benz, comes to America, where huckster owners put it on tour. Except that it isn't Hitler's car. The real one languishes in a Canadian museum until a cantankerous librarian unravels the truth. Robert Klara weaves the characters, the cars, the greed, the gullibility and the history into a riveting, revealing detective story."—Paul Ingrassia, Pulitzer Prize-winning reporter, author, and editor of the Revs Institute for Automotive Research
"What a fun ride. The Mercedes is such a loaded icon of Hitler and Nazi Germany, and Klara did a great job unpacking everything and exploring the car's journey through the years. I really enjoyed it."—Suzi Hough, Hicklebees (San Jose, CA)
"The author's telling of the stories of how the cars came to North America is excellent. If you can separate the cars from the owners you have technological marvels that were years ahead of their time. A must read for any gear-head."—Robert Angell, Spring Street Bookstore (Newport, RI)
"This is a must read for any historian or classic car enthusiast."—Nicola's Books (Ann Arbor, MI)
"Car buffs and history sleuths alike will want to devour Robert Klara's impeccably researched work in a single sitting." -Bill Reilly, The River's End Bookstore (Oswego, NY)
"The story involves the U.S. army, opportunistic millionaires, ravenous crowds, and even the sleuthing of an old-school Canadian librarian who helps reveal the cars' origins in a way that Google never could." —Chassy Media
Thomas Dunne Books, 9781250069726, 352pp.
Publication Date: March 7, 2017
About the Author
ROBERT KLARA is the author of the critically acclaimed FDR's Funeral Train and The Hidden White House. His unveiling of the private world of the famous funeral train was hailed as "a major new contribution to U.S. history" by Douglas Brinkley. His second book, a dramatic account of Truman's fight to save the White House, was called "popular history at its best" (The Christian Science Monitor). His writing has appeared in The New York Times, among other publications.
or
Not Currently Available for Direct Purchase