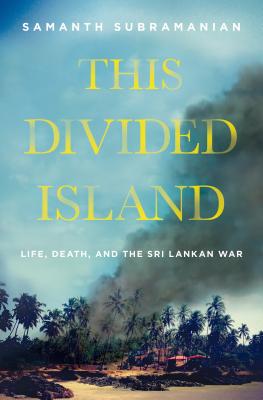 This Divided Island (Hardcover)
Life, Death, and the Sri Lankan War
Thomas Dunne Books, 9781250069740, 336pp.
Publication Date: December 15, 2015
* Individual store prices may vary.
Description
Samanth Subramanian has written about politics, culture, and history for the New York Times and the New Yorker. Now, Subramanian takes on a complex topic that touched millions of lives in This Divided Island.
In the summer of 2009, the leader of the dreaded Tamil Tiger guerrillas was killed, bringing to an end the civil war in Sri Lanka. For nearly thirty years, the war's fingers had reached everywhere, leaving few places, and fewer people, untouched. What happens to the texture of life in a country that endures such bitter conflict? What happens to the country's soul? Subramanian gives us an extraordinary account of the Sri Lankan war and the lives it changed. Taking us to the ghosts of summers past, he tells the story of Sri Lanka today. Through travels and conversations, he examines how people reconcile themselves to violence, how the powerful become cruel, and how victory can be put to the task of reshaping memory and burying histories.
About the Author
SAMANTH SUBRAMANIAN is a New Delhi-based writer and journalist. He has written stories for the New Yorker,Granta, The New York Times, and TheWall Street Journal, and book reviews and cultural criticism for the New Republic, The Guardian, and Bookforum.
Praise For This Divided Island: Life, Death, and the Sri Lankan War…
"Engaging work of literary nonfiction...a harrowing yet captivating account of wartime and postwar Sri Lanka... Subramanian's balanced, beautifully written reportorial travelogue smartly reveals Sri Lanka's complex conflict to international audiences."
--Publishers Weekly (starred)
"With his keen journalistic eye, Subramanian illuminates the complexities and atrocities of a country and culture trying to establish its identity… A great read by a stellar writer."
--Library Journal
"A powerful book...Anyone interested in Sri Lanka, its past, present and future, must read this book." —The Times of India
"There is only one word to describe this book: it's a masterpiece, a Book of the Year, even possibly the decade" —India Today (India)
"Pick up This Divided Island, it'll be one of the best books you'll pick up this year." —The Asian Age (India)
"To integrate these interviews into a broader historical narrative as seamlessly as subramanian has done is a rare event." —Scroll (India)
"Like Philip Gourevitch's account of the genocide in Rwanda, We Wish To Inform You That Tomorrow We Will be Killed With Our Families, this is a superbly reported book. " —Business Standard (India)

''Balanced, observant, good-natured, discursive and frequently witty.''
--William Dalrymple, The Guardian
''Extraordinary.''
--Roma Tearne, The Independent
"A highly readable and powerful account of an oft-ignored struggle and the lives it came to shatter."
--Kirkus
or
Not Currently Available for Direct Purchase