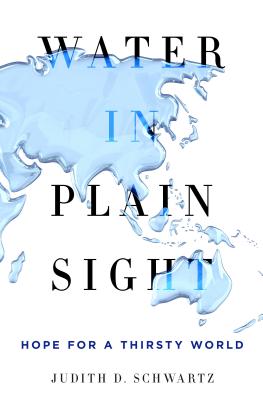 Water in Plain Sight
Hope for a Thirsty World
Hardcover

* Individual store prices may vary.
Other Editions of This Title:
Paperback (5/2/2019)
Description
Water scarcity is on everyone's mind. Long taken for granted, water availability has entered the realm of economics, politics, and people's food and lifestyle choices. But as anxiety mounts - even as a swath of California farmland has been left fallow and extremist groups worldwide exploit the desperation of people losing livelihoods to desertification - many are finding new routes to water security with key implications for food access, economic resilience, and climate change.

Water does not perish, nor require millions of years to form as do fossil fuels. However, water is always on the move. In this timely, important book, Judith D. Schwartz presents a refreshing perspective on water that transcends zero-sum thinking. By allying with the water cycle, we can revive lush, productive landscapes. Like the river in rural Zimbabwe that, thanks to restorative grazing, now flows miles further than in living memory. Or the food forest of oranges, pomegranates, and native fruit-bearing plants in Tucson, grown through harvesting urban wastewater. Or the mini-oasis in West Texas nourished by dew.

Animated by stories from around the globe, Water In Plain Sight is an inspiring reminder that fixing the future of our drying planet involves understanding what makes natural systems thrive.
Praise For Water in Plain Sight: Hope for a Thirsty World…
"A call to expand our thinking to include plants and animals as part of the planet's water cycle, and, further, to emphasize water in solutions to rebalance nature and to save us from ourselves." —Waterkeepers Magazine

"Schwartz says that improving practices on the land can reap huge water — and climate — benefits...offers a vision of water for a thirsty world through a better understanding of what makes natural systems thrive." —Society of Environmental Journalists

"Compelling...Schwartz takes the reader on a global tour of experts who have devoted their lives to alternative natural resource management techniques that focus on water...should be required reading." —Biohabitats.com

"In her heartening new book, Schwartz brings us the stories of ecologists all over the world who are employing simple, old-fashioned, low-tech methods to solve the critical problem of keeping our warming planet hydrated." —Women's Voices for Change

"Reading and then rereading Schwartz's work has again given me inspiration to make some very real positive changes in our communities and lands. I can recommend it to all. Water in Plain Sight provides us with motivation and hope, in the form of a whole global toolbox of solutions to actively heal our planet with." —KT Shepherd Permaculture

"Inspiring...We are accustomed to thinking of water as nourishing life, but Schwartz is focused upon the converse phenomenon: the ways in which life promotes water." —Pacific Standard

"Schwartz makes a strong argument that solutions for water management must be localised, repairing small water cycles." —Sustainable Food Trust

"Inspiring." —Nature

"[Schwartz] examines how human activity has damaged global water and climate systems and provides an unusually hopeful vision of what we can do to restore them." —Shelf Awareness

"The work of Judith Schwartz...is so important....Schwartz is a powerful storyteller and accessible writer." —The Christian Century

"Throughout the ongoing drought, millions of Californians have lifted eyes skyward, yearning for rain. But Judith Schwartz believes we should spend just as much energy puzzling over the ground at our feet." —Matt Weiser, NewsDeeply

"Excellent...for once a book about water and climate change isn't just gloom and doom: Water in Plain Sight leaves you with the notion how things can be fixed 'by looking at how nature manages water and, by extension, regulates heat.'" —Soil Association

"Water makes up much of our planet and our bodies and yet what keeps it available and safe is a mystery to most of us. This fascinating and readable book is a primer for how to save our health as we save our ecosystems." —Daphne Miller MD, author of Farmacology and The Jungle Effect

"What a great book! Judith Schwartz shows how better management of our land and water could change the climate." —Alice Outwater, author of Water: A Natural History

"Carbon, and energy cycles are out of whack; the good news is that solutions to these problems are within reach. Journalist Schwartz, who challenged much of the conventional thinking about global warming in Cows Save the Planet (2013)...[looks] more broadly at how nature manages water and thus regulates heat." —Kirkus Reviews

"Hope, like water, often lies hidden just out of sight. Water in Plain Sight helps us find both." —Jim Robbins, author of The Man Who Planted Trees

"People all over the world agonize about water—too much or not enough—and are directed to expensive, high-tech solutions. But in this important and exhilarating book, Judith Schwartz argues that the solutions lie in understanding and working with nature. Herein lies abundance and hope." —Kristin Ohlson, author of The Soil Will Save Us: How Scientists, Farmers and Foodies are Healing the Soil to Save the Planet

"Happily, this book maps out, in very entertaining fashion, compelling strategies for fixing our broken relationship with water and offers hope that we can find "new routes to water security." —Tom Newmark, Chairman, Greenpeace Fund USA, Co-Founder and Chairman, The Carbon Underground

"Imagine having a wise and well-traveled friend eager to take you on a global tour of water triumphs and failures. Minus the airfare and jet lag, that is what Judith Schwartz has brought us with Water in Plain Sight." —Seth M. Siegel, author of New York Times bestseller Let There Be Water: Israel's Solution for a Water-Starved World

"Judith Schwartz's work gives us not just hope but also a sense that we humans--serial destroyers that we are--can actually turn the climate crisis around." —Gretel Ehrlich, author of Facing the Wave: A Journey in the Wake of the Tsunami
St. Martin's Press, 9781250069917, 256pp.
Publication Date: July 26, 2016
About the Author
Judith D. Schwartz is a journalist whose recent work looks at soil as a hub for multiple environmental, economic and social challenges-and solutions. She writes on this theme for numerous publications and speaks in venues around the world. Her 2013 book Cows Save the Planet was awarded a Nautilus Book Award Silver Prize for Sustainability and is among Booklist's Top 10 Books On Sustainability. A graduate of the Columbia Journalism School and Brown University, she lives in Vermont.
or
Not Currently Available for Direct Purchase