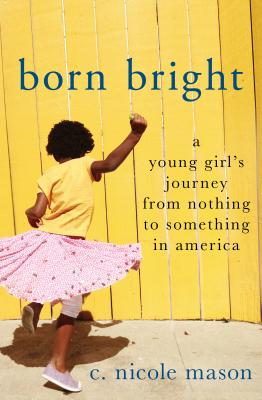 Born Bright
A Young Girl's Journey from Nothing to Something in America
Hardcover

* Individual store prices may vary.
Other Editions of This Title:
MP3 CD (8/16/2016)
MP3 CD (8/16/2016)
Compact Disc (8/16/2016)
Compact Disc (8/16/2016)
Library Binding, Large Print (1/1/2017)
Description
*Green River College's 2018-2019 One Book Selection*
Standing on the stage, I felt exposed and like an intruder. In these professional settings, my personal experiences with hunger, poverty, and episodic homelessness, often go undetected. I had worked hard to learn the rules and disguise my beginning in life...
So begins Born Bright, C. Nicole Mason's powerful memoir, a story of reconciliation, constrained choices and life on the other side of the tracks. Born in the 1970s in Los Angeles, California, Mason was raised by a beautiful, but volatile16-year-old single mother. Early on, she learned to navigate between an unpredictable home life and school where she excelled.
By high school, Mason was seamlessly straddling two worlds. The first, a cocoon of familiarity where street smarts, toughness and the ability to survive won the day. The other, foreign and unfamiliar with its own set of rules, not designed for her success. In her Advanced Placement classes and outside of her neighborhood, she felt unwelcomed and judged because of the way she talked, dressed and wore her hair.
After moving to Las Vegas to live with her paternal grandmother, she worked nights at a food court in one of the Mega Casinos while finishing school. Having figured out the college application process by eavesdropping on the few white kids in her predominantly Black and Latino school along with the help of a long ago high school counselor, Mason eventually boarded a plane for Howard University, alone and with $200 in her pocket.
While showing us her own path out of poverty, Mason examines the conditions that make it nearly impossible to escape and exposes the presumption harbored by many—that the poor don't help themselves enough.
Praise For Born Bright: A Young Girl's Journey from Nothing to Something in America…
"Like Frank McCourt's Angela's Ashes or Jeanette Walls' The Glass Castle, [Born Bright] makes painfully vivid what often happens under the radar: a child weathering the dysfunction of the adult world in the most courageous and innovative of ways...Beautifully written." —Courtney E. Martin, On Being with Krista Tippett
"Mason reveals the reasons poverty is nearly impossible to escape and rejects the notion that the poor don't help themselves enough." —Telegram
"[Mason] tells the story of her childhood and she uses it to illustrate the many reasons that it's so difficult to escape a life of poverty." —KCRW's Press Play
"Striking...[Mason] shows us not only what poverty looks like but what it feels like." —Patrik Bass, NY1
"[Mason's] intimate memories and scholarly expertise illuminate and empower this vivid memoir....this heartfelt memoir will have broad appeal." —Shelf Awareness
"Dr. Mason's provocative and powerful memoir shines a bright light on the complex conditions facing families struggling to break the cycle of poverty. Her candid and personal writing animates the often overlooked resilience of families. Mason invites the reader to move beyond the mindset of celebrating the one who beats the odds to how we, as a society, must change the rules of the game -- so that all of our children can reach their full potential." —Anne Mosle, Vice President, the Aspen Institute
"Compelling...[an] urgent memoir, showing not only what poverty looks like but what it feels like as well. No matter your financial status, you will be far better off after having read Born Bright, not just because it's a powerful story, but also because it's one so seldom heard." —Essence
"Intimate and insightful." —Bustle
"Readers will find Mason's absorbing memoir—which would make an excellent book-club selection—to be an interesting take on the issue of entrenched poverty in the U.S." —Booklist
"This firsthand account of a passage out of poverty will inspire readers interested in the strength of the human spirit in overcoming formidable obstacles." —Library Journal
"A thoughtful, well-crafted rejoinder to Claude Brown's half-century-old Manchild in the Promised Land, speaking to the power of hope and the institutional changes needed to make hope possible." —Kirkus Reviews
"[A] raw and intimate memoir...Mason vividly illustrates the grit, determination, and "herculean effort" necessary to reframe a young life steeped in unyielding poverty." —Publisher's Weekly
"The story of a smart and determined girl fighting her way out of poverty in Los Angeles during the late eighties and early nineties." —New York Observer
"Heartfelt, evocative and deeply moving. Mason's writing recalls the work of James Baldwin, Bell Hooks and Maya Angelou, masterfully weaving poetic portraits from a difficult childhood into a call for action to see a more just society. This is a conversation that could not be more relevant for our time. Read this book and see America differently." —Liz Murray, author of the bestseller Breaking Night: A Memoir of Forgiveness, Survival and My Journey From Homeless to Harvard
"Born Bright compels us to look into the face of poverty and to do all we can as a nation to change it. Filled with the grit of real life, it is a gripping and eloquent account of Dr. Mason's personal journey. It will redefine everything you thought you knew about what it means to be poor in America." —Wes Moore, Founder and CEO of BridgeEdU
"An illuminating memoir...Born Bright reveals the brutal weight of concentrated, persistent, and racialized poverty on Black girls, Black families, and their communities. ." —Angela Glover Blackwell, President and CEO, PolicyLink
"A powerful anecdote to dominant societal narratives that say the poor would succeed if only they were more ambitious or hardworking. As much as any author I've ever read, Dr. Mason shows us that there are millions of poor children who are "born bright." However, without opportunity or support, many of them will continue to fall through the cracks. Anyone who is working to build a more equitable society should keep Dr. Mason's message in mind, every day." —Yasmina Vinci, Executive Director, National Head Start Association
"C. Nicole Mason has given us a gift in this memoir that explains so much about how systems and rules work against the lives of actual Black girls and their families. An inspiring, instructive addition to anti-racist and feminist literature." —Rinku Sen, Executive Director, Race Forward
St. Martin's Press, 9781250069924, 256pp.
Publication Date: August 16, 2016
About the Author
C. Nicole Mason serves as the Executive Director of the Center for Research and Policy in the Public Interest (CR2PI) and is an inaugural Ascend Fellow at the Aspen Institute. Her writing and commentary has appeared in major newspapers and outlets across the country including MSNBC, CNN, NBC, CBS, Real Clear Politics, the Nation, the Huffington Post, the Progressive, ESSENCE Magazine, the Root, the Griot, the Miami Herald, Democracy Now, and numerous NPR affiliates, among others.