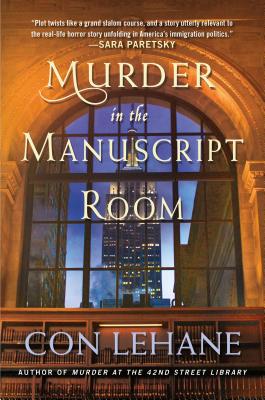 Murder in the Manuscript Room (Hardcover)
A 42nd Street Library Mystery (The 42nd Street Library Mysteries #2)
Minotaur Books, 9781250069993, 320pp.
Publication Date: November 21, 2017
Other Editions of This Title:
MP3 CD (11/21/2017)
Compact Disc (11/21/2017)
Pre-Recorded Audio Player (12/21/2017)
* Individual store prices may vary.
Description
The second in Con Lehane's 42nd Street Library mystery series, Murder in the Manuscript Room is a smart, compelling mystery in which the characters themselves are at least as interesting as the striking sleuthing.
"Not to be missed." —Megan Abbott
"A story utterly relevant to the real-life horror story unfolding in America's immigration politics."—Sara Paretsky

When a murder desecrates the somber, book-lined halls of New York City's iconic 42nd Street Library, Raymond Ambler, the library's curator of crime fiction, has a personal interest in solving the crime. His quest to solve the murder is complicated by personal entanglements involving his friend—or perhaps more-than-friend—Adele Morgan. Not only does Adele's relationship with the young woman staffer who was murdered get in the way of Ambler's investigation, more disturbing for him is Adele's growing interest in a darkly handsome Islamic scholar.
Soon the Intelligence Division of the New York Police Department takes over the case from NYPD homicide detective Mike Cosgrove, Ambler's friend and sometimes partner-in-crime solving. Ambler suspects that the murder of the young woman, who'd been working at the library under an assumed name and the curious intervention of NYPD's intelligence division are connected. The trail of intrigue leads to a seemingly unrelated murder in an upstate prison and a long ago murder of a trade union reformer.
No one else sees the connections Ambler is sure are there—not an unusual state of affairs for Ambler. But with the city's law enforcement establishment determined to stop his investigation, the inquisitive and intrepid librarian faces challenges that may put his very life at risk.
About the Author
Con Lehane is a mystery writer, living outside Washington, DC. Murder at the 42nd Street Library is the first in his series featuring Raymond Ambler, curator of the 42nd Street Library's (fictional) crime fiction collection. He's also the author of the novels featuring New York City bartender Brian McNulty. Over the years, he (Lehane, that is) has been a college professor, union organizer, labor journalist, and has tended bar at two-dozen or so drinking establishments. He teaches fiction writing and mystery writing at The Writer's Center in Bethesda, Maryland.
Praise For Murder in the Manuscript Room: A 42nd Street Library Mystery (The 42nd Street Library Mysteries #2)…
Praise for Murder in the Manuscript Room:
"Con Lehane has the whole package here: characters the reader cares about, plot twists like a grand slalom course, and in the middle of it, a story utterly relevant to the real-life horror story unfolding in America's immigration politics."—Sara Paretsky
"The second title in a nicely bookish series, this one highlights the formidable memory and ratiocinative skills of Ambler, the curator of crime fiction at the landmark New York Public Library."—New York Times Book Review
"Should particularly appeal to those of a bookish or historical turn of mind...witty"—The Washington Post ("Michael Dirda's wondrous holiday book recommendations")
"A nicely constructed murder mystery with an air of espionage. The past and present are nimbly woven into an intriguing tapestry that makes Murder in the Manuscript Room as much about our culture as it is about murder."—Mystery Scene
"Lehane provides food for thought by comparing past FBI transgressions with present-day Homeland Security activities."—Publishers Weekly
"[An] intense, thought-provoking story."—Library Journal
"Highly atmospheric, this book really gives a feel for the environs of New York in the winter as well as the relationships between characters."—Chicago Public Library Blogs
"Con Lehane's Murder in the Manuscript Room caught my attention because not only does its crime take place in a great library, its detective is also a believable librarian. That hook, though, brought me into a whole world of well-developed characters--relatives, crooks, good cops, bad cops, possible terrorists, and a plot ranging in scope from New York high society soirees down through back rooms in great neighborhood bars. I found, myself, Murder in the Manuscript Room is a fun book to read in a neighborhood bar!"—Thomas Mann, author of The Oxford Guide to Library Research
"A smart, compelling mystery in which the characters themselves are at least as interesting as the striking sleuthing."—BookBrowse
"A complex mystery that forces people to ponder their responsibilities for others."—Lesa's Book Critiques
Praise for Con Lehane's Murder at the 42nd Street Library:
"Con Lehane provides a fine story, strong and believable characters, and a wonderful setting." —NY Journal of Books
"Con Lehane's Murder at the 42nd Street Library offers up a masterful tale of intrigue, jealousy, and revenge in the grand tradition of Ross Macdonald. Not to be missed." —Megan Abbott
"Lehane awards his previous detective, bartender Brian McNulty, a cameo but focuses on the complicated Ray, who looks like a promising newcomer in the talented-amateur ranks."—Kirkus (starred)
"Lehane's enjoyable first in a new series introduces crime fiction librarian Raymond "Ray" Ambler...The bodies begin to pile up as Ambler and two librarian colleagues dig deeper, evoking poignant parallels in the lives of Ambler and his homicide detective friend, Mike Cosgrove. Fans of Lehane's cranky bartender Brian McNulty, the hero of his earlier series, will welcome his appearance in a supporting role."—Publishers Weekly
"Lehane, better known for his "Bartender Brian McNulty" series (Death at the Old Hotel), brings McNulty along for the ride (as a minor character) in this library-set series launch. His protagonist, named after two masters of the genre (Raymond Chandler and Eric Ambler), reflects the author's in-depth knowledge of the history of the genre. A fun read for mystery buffs and librarians alike."—Library Journal
"Pick up D.C. author Con Lehane's Murder at the 42nd Street Library."—Michael Dirda, The Washington Post
"Ray makes a sturdy, believable hero for this new series. Murder at the 42nd Street Library will make readers want to schedule a visit to this archetypal library during their next visit to New York City."—Sun Sentinel

"A sly and witty new mystery." —Reed Farrel Coleman, award-winning author of The Hollow Girl
"An inventive tale of murder and mayhem. Con Lehane, like his librarian-sleuth Ray Ambler, knows how to keep his readers happy." —Daniel Stashower, Edgar-winning author of The Hour of Peril
"In Murder at the 42nd Street Library Con Lehane provides a riveting ride...Jam-packed with surprises!" —Katherine Neville, New York Times bestselling author of The Fire and A Calculated Risk
"The beautiful and iconic New York Public Library on 42nd Street in Manhattan-with its stone lions in front, multiple levels and history-makes a stimulating setting for the launch of what should be a lively series about librarian Ramond "Ray" Ambler. Murder at the 42nd Street Library is fueled by an energetic plot, an evocative setting one can literally get lost in, and realistic characters."—Oline H. Cogdill, Florida Sun-Sentinel