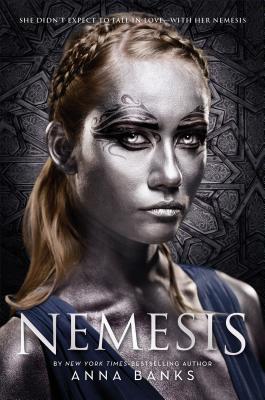 Nemesis
Hardcover

* Individual store prices may vary.
Description
The princess didn't expect to fall in love--with her nemesis.

Princess Sepora of Serubel is the last Forger in all the five kingdoms. The spectorium she creates provides energy for all, but now her father has found a way to weaponize it, and his intentions to incite war force her to flee from his grasp. She escapes across enemy lines into the kingdom of Theoria, but her plans to hide are thwarted when she is captured and placed in the young king's servitude.

Tarik has just taken over rulership of Theoria, and must now face a new plague sweeping through his kingdom and killing his citizens. The last thing he needs is a troublesome servant vying for his attention. But mistress Sepora will not be ignored. When the two finally meet face-to-face, they form an unlikely bond that complicates life in ways neither of them could have imagined.

Sepora's gift could save Tarik's kingdom from the Quiet Plague. But should she trust her growing feelings for her nemesis, or should she hide her gifts at all costs?

A thrilling futuristic fantasy in which the fate of the world's energy source is in the hands of a prince and princess who are rivals, by the New York Times-bestselling author of the Syrena Legacy.
Praise For Nemesis…
In the kingdom of Serubel, Princess Sepora has the peculiar talent of secreting precious metal from her hands, which is essential to her father's war efforts; but she prefers running away to building more weaponry. Prince Tarik is the newly crowned king of Theoria, and his immediate worries include a mysterious plague that is killing his people and the imminent threat of an attack from Serubel. When Sepora turns up as a very reluctant member of Tarik's inherited harem, sparks fly. Interactions between Sepora and Tarik are right on target in terms of tenor and pacing, and the few stolen kisses and caresses are doubly satisfying because of that. ...This combination fantasy-romance novel touches on issues of trust, allegiance, priorities, and self-sacrifice and ends in a bit of a cliff-hanger. First in a planned duet, Nemesis will leave readers wanting more. -- Booklist

"With a lush weaving of magical cultures, war, romance, truth, and lies, Banks has created a unique, fascinating world brimming with intrigue. I couldn't turn the pages of Nemesis fast enough."--Mary Pearson, New York Times-bestselling author of The Remnant Chronicles

"If you have readers begging for fantasy or romance, toss this their way. Then stand back and say, "You're welcome" -- VOYA, starred review
Feiwel & Friends, 9781250070173, 368pp.
Publication Date: October 4, 2016
About the Author
Anna Banks grew up in a small town called Niceville (yes, really). She now lives in Crestview, Florida, with her husband and their daughter. She is the author of The Syrena Legacy series: Of Poseidon, Of Triton, and Of Neptune.