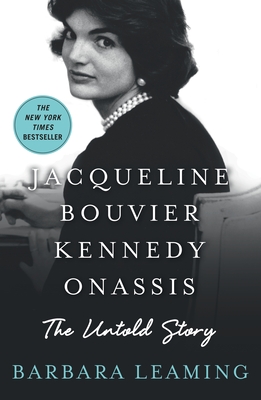 Jacqueline Bouvier Kennedy Onassis (Paperback)
The Untold Story
St. Martin's Griffin, 9781250070258, 368pp.
Publication Date: November 3, 2015
Other Editions of This Title:
Digital Audiobook (10/27/2014)
Hardcover (10/28/2014)
CD-Audio (10/28/2014)
Pre-Recorded Audio Player (11/2/2014)
* Individual store prices may vary.
Description
"An intimate and revealing look at one of the twentieth century's most remarkable—and misunderstood women." —KIRKUS REVIEWS
Jacqueline Bouvier Kennedy Onasis: The Untold Story is the first book to document Jackie's thirty-one-year struggle with posttraumatic stress disorder (PTSD). Here is the woman as she has never been seen before. Barbara Leaming explores the seemingly magical world of Jackie's youth, her fairy-tale marriage to a wealthy and handsome senator and presidential candidate and her astonishing transformation into a deft political wife and unique First Lady. This spirited young woman's rejection of the idea of a "safe marriage" as the wife of some socially prominent but utterly predictable man led her to JFK and, in time, international fame. But the trauma of her husband's murder would damage her far more than has been known. Until now.
While the life of Jacqueline Bouvier Kennedy Onassis has been examined and scrutinized countless times, it is only now that we can truly understand the woman behind the facade, the untold story of this iconic woman.
About the Author
Barbara Leaming is the author of three New York Times bestsellers, including her recent book Jacqueline Bouvier Kennedy Onassis. Leaming's book Churchill Defiant received The Emery Reves Award from the International Churchill Centre. Her groundbreaking biography of America's 35th President, Jack Kennedy: The Education of a Statesman was the first to detail the lifelong influence of British history and culture and especially of Winston Churchill on JFK. Her articles have appeared in the New York Times Magazine, Vanity Fair, the Timesof London and other periodicals. She lives in Connecticut.
Praise For Jacqueline Bouvier Kennedy Onassis: The Untold Story…
"Provocative… Recast in this light, Jackie's post-1963 actions make a new kind of sense… With a diagnosis of PTSD in mind, incidents once criticized as selfish or at least self-indulgent can be reassessed." —USA Today
"An intimate and revealing look at one of the 20th century's most remarkable--and misunderstood--women." —Kirkus Reviews
"Jacqueline Bouvier Kennedy Onassis provides suggestive evidence that her subject suffered from the clinical symptoms of post-traumatic stress disorder, or PTSD, including flashbacks, insomnia, numbness, avoidance, fear, depression, and anger. … Her documentation -- which includes Jackie's remarks to intimates, as well as her behavior -- is compelling. Interpreting the post-assassination life through the lens of PTSD turns out to be a fruitful way of making sense of Jackie's sometimes odd-seeming choices." —The Boston Globe
"Barbara Leaming offers a startling and fascinating look at Jackie's life. … Sensitive and stylish, intimate and insightful…. At once harrowing and humane, Jacqueline Bouvier Kennedy Onassis stands as a deeply moving narrative." —Richmond Times-Dispatch
"Both refreshing and uniquely insightful." —Maclean's
"Successfully provides a fresh perspective on the widow of assassinated U.S. president John F. Kennedy. Award-winning biographer Barbara Leaming's take on Kennedy Onassis is well-written and thoroughly researched. ... Leaming's new biography brings her back to life in an important new light." —Winnipeg Free Press
"Barbara Leaming makes a strong argument, based on original research, that Jackie suffered from Post Traumatic Stress Disorder (PTSD) at a time before the condition had been diagnosed." —Bookpage