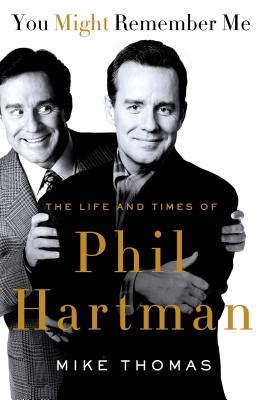 You Might Remember Me (Paperback)
The Life and Times of Phil Hartman
St. Martin's Griffin, 9781250070302, 336pp.
Publication Date: December 1, 2015
Other Editions of This Title:
Hardcover (9/23/2014)
MP3 CD (5/24/2016)
* Individual store prices may vary.
Description
Beloved TV comedic actor Phil Hartman is best known for his eight brilliant seasons on Saturday Night Live, where his versatility and comedic timing resulted in some of the funniest and most famous sketches in the television show's history. Besides his hilarious impersonations of Phil Donahue, Frank Sinatra and Bill Clinton, Hartman's other indelible characters included Cirroc the Unfrozen Caveman Lawyer, Eugene the Anal Retentive Chef and, of course, Frankenstein. He also starred as pompous radio broadcaster Bill McNeal in the NBC sitcom NewsRadio and voiced numerous classic roles — most memorably washed-up actor and commercial pitchman Troy McClure — on Fox's long-running animated hit The Simpsons.
But Hartman's seemingly charmed life was cut tragically short when he was fatally shot by his troubled third wife, Brynn, who turned a gun on herself several hours later. The shocking and headline-generating turn of events stunned those closest to the couple as well as countless fans who knew Phil only from afar. Now, for the first time ever, the years and moments leading up to his untimely end are described in illuminating detail through information gleaned from exclusive interviews with scores of famous cast mates, close friends and family members as well as private letters, audio/video recordings, extensive police records, and more.
Both joyous tribute and serious biography, Mike Thomas' You Might Remember Me is a celebration of Phil Hartman's multi-faceted career and an exhaustively reported, warts-and-all examination of his often intriguing and sometimes complicated life—a powerful, humor-filled and disquieting portrait of a man who was loved by many, admired by millions and taken from them far too early.
About the Author
MIKE THOMAS authored the critically acclaimed oral history The Second City Unscripted: Revolution and Revelation at the World-Famous Comedy Theater (Villard, 2009) and is a longtime arts/entertainment staff writer at the Chicago Sun-Times, where he frequently writes about comedy. Over the years he has interviewed numerous renowned comics and comedic actors, including Louis C.K., Stephen Colbert, Bill Cosby, Rodney Dangerfield, Phyllis Diller, Bob Newhart, Jerry Seinfeld, Robin Williams, Sarah Silverman and Jon Stewart. His national magazine work has appeared in Esquire, Playboy and Smithsonian. He lives in Chicago with his wife and their two daughters.
Praise For You Might Remember Me: The Life and Times of Phil Hartman…
"You Might Remember Me is valuable—a well-reported, thorough portrait of an artist....[Thomas] doesn't make Brynn Hartman a monster or Phil Hartman a saint. He presents Hartman as he was, without diminishing or sanitizing him, giving the world a more nuanced remembrance than much of what's been published about him since 1998. It's a good way to remember him." —The New Yorker
"In Mike Thomas...Hartman has gotten the biographer he deserves....If you want to know what made Phil Hartman tick and what, in turn, gives him a permanent place in this country's laughter landscape, this book is the ticket, and you will remember the ride." —Chicago Tribune
"Thomas illuminates the private life of one of the greatest character actors of his generation....Even as you're turning the pages of the book, nothing will prepare you for the ending that you already know. But the inside story shows the complicated and messy lives that Hartman hid from everyone else around him." —Salon
"A much needed, well-researched biography…Phil Hartman is revealed with compassion and respect…Verdict: A welcome contribution to the sparse and one-note publications about Hartman's career and life." —Library Journal
"Phil Hartman is missed by many, but for those who adored him--and those who want to know more about him--Mike Thomas has crafted a joyous, serious, and compelling biography that affirms Phil's unique place in American comedic culture." —James Andrew Miller, New York Times bestselling author of Live From New York
"Saturday Night Live certainly 'makes' a lot of careers. However, there are a select few without which SNL would not be the same. That was Phil Hartman. He was an incredibly deep, brilliant, complex and enriching personality. You Might Remember Me uncovers all the many, diverse experiences that fueled Phil's comedy, passion and his incredible ability to bond or 'glue' with those around him--both on and off stage. Mike Thomas shows us Phil Hartman the artist, the poet, the surfer, the musician, the friend. What a life he lived." —Tom Farley, New York Times bestselling co-author of The Chris Farley Show and brother of Chris Farley
"Piercing, heartbreaking, and superbly researched--full of wisdom about the brutal business of comedy and the 'man of a thousand voices' who was one of its great, tragic practitioners." —James Kaplan, New York Times bestselling author of Frank: The Voice
"Beautifully written and exquisitely researched, You Might Remember Me puts us inside the heart and mind of Phil Hartman, one of the great comedic geniuses of our time. By writing it, Mike Thomas has done more than produce Hartman's definitive biography--he has taken us on a journey into an era of immense inspiration and creativity, put us at the table with giant personalities, and shown us, so honestly, the hopes and dreams of a complicated and truly decent man." —Robert Kurson, New York Times bestselling author of Shadow Divers and Crashing Through