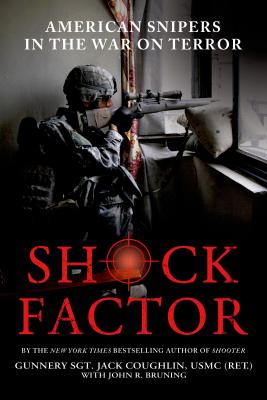 Shock Factor
American Snipers in the War on Terror
Paperback

* Individual store prices may vary.
Other Editions of This Title:
Hardcover (10/28/2014)
Description
From the author of the New York Times bestselling memoir Shooter, comes a riveting narrative of how snipers have changed the course of America's war on al Qaida in the Middle East and Africa.
Retired Marine sniper Jack Coughlin (Shooter) and John Bruning pull back the curtain of secrecy to take an insider's look at the dark and misunderstood world of America's sniper force. Long considered the redheaded stepchildren of the infantry, snipers have been loathed by their fellow warriors, called "ten cent killers" by our media, and portrayed as unbalanced psychopaths by Hollywood. Coughlin and Bruning explore the lives and careers of some of America's most effective snipers during key missions, moments and campaigns in the War on Terror.
Part page-turning thriller, part deeply human drama, Shock Factor takes you from the streets of the modern day "Stalingrad" of Ramadi to the skyscrapers of Baghdad as America's one-shot warriors fight desperate battles against all odds, find themselves at the heart of tense international incidents, stalk key enemy leaders, and discover horrific human rights abuses perpetrated by our own allies. Based on extensive interviews with snipers currently on active duty, Shock Factor's gripping accounts of harrowing combat, buried truths and secrets revealed could only be told by snipers to a trusted member of their own elite and cloistered brotherhood.
Praise For Shock Factor: American Snipers in the War on Terror…
"[Coughlin], whose 2005 autobiography Shooter and subsequent sniper novels achieved best-seller status, returns to nonfiction with this insider account of American snipers fighting Islamist terrorism and the toll that their service takes on them." —Pittsburgh Tribune Review
"Coughlin's exciting and gripping narratives will appeal to enthusiasts of dramatic war stories and popular military history." —Library Journal
"Beyond the realistic depictions of urban combat, the book's strength is in its in-depth discussion of the elite snipers' weapons, training and tactics." —Kirkus Reviews
St. Martin's Griffin, 9781250070357, 336pp.
Publication Date: November 10, 2015
About the Author
Gunnery Sgt. Jack Coughlin's autobiography, Shooter, describes his experiences as the top-ranked marine sniper in the Iraq War. Coughlin is also the author, with Donald A. Davis, of the Kyle Swanson Sniper Novels, including Long Shot and In the Crosshairs. Coughlin grew up in Waltham, Massachusetts, and joined the Marines when he was 19. He served with the Marines during the drive to Baghdad and has operated on a wide range of assignments in hot spots around the world.

John R. Bruning is the author or co-author of eight books, including House to House by David Bellavia.
or
Not Currently Available for Direct Purchase