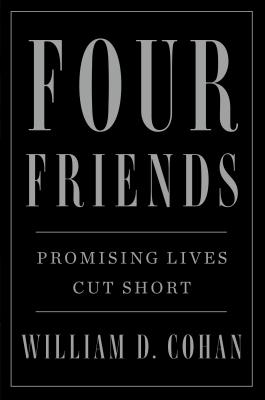 Four Friends
Promising Lives Cut Short
Hardcover

* Individual store prices may vary.
Other Editions of This Title:
Digital Audiobook (7/8/2019)
Paperback (7/6/2021)
CD-Audio (7/16/2019)
Description
A powerful portrait of the lives of four boarding school graduates who died too young, John F. Kennedy, Jr. among them, by their fellow Andover classmate, New York Times bestselling author William D. Cohan.

In his masterful pieces for Vanity Fair and in his bestselling books, William D. Cohan has proven to be one of the most meticulous and intrepid journalists covering the world of Wall Street and high finance. In his utterly original new book, Four Friends, he brings all of his brilliant reportorial skills to a subject much closer to home: four friends of his who died young. All four attended Andover, the most elite of American boarding schools, before spinning out into very different orbits. Indelibly, using copious interviews from wives, girlfriends, colleagues, and friends, Cohan brings these men to life on the page.

Jack Berman, the child of impoverished Holocaust survivors, uses his unlikely Andover pedigree to achieve the American dream, only to be cut down in an unimaginable act of violence. Will Daniel, Harry Truman's grandson and the son of the managing editor of The New York Times, does everything possible to escape the burdens of a family legacy he's ultimately trapped by. Harry Bull builds the life of a careful, successful Chicago lawyer and heir to his family's fortune...before taking an inexplicable and devastating risk on a beautiful summer day. And the life and death of John F. Kennedy, Jr.—a story we think we know—is told here with surprising new details that cast it in an entirely different light.

Four Friends is an immersive, wide-ranging, tragic, and ultimately inspiring account of promising lives cut short, written with compassion, honesty, and insight. It not only captures the fragility of life but also its poignant, magisterial, and pivotal moments.
Praise For Four Friends: Promising Lives Cut Short…
"An engaging, unsettling book....An intensely humane work by a skillful writer of nonfiction narrative who knows how to make you forgive even as he damns." - Evan Thomas, The Washington Post

"Four Friends is a tender, bracing meditation on ends and beginnings, large dreams and larger misfortunes, outsized promise and unfathomable loss. It is also an indelible portrait of a time and place, at once masterfully researched and deeply personal. Cohan writes with a reporter's acuity and a memoirist's subtlety; if he can't explain the inexplicable, he does deliver us, gracefully and unsparingly, right to its doorstep." – Stacy Schiff, Pulitzer Prize-winning author of A Great Improvisation

"Deeply moving, Four Friends explores the idea of fate and shattered promise with intelligence and heart. It will haunt you and make you think." – Susan Orlean, New York Times bestselling author of The Library Book

"I read this book captivated throughout, and often moved. In Cohan's elegant telling, it's more than four tragic endings. This is a contemplation of the twisting course of any life; how early hopes age; and how few of us become quite what was expected. An excellent book." – Tom Rachman, New York Times bestselling author of The Imperfectionists and The Italian Teacher

"Four Friends is a wrenching, beautifully woven story about fate, friendship and the shattered dreams of once-golden privileged men. I couldn't put it down". – Jonathan Alter, New York Times bestselling author of The Center Holds

"Combining a friend's heartfelt sense of loss with the meticulous precision of a seasoned reporter, William Cohan has created a fascinating, often harrowing examination of what happens when promise succumbs to tragedy. A book that continues to resonate long after you've finished the last page." - Nathaniel Philbrick, National Book Award-winning author of In the Heart of the Sea and In the Hurricane's Eye

"William Cohan has written a beautiful and heartbreaking book about friendship and privilege, in a corner of American life that suddenly feels very far away." - Malcolm Gladwell, New York Times bestselling author of The Tipping Point and Blink

"This luminous book from the superb Bill Cohan is an elegant, poignant, arresting story, showing us two descendants of American Presidents and two of their classmates close up at a legendary boarding school and how their lives later ended with sudden accident and violence. In Cohan's masterly rendering, some of the scenes in this volume recall the John Knowles classic 'A Separate Peace.' This is an unforgettable book about friendship, privilege, character, ambition and the unpredictability of human life." - Michael Beschloss, New York Times bestselling author of Presidents of War

"[R]aises profound, important questions about the demands of manhood and the pressures, expectations, and obligations of privilege." - The National Book Review

Flatiron Books, 9781250070524, 384pp.
Publication Date: July 9, 2019
About the Author
William D. Cohan is the bestselling author of The Last Tycoons, the winner of the 2007 FT/Goldman Sachs Business Book of the Year Award; House of Cards; Money and Power; The Price of Silence; and, Why Wall Street Matters. He is a special correspondent at Vanity Fair and also writes regularly for The New York Times, The Financial Times, The Nation, among others, and is an on-air contributor to CNBC.
or
Not Currently Available for Direct Purchase