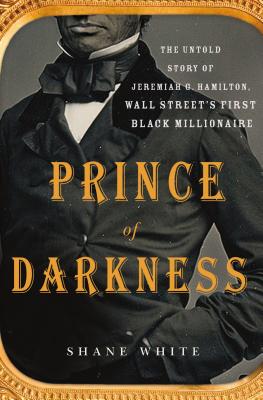 Prince of Darkness (Hardcover)
The Untold Story of Jeremiah G. Hamilton, Wall Street's First Black Millionaire
St. Martin's Press, 9781250070562, 368pp.
Publication Date: October 13, 2015
Other Editions of This Title:
Compact Disc (10/27/2015)
Paperback (10/4/2016)
MP3 CD (10/27/2015)
* Individual store prices may vary.
Description
Winner of the 2015 Society for Historians of the Early American Republic Best Book Prize
In the middle decades of the nineteenth century Jeremiah G. Hamilton was a well-known figure on Wall Street. Cornelius Vanderbilt, America's first tycoon, came to respect, grudgingly, his one-time opponent. The day after Vanderbilt's death on January 4, 1877, an almost full-page obituary on the front of the National Republican acknowledged that, in the context of his Wall Street share transactions, "There was only one man who ever fought the Commodore to the end, and that was Jeremiah Hamilton."
What Vanderbilt's obituary failed to mention, perhaps as contemporaries already knew it well, was that Hamilton was African American. Hamilton, although his origins were lowly, possibly slave, was reportedly the richest colored man in the United States, possessing a fortune of $2 million, or in excess of two hundred and $50 million in today's currency.
In Prince of Darkness, a groundbreaking and vivid account, eminent historian Shane White reveals the larger than life story of a man who defied every convention of his time. He wheeled and dealed in the lily white business world, he married a white woman, he bought a mansion in rural New Jersey, he owned railroad stock on trains he was not legally allowed to ride, and generally set his white contemporaries teeth on edge when he wasn't just plain outsmarting them. An important contribution to American history, Hamilton's life offers a way into considering, from the unusual perspective of a black man, subjects that are usually seen as being quintessentially white, totally segregated from the African American past.
About the Author
SHANE WHITE is the Challis Professor of History and an Australian Professorial Fellow in the History Department at the University of Sydney specializing in African-American history. He has authored or co-authored five books, including Playing the Numbers, and collaborated in the construction of the website Digital Harlem. Each project has won at least one important prize for excellence from institutions as varied as the American Historical Association and the American Library Association. He lives in Sydney, Australia.
Praise For Prince of Darkness: The Untold Story of Jeremiah G. Hamilton, Wall Street's First Black Millionaire…
**Winner of the 2016 New York City Book Award**
**Winner of the 2015 Society for Historians of the Early American Republic Best Book Prize**

"This is historical detective work of the highest magnitude... Indeed, the feeling the book left the prize committee with after its 300-plus pages was: how could the story of an American character this fascinating not have been written before?" —2015 SHEAR Best Book Prize citation
"White has created a fitting tribute to a man who had all but been forgotten." —Perspectives on History, American Historical Association
"A stunning feat...White introduces us to a figure that history has essentially forgotten." —The Daily Beast
"Examines the colorful, complex life of the man who in the eighteenth century was reportedly the wealthiest Black man in the United States—with a fortune of $2 million or in excess of $250 million (estimated) in today's currency." —Essence.com
"Alexander wasn't the only controversial Hamilton from New York. After prodigious research, Professor Shane White rescues Jeremiah G. Hamilton from oblivion." -- The New York Times
"Chronicles how the complex and notorious Hamilton bucked racial stereotypes and social expectations to make his unprecedented wealth...a fascinating picture of the enigmatic figure." —Ebony
"If this Hamilton were around today, he might have his own reality TV show or be a candidate for president...An interesting look at old New York, race relations and high finance." —New York Post
"Like Mr. Hamilton himself, Shane White makes the impossible possible. Only the indispensable historian of black New York could have brought the "Prince of Darkness" back to life. He makes smudgy newspapers and dusty court records pulse with the ambition, treachery, and hilarity of a different age of boom, bust, and dubious racial progress. A great read about a one-of-a-kind who nevertheless has much to tell us about Gotham and U.S. history." —David Waldstreicher, The Graduate Center, City University of New York
"White details his incredible life, marriage to a white woman, and contentious presence on Wall Street, in the process revealing the ways that historians reconstruct the past. An engaging look at an extraordinary man." —Booklist
"Hamilton's story is gripping; so, too, is his puzzling near disappearance from the historical record. White does an excellent job drawing out the facts of Hamilton's life and supplementing them with details from the history of Wall Street and of other African American New Yorkers of the era." —Library Journal
"A well-told, stereotype-busting tale about a nineteenth century black financier who dared to be larger than life, and got away with it!" —Elizabeth Dowling Taylor, author of A SLAVE IN THE WHITE HOUSE
"Villain? Hustler? Financial Genius? Black Horatio Alger? The White Man's worst nightmare? With panoramic vision and panache, Shane White unravels the mystery that is Jeremiah G. Hamilton." —Robin D. G. Kelley, author of THELONIOUS MONK: The Life and Times of an American Original (2009)
"Pieces together the remarkable career of an antebellum Wall Street broker who was married to a white woman, ambitious, ruthless, successful, and black: in short, "a racist's nightmare come to life." ... Superb scholarship and a sprightly style recover an unaccountably overlooked life." —Kirkus Reviews
"In Prince of Darkness, Shane White employs the superb skills of an accomplished historian to narrate the compelling story of a New York Hamilton who commanded front page news attention in his day and faded into obscurity in the years that followed. Jeremiah Hamilton was not only America's first black millionaire, he was a ruthless businessman and trader who sparked fear, contempt, jealousy and a range of other emotions from contemporaries and adversaries. A fine read, I highly recommend this important new book." —Earl Lewis, President, The Andrew W. Mellon Foundation and co-author with Heidi Ardizzone, LOVE ON TRIAL
"Shane White's impeccably researched book offers a compelling history of Jeremiah Hamilton, America's first black Wall Street millionaire. Prince of Darkness tells the complex story of race and wealth in antebellum New York, with a mysterious and sometimes purposefully ambiguous character at its center. From the islands of the Caribbean to Gotham, Hamilton welded together grit and intellectual agility that propelled him into unimaginable wealth. Unlike his African American contemporaries, Jeremiah Hamilton was less concerned with respectability politics or racial uplift. The "Prince of Darkness" was a man who wanted to be rich, and nothing would stand in his way." —Erica Armstrong Dunbar, author of A FRAGILE FREEDOM: African American Women and Emancipation in the Antebellum City
"At a time when Gotham was virtually inventing segregation, long before the South did, a black man bulled his way into Wall Street, the city's whitest citadel, and ruthlessly made a fortune there. He challenged social codes, too, marrying a white woman, living in a mansion, and was nearly lynched from a lamppost for his transgressions. Yet after his vivid life Jeremiah G. Hamilton vanished completely from New York's collective memory. Happily Professor White, in a bravura display of historical sleuthing, has brought the so-called Prince of Darkness back into the light, and illuminated Hamilton's city as well." —Mike Wallace, co-author of GOTHAM, winner of the Pulitzer Prize