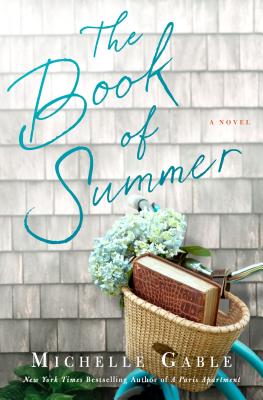 The Book of Summer
A Novel
Hardcover

* Individual store prices may vary.
Other Editions of This Title:
Digital Audiobook (5/8/2017)
Paperback (5/8/2018)
Compact Disc (5/9/2017)
Compact Disc (5/8/2018)
MP3 CD (5/8/2018)
Description
New York Times Bestselling Author of A Paris Apartment
The ocean, the wild roses on the dunes and the stunning Cliff House, perched atop a bluff in Sconset, Nantucket. Inside the faded pages of the Cliff House guest book live the spellbinding stories of its female inhabitants: from Ruby, a bright-eyed newlywed on the eve of World War II to her granddaughter Bess, who returns to the beautiful summer estate.
For the first time in four years, physician Bess Codman visits the compound her great-grandparents built almost a century before, but due to erosion, the once-grand home will soon fall into the sea. Bess must now put aside her complicated memories in order to pack up the house and deal with her mother, a notorious town rabble-rouser, who refuses to leave. It's not just memories of her family home Bess must face though, but also an old love that might hold new possibilities.
In the midst of packing Bess rediscovers the forgotten family guest book. Bess's grandmother and primary keeper of the book, Ruby, always said Cliff House was a house of women, and by the very last day of the very last summer at Cliff House, Bess will understand the truth of her grandmother's words in ways she never imagined.
Praise For The Book of Summer: A Novel…
Praise for The Book of Summer:

"Michelle Gable has moved in on [Elin] Hilderbrand's home turf with a humorous and smartly written story of two generations of love and vacations." —Wall Street Journal
"A sure bet for women's-fiction fans of Elin Hilderbrand and Nantucket novels." —Booklist
"Gable cleverly illuminates the past, revealing how it mirrors the present. This is a splendid multigenerational novel about the strength of the women of Cliff House." —Publishers Weekly

"Gable develops fully rounded characters that readers feel as if they could reach out and touch. We want to know more about them and Gable gives us plenty." —Richmond Times-Dispatch

"These laid-back books epitomize the term 'beach read.'" —Coastal Living
"A must for any summer reading list." —The Boston Herald

"This time of year is meant for books to devour. Vacations, the beach, lazy afternoons all call for a good book that allows you to escape. Michelle Gable knows how to deliver." —Newport News Daily Press
"It's Gable's ability to weave a family's tale through the musings of summer visitors, war, relationship drama and a smattering of sexual tension that makes it a must for any summer reading list." —Fort Worth Star- Telegram
"A deep look at the strength of women, this will tantalize readers as they, along with Bess, learn of her family." —Parkersburg News + Sentinel
"The Book of Summer is delightful. The three main women in the story are quirky creatures with major differences, but their family bond shines through, making this a charming, profane, funny, and touching read...A perfect book to bring to the beach, Michelle Gable's fourth novel is sure to appeal to readers of Elin Hilderbrand and Kristan Higgins." —Shelf Awareness
"This book warmed my soul and I couldn't wait to finish it! I aggressively read like the last third of the book because I was so wrapped up in it! It was wonderful and I would highly recommend this book to other readers! Though now I want to binge read all of her other novels because her narration style and plot points were all wonderfully thought out." —The Lit Bitch
"If you enjoy historical beach reads that focus on family, you'll love The Book of Summer. I especially appreciated how the past intertwined with the present and the message of female strength throughout the novel. I definitely recommend this one!" —Confessions of a Book Addict
"A great escape!" —The Fine Books Blog
Praise for Michelle Gable:
"Plot-master Gable's (I'll See You In Paris) affection for hidden treasures emerges again in her second absorbing novel. Readers are kept guessing 'til the end in this sweet story of love, mystery, art, literature, and Paris. As complex and moving as Naomi Wood's Mrs. Hemingway and Liz Trenow's The Forgotten Seamstress." —Booklist
"Gable (A Paris Apartment) writes an engaging story, and both worlds—Annie's in 2001 and Pru's in 1973—are easy to slide into. Readers will root for both women as they uncover family secrets and discover hidden aspects of themselves. Readers of Kate Morton and those who enjoy family-centered mysteries will approve highly of this book." —Library Journal
"Gable (I'll See You In Paris) has crafted another page-turner of a good read, filled with history, mystery and a dash of romance. This is the sort of fun, escapist read that is beloved by books clubs. There are characters to love, characters to hate, enticing settings and a requisite amount of plot twists." —Fort Worth Star-Telegram
"Michelle Gable (I'll See You In Paris)...elegantly navigates the narratives of the generations, making each set of characters complex and likable." —Richmond Times Dispatch

"Gable's (I'll See You In Paris)novel provides a wonderful, highly literate mystery...stories within stories, an almost Wuthering Heights narrative complexity." —The Roanoke Times

"Gable (A Paris Apartment) tells an engaging story of a fascinating, largely forgotten historical figure against the backdrop of two fledgling romances." —Kirkus Reviews
St. Martin's Press, 9781250070623, 416pp.
Publication Date: May 9, 2017
About the Author
New York Times bestselling author of A Paris Apartment, MICHELLE GABLE graduated from The College of William & Mary. When not dreaming up fiction on the sly, she currently resides in Cardiff by the Sea, California, with her husband, two daughters, and one lazy cat.
1. Did Bess understand, subconsciously or otherwise, that coming home to help her mother move would involve more than a few boxes and some tape?
2. Cissy does and says many unreasonable things. Did you sympathize with her and the problems she has faced? What is at the root of her oftentimes crazy behavior?
3. The theme of "home" is carried throughout the novel. What does "home" mean to the various characters? To Cissy, Bess, and Ruby? What about to Ruby's husband, Sam?
4. Were you surprised by the revelations about the historical characters, such as Sam, Topper, and Hattie? What about the demise of Hattie and Ruby's friendship?
5. Ruby and Hattie have a very particular banter when they're together. Were there any words or expressions you particularly enjoyed?
6. What role did Ruby's sister-in-law Mary play in the story, and in Ruby's life?
7. The author has said that she considers this a WWII novel, but one told from a stateside perspective. What does this mean?
8. How did Cliff House evolve over time, both in terms of physical structure and its importance to the various generations of family?
9. How does the present-day situation at Cliff House mirror and contrast with the characters' lives?
10. Why did someone as accomplished as Bess marry such a horrible man? Is there a difference between the way she presents herself to the world and how she feels on the inside? Was this confusing, or relatable?
11. Why do you think Bess called her mother by her first name? Is this more about Bess, or Cissy, or their relationship as a whole?
12. Were you rooting for Bess and Evan? The ending is ambiguous—where do you see their relationship in one year? In five? Where will Cissy be?
13. Imagine you're on the town council. Would you vote in favor of Cissy's proposed bluff restoration project? Or would you let nature take its course, and allow the history of Nantucket (and a sizeable tax base) fall into the sea?
14. What environmental issues are facing your own hometown?