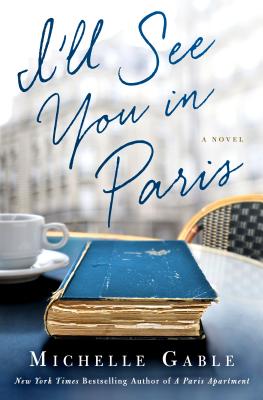 I'll See You in Paris (Hardcover)
A Novel
Thomas Dunne Books, 9781250070630, 400pp.
Publication Date: February 9, 2016
* Individual store prices may vary.
Description
New York Times Best Selling Author of A Paris Apartment
Three women, born generations apart.
One mysterious book that threads their lives together.
A journey of love, discovery, and truth…
I'll See You in Paris is based on the real life of Gladys Spencer-Churchill, the Duchess of Marlborough, a woman whose life was so rich and storied it could fill several books. Nearly a century after Gladys's heyday, a young woman's quest to understand the legendary Duchess takes her from a charming hamlet in the English countryside to a dilapidated manse kept behind barbed wire, and ultimately, to Paris, where answers will be found at last. In the end, she not only solves the riddle of the Duchess but also uncovers the missing pieces in her own life.
At once a great love story and literary mystery, I'll See You in Paris will entertain and delight, with an unexpected ending that will leave readers satisfied and eager for Michelle Gable's next novel.
About the Author
New York Times bestselling author of A Paris Apartment, MICHELLE GABLE graduated from The College of William & Mary. When not dreaming up fiction on the sly, she currently resides in Cardiff by the Sea, California, with her husband, two daughters, and one lazy cat.
Praise For I'll See You in Paris: A Novel…
"Plot-master Gable's affection for hidden treasures emerges again in her second absorbing novel. Readers are kept guessing 'til the end in this sweet story of love, mystery, art, literature, and Paris. As complex and moving as Naomi Wood's Mrs. Hemingway and Liz Trenow's The Forgotten Seamstress." -Booklist
"Gable (A Paris Apartment) writes an engaging story, and both worlds—Annie's in 2001 and Pru's in 1973—are easy to slide into. Readers will root for both women as they uncover family secrets and discover hidden aspects of themselves. Readers of Kate Morton and those who enjoy family-centered mysteries will approve highly of this book." -Library Journal
"Gable has crafted another page-turner of a good read, filled with history, mystery and a dash of romance. This is the sort of fun, escapist read that is beloved by books clubs. There are characters to love, characters to hate, enticing settings and a requisite amount of plot twists." -Fort Worth Star-Telegram
"Michelle Gable . . . elegantly navigates the narratives of the generations, making each set of characters complex and likable."—Richmond Times Dispatch
"Gable's novel provides a wonderful, highly literate mystery . . . stories within stories, an almost Wuthering Heights narrative complexity."—The Roanoke Times
"Gable (A Paris Apartment, 2014) tells an engaging story of a fascinating, largely forgotten historical figure against the backdrop of two fledgling romances." -Kirkus Reviews
Praise for Michelle Gable
"Gable's Paris of today and yesteryear are worlds that are easy and pleasurable to get lost in."—The San Diego Union-Tribune
"The women's fiction world is lucky to welcome Michelle Gable to its ranks. Gable deftly weaves romance and mystery, past and present."—Allison Winn Scotch, New York Times bestselling author
"Compelling and well-written."—Fort Worth Star-Telegram
"Gable's prose is fresh and emotionally complex."—Sophie Littlefield, national bestselling author
"An engaging story of a fascinating, largely forgotten historical figure against the backdrop of two fledgling romances."—Kirkus Reviews
or
Not Currently Available for Direct Purchase