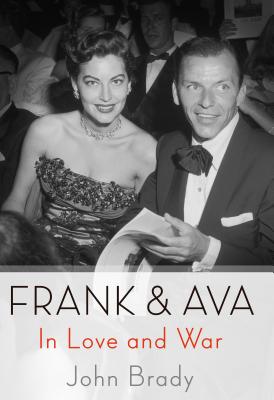 Frank & Ava (Hardcover)
In Love and War
Thomas Dunne Books, 9781250070913, 304pp.
Publication Date: October 13, 2015
Other Editions of This Title:
Digital Audiobook (10/12/2015)
* Individual store prices may vary.
Description
"If I had to go back in Hollywood history and name two people who were most desperately and passionately in love with each other, I would say Frank Sinatra and Ava Gardner were It."—Liz Smith.
It began in Hollywood's golden age when Ava was emerging as a movie star. But she fell in (and out of) love too easily. Mickey Rooney married her because he wanted another conquest. Artie Shaw treated her like a dumb brunette, giving her a reading list on their honeymoon. Neither marriage lasted a year. Then, after being courted by Howard Hughes and numerous others, along came Frank Sinatra.
His passion for Ava destroyed his marriage and brought him close to ruin. Their wild affair broke all the rules of the prudish era as Frank left his wife and children and pursued Ava on an international stage. They became romantic renegades, with the press following them from location to location.
"Oh, God, Frank Sinatra could be the sweetest, most charming man in the world when he was in the mood," said Ava. They married, but then came the quarrels, separations, infidelities, and reconciliations. Eventually, there was a divorce, and they thought it was over. It wasn't.
Through all of the tortured years of separation and splintered affairs with others, they maintained a secretive relationship known only to those who recognized that this was the love of a lifetime. Over the years, they attempted to reconcile, romanced and nurtured each other, right to the end.
The love story of this couple has never been fully explored or explained—until now. Frank & Ava delves deeply into the lives of these two iconic stars and their turbulent lifelong relationship. More than anything else, this is the story of a romance lived out under battlefield conditions.
About the Author
John Brady is a veteran writer, editor, and author of five books, including The Craft of the Screenwriter and the investigative biography Bad Boy: The Life and Politics of Lee Atwater. A longtime Sinatra specialist, he worked at Warner/Reprise Records in the 1970s when Frank Sinatra came out of a brief retirement as "Ol' Blue Eyes." Brady was editor-in-chief at Writer's Digest and Boston magazine, and founding editor of The Artist's Magazine. His byline has appeared in New York, New Times, Esquire, American Film, The Washington Post Magazine, The Boston Globe Magazine and numerous other publications. He has taught journalism at Boston University, Emerson College, the Scripps School of Journalism (Ohio University) and was Hearst Visiting Professor at the University of Missouri Journalism School. He lives and writes in Newburyport, Massachusetts.
Praise For Frank & Ava: In Love and War…
"A tantalizing lagniappe for those fascinated by the star-crossed duo — twinned in obsession, emotional instability, infidelity, and, finally, friendship." —The Boston Globe
"Details Sinatra and Gardner's tumultuous romance. Their scandalous affair, six-year marriage and eventual divorce in the late 1950s are put under the microscope, all the while painting a broader portrait of Hollywood's Golden Age. —USA Today
"Anyone remotely curious about either of these larger-than-life characters will want to read Brady's book." —Publishers Weekly on Frank & Ava
"Brady reveals the human side of a grand love affair that somehow survived a marriage and a divorce, epic battles, and sweeping romantic gestures...This honest and contemporary look at an almost mythical couple is a quick-paced and poignant tale that will appeal to a wide spectrum of readers." —Library Journal on Frank & Ava
"More than a story of a dizzying love affair, Frank & Ava depicts the profound aftershocks of a relationship."
-BookPage on Frank & Ava
"A riveting account of the most unlikely Republican in the history of American politics. John Brady's fascinating rise-and-fall biography of Lee Atwater also makes you wonder who'd be sitting in the White House today if he had not died at the too-early age of 40." —Christopher Buckley, author of Thank You for Smoking, on Bad Boy: The Life and Politics of Lee Atwater
"John Brady has made a compelling story of all the unprincipled things Lee Atwater did to make our national politics into a low-down gutter fight. He was indeed the meanest son-of-a-bitch in the political valley till he came to the Valley of Death. In a better world, angels' stories would enthrall us more than those about bad guys like Atwater, but in the one we have, the bad guys' stories rule." —George V. Higgins, author of The Friends of Eddie Coyle, on Bad Boy: The Life and Politics of Lee Atwater
"It seems to say almost everything to be said about talking to others for publication." —Columbia Journalism Review on The Craft of Interviewing
"This is a must-read book for serious film buffs, and fun for anyone who is interested in the stories of some of the most successful screenwriters at work today." —People magazine on The Craft of the Screenwriter
"A worthy and needed guide." —Gay Talese, author of Frank Sinatra Has a Cold, on The Interviewer's Handbook