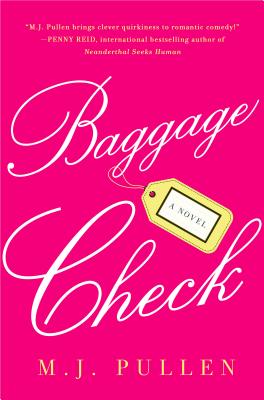 Baggage Check (Hardcover)
Thomas Dunne Books, 9781250070951, 304pp.
Publication Date: July 12, 2016
Description
"Baggage Check "is the third in a charming series about a group of thirty-somethings in Atlanta making surprising discoveries about friendship, love, and happily-ever-after.
At 35, Rebecca Williamson is surrounded by happy endings.
Her friends Suzanne and Marci are living out their own personal fairy tales in Atlanta. But despite Rebecca's best efforts four years ago, her adorable college friend Jake Stillwell has officially slipped through her fingers and broken her heart. When Rebecca gets a frantic phone call from her mother back in Alabama, Rebecca is pulled back to the tiny town she worked so hard to leave behind and forced to face the hard truths about her family and past. A past that includes Deputy Alex Chen, who thinks of Rebecca as more than just an old friend's kid sister. Can Rebecca navigate the chaos and get her life back to normal? Will Alex prove himself to be the friend she's always needed? Or will she discover that the door to Jake is not as tightly closed as she thought?
M.J. Pullen returns in this final installment to the same captivating group of lovelorn friends, this time following the girl group's frenemy, Rebecca, as she's forced to confront her past. Raising the stakes, Pullen delivers an absorbing, romantic novel that poses the question, what if everything you were looking for was right where you started?
About the Author
MANDA (M.J.) PULLEN is the author of complex, funny contemporary romances including The Marriage Pact (Thomas Dunne Books, November 2015). She was raised in the suburbs of Atlanta by a physicist and a flower child, who taught her that life is tragic and funny, and real love is anything but simple. After traveling around Europe and living in cities like Austin and Portland, she returned to Atlanta where she lives with her husband and two sons.
Advertisement