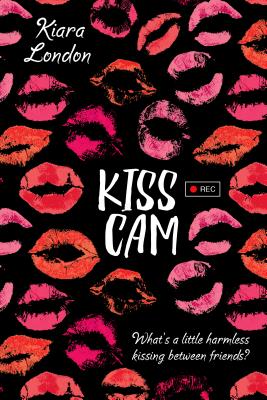 Kiss Cam (Paperback)
Swoon Reads, 9781250070968, 272pp.
Publication Date: October 18, 2016
* Individual store prices may vary.
Description
An adorably fun and fresh contemporary romance about testing the boundaries between friendships and relationships: because after all, what's a little harmless kissing between friends?
Juniper, Jasper, and Lenny have been friends forever and co-own a vlog channel called WereVloggingHere. Their fans are huge "shippers" who believe that Juniper and Jasper are perfect for each other, and, despite warnings from friends and family, a simple Truth-or-Dare inspired kiss soon spirals out of control into a whole new world of making out and surprise kisses.
Juniper and Jasper's relationship begins to shift. But as fan requests for different "Kiss Cam" segments keep pouring in, Juniper puts her worries aside and convinces herself that it doesn't mean anything. After all, it's just kissing… right?
Chosen by readers like you for Macmillan's young adult imprint Swoon Reads, debut author Kiara London's delightfully modern novel Kiss Cam will have you cheering for its quirky and loveable trio of friends.
Praise for Kiss Cam:
"London infuses the plot with funny dialogue and an energetic trio of pals....Lighthearted and all-around fun." —School Library Journal
"The best love story I have ever read. A must read!" —Rachel, reader on SwoonReads.com
"I absolutely LOVED this book. It's just so inspirational and fun." —Jacklyn Reitz, reader on SwoonReads.com
About the Author
Kiara London is the internet savvy, hopelessly romantic alter ego of Bethany Novak-Tveten, who in real life is part of the US Air Force. She started writing on the online writing site Booksie when she was thirteen and then transferred to Wattpad where her debut novel Kiss Cam was originally posted. She spends most of her time scrolling down Tumblr, attempting to read everything she can get her hands on, and drooling over fictional men.
Praise For Kiss Cam…
"London infuses the plot with funny dialogue and an energetic trio of pals....Lighthearted and all-around fun." — School Library Journal
Praise from the Swoon Reads Community:
"I couldn't stop reading. It keeps you on the edge of your seat. It made me cry, laugh, and at points I wanted to throw my phone at the wall. There isn't anything that could make it better." – Brianna Whitt
"The best love story I have ever read. A must read!" – Rachel
"The characters were funny, lovable, and simply amazing. Another thing I love about this book? It's very realistic. Well, as realistic as fiction can get, anyway." – Julliana Inding
"I absolutely LOVED this book. It's just so inspirational and fun. It shows you just what can happen when you stop letting your fears control you. It's also got great characters that I think are described very well. I could definitely count it as one of my top five favorite books." – Jacklyn Reitz