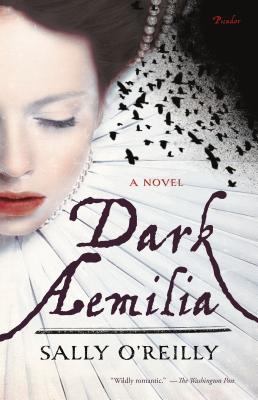 Dark Aemilia
A Novel
Paperback

* Individual store prices may vary.
Other Editions of This Title:
Paperback (4/23/2015)
Paperback (3/27/2014)
Hardcover (3/1/2014)
Hardcover (5/27/2014)
Description
New York Times Book Review Editors' Choice

The daughter of a Venetian musician, Aemilia Bassano came of age in Queen Elizabeth's royal court. The Queen's favorite, she developed a love of poetry and learning, maturing into a young woman known not only for her beauty but also her sharp mind and quick tongue. When Aemilia becomes the mistress of Lord Hunsdon, she fears her mind will languish—until she crosses paths with an impetuous playwright named William Shakespeare and begins an impassioned but ill-fated affair.
As Sally O'Reilly charts the course of Aemilia and Will's tempestuous relationship, she paints a vivid and richly imagined portrait of Elizabethan London—haunted by plague and steeped in magic—and breathes life into England's first female poet, a mysterious woman nearly forgotten by history. Full of passion and devilish schemes, Dark Aemilia is a tale worthy of the Bard.
Praise For Dark Aemilia: A Novel…
"Wildly romantic." —The Washington Post
"More tantalizing than the thought of Shakespeare in love is the thought of Shakespeare in lust....Was the real Dark Lady this Dark? Let's hope so." —Liesl Schillinger, The New York Times Book Review
"A textured work of historical fiction." —O, The Oprah Magazine
"I loved this book! Dark Aemilia wears its expert research lightly and is filled with all the passion, drama, and magic of Elizabethan England. Highly recommended." —Paula Brackston, New York Times bestselling author of The Witch's Daughter and The Midnight Witch
"Sally O'Reilly's wildly romantic novel Dark Aemilia is a pleasure for anyone who enjoys well-crafted historical fiction and a special treat for Shakespeare lovers….She creates a fiery, proto-feminist heroine and entangles her in a star-crossed affair considerably more adult and complex than the teen romance enshrined in 'Romeo and Juliet.'…Absorbing, satisfying fiction." —The Washington Post
"I just finished this, and I'm jumping at this opportunity to recommend it to book lovers far and wide… Dark Aemilia is a must-read for all lovers of Shakespeare and old England, and while it is written from the perspective of a woman, I am confident men will enjoy it, too. I am usually careful with my books, but this one quickly became a victim of dog ears and pencil-marks, because O'Reilly touches on so many crucial historical moments and writes with such intelligent elegance." —Anne Fortier, BookPage
"We all know Shakespeare wrote love sonnets. Now, O'Reilly's new novel brings us the Bard's sonnet-writing lover and sonnet-inspiring muse." —The New York Post
"Draped in the lure of magic and fantasy that weaved its way through many of Shakespeare's plays, Dark Aemilia lives and breathes the late 16th century ….O'Reilly's debut novel is a sweeping success, a tale full of action and intrigue and as deep as any ocean. Live vicariously through the eyes of one of the first proto-feminists to have lived. See as the author steps into her head and creates a world that is more realistic than the one outside your window. Let this book redefine the way you see love." —Bookreporter
"A gripping novel that gives feisty feminist voice to the unknown woman who inspired Shakespeare's sonnets… O'Reilly brings her star-crossed lovers together and drives them apart through plot twists that are, for once, credible outgrowths of the characters' personalities and beliefs, finally giving them a tender, heartbreaking parting. First-rate historical fiction: marvelously atmospheric and emotionally engaging." —Kirkus Reviews (starred)
"[Dark Aemilia] mesmerizes with its descriptions of the Bard's London…O'Reilly casts her story with witches, doomed royals, evil courtiers, and star-crossed lovers, as if it were a Jacobean play. But her finest accomplishment is not the tribute she pays to these historical figures, but the bold imagination she displays in bringing them together." —Publishers Weekly
"With elegant style, masterly wordplay, and an eye for historical detail, O'Reilly beautifully relates a passionate and tragic love story, worthy of two such well-known figures. With Shakespeare's 450th birthday approaching this April, fans of historical fiction writers such as Philippa Gregory, Anne Easter Smith, and Tracy Chevalier won't want to miss this one." —Library Journal
"O'Reilly's American debut is an imaginative take on the life of poet Aemilia Layner, a contemporary of William Shakespeare…. This is a lively, vividly rendered novel about the dramatic life of an extraordinary woman." —Booklist
"Dark Aemilia is a magical, ravishing literary masterpiece. Sally O'Reilly is an outstanding storyteller, at once devilish and divine, and her unique, sparkling prose makes every paragraph a delight. Bursting with historic detail and famous characters, yet utterly surprising, Dark Aemilia is an absolute must for anyone interested in Shakespeare, Elizabeth I, theatre, literature....or even just old England, through feast and fear, plague and poetry. It is not a book for the squeamish, but those who screw up their courage and enter O'Reilly's London will be richly rewarded." —Anne Fortier, author of The Lost Sisterhood and the New York Times bestseller, Juliet
"Sally O'Reilly's novel provides a gorgeous gush of words: earthy, brilliant, succulent. Her scenes give us juicy berries and bloody meat to eat. When did we last savor such a substantial feast? The taste is familiar but heightened: sex can be an ecstatic, ever-lasting mating of kindred minds and hearts; mother love can take a woman to hell and back. There's more, but those themes fill my plate and overflow my cup. Hats off to Sally O'Reilly!" —Sena Jeter Naslund, bestselling author of Ahab's Wife; Adam & Eve; and The Fountain of St. James Court; or, Portrait of the Artist as an Old Woman
"A richly imagined portrait of Shakespeare's muse and mistress, Dark Aemilia has all the fire and beauty you'd expect from a romance about the Bard. Aemilia is modern in her sensibilities, using her wits to guide her through a Shakespearean-era England that is both familiar and revealing. Sally O'Reilly has written an irresistible novel." —Danielle Trussoni, author of the bestselling Angelology series
"In Dark Aemilia, Sally O'Reilly whisks us through the passion, prophecy, and plague of Elizabethan London, alive to its beauties and unsparing of its horrors...Gutsy and ambitious, Dark Aemilia is a dark tale, darkly told." —Katharine Grant, author of Sedition
"Dark Aemilia makes one gasp with pleasure and nostalgia for a world one never knew. It is profoundly romantic and erotic yet intelligent, glittery in its descriptions yet wholly believable and very stirring. How glad one is to live now, but how one envies the past!" —Fay Weldon
Picador, 9781250070982, 448pp.
Publication Date: June 2, 2015
About the Author
Sally O'Reilly has received numerous citations for her fiction, which has been shortlisted for the Ian St James Short Story Prize and the Cosmopolitan Short Story Award. A former Cosmopolitan New Journalist of the Year, her work has appeared in The Guardian, The Sunday Times, the Evening Standard, and the New Scientist. She teaches creative writing at the Open University and the University of Portsmouth in England. Dark Aemilia is her U.S. debut.
or
Not Currently Available for Direct Purchase