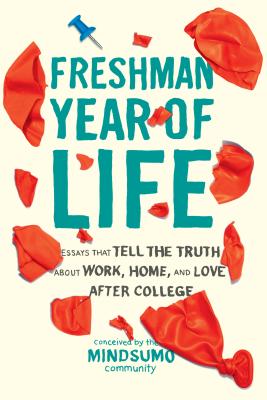 Freshman Year of Life (Paperback)
Essays That Tell the Truth About Work, Home, and Love After College
Flatiron Books, 9781250071187, 192pp.
Publication Date: April 11, 2017
* Individual store prices may vary.
Description
How do you get a fulfilling job after college?
What if you're still living with your parents?
What's it like navigating hook-ups, dating, and new friendships outside campus life?
Millions of books, blog posts, personal essays, and advice columns are written about college, but what about after college? Those first few years of finding your footing in the real world are filled with transitional crises and fraught introspection. You're a freshman all over again.
The thirty-eight stories in Freshman Year of Life tell the truth about life beyond college graduation from the voices of people a few years out. Some of their experiences are funny, some heartwarming; some are about their successes, and others reflect their failures. There are stories about going from a committed college relationship to casual dating in an unfamiliar city, navigating a toxic work environment, learning how to stay patient in a part of your life that isn't defined by semesters and finals, and tackling the task of making new friends, something you may not have had to do since college orientation.
The stories in Freshman Year of Life are just the beginning. There are a multitude of different experiences out there, and one of them will be your own. It's not the end of the conversation; it's the start.
Find out how these writers survived their freshman year of life:
Aaron Gilbreath • Aileen Garcia • Alana Massey • Alexandra Molotkow • Alison Gilbert • Ashley Ford • Bijan Stephen • Cameron Summers • Carvell Wallace • Chloe Angyal • Emily Gould • Eric Anthony Glover • Gala Mukomolova • Jamie Lauren Keiles • Jason Diamond • Jenny Zhang • Justin Warner • Kevin Nguyen • Kristin Russo • Lane Moore • Laura Willcox • Lauren Wachenfeld • Lincoln Blades • Lori Adelman • Mara Wilson • Mira Gonzalez • Molly Soda • Myisha Battle • Nia King • Nisha Bhat • Paulette Perhach • Sam Zabell • Sarah Mirk • Scaachi Koul • Shannon Keating • Skylar Kergil • Whitney Mixter
This book came about through a collaboration with MindSumo.com, an online forum that reaches out to college students to solve business, tech, and design challenges. We asked MindSumo's community of students what book they wanted most upon graduating, and this is it.
About the Author
Mindsumo, Inc. is a community of today's brightest college students. Founded in 2011, the MindSumo community harnesses the creativity and analytical skills of students to produce some of the most innovative and forward thinking solutions to the challenges businesses face today. The company was launched at the Stanford Student Startup Association in February 2012 and is backed by some of the top investors in Silicon Valley, including Voyager Capital, Google Ventures, Data Collective, and StartFund. Clients include Target, Microsoft, Coca-Cola, Yahoo, Kayak, and IBM to name a few.