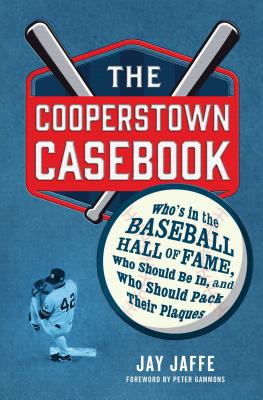 The Cooperstown Casebook
Who's in the Baseball Hall of Fame, Who Should Be In, and Who Should Pack Their Plaques
Hardcover

* Individual store prices may vary.
Description
The National Baseball Hall of Fame and Museum, tucked away in upstate New York in a small town called Cooperstown, is far from any major media market or big league stadium. Yet no sports hall of fame's membership is so hallowed, nor its qualifications so debated, nor its voting process so dissected.
Since its founding in 1936, the Hall of Fame's standards for election have been nebulous, and its selection processes arcane, resulting in confusion among voters, not to mention mistakes in who has been recognized and who has been bypassed. Numerous so-called "greats" have been inducted despite having not been so great, while popular but controversial players such as all-time home run leader Barry Bonds and all-time hits leader Pete Rose are on the outside looking in.
Now, in The Cooperstown Casebook, Jay Jaffe shows us how to use his revolutionary ranking system to ensure the right players are recognized. The foundation of Jaffe's approach is his JAWS system, an acronym for the Jaffe WAR Score, which he developed over a decade ago. Through JAWS, each candidate can be objectively compared on the basis of career and peak value to the players at his position who are already in the Hall of Fame. Because of its utility, JAWS has gained an increasing amount of exposure in recent years. Through his analysis, Jaffe shows why the Hall of Fame still matters and how it can remain relevant in the 21st century.
Praise For The Cooperstown Casebook: Who's in the Baseball Hall of Fame, Who Should Be In, and Who Should Pack Their Plaques…
"There is no one whose insights I value more, come Hall of Fame season, than Jay Jaffe. And there is no one whose invention (JAWS) has made my life easier as a voter than Jay Jaffe. He's Bill James and Thomas Edison rolled into one!" —Jayson Stark, baseball writing legend
"With The Cooperstown Casebook, Jay Jaffe has given us the definitive guide to the greatest players in baseball history, and the Hall of Fame. Smart and a lot of fun, this book reads like some of Bill James's finest work, which is the highest compliment a seamhead who grew up on Bill James can offer." —Jonah Keri, bestselling author of The Extra 2% and Up, Up, & Away
"Jay Jaffe has revolutionized how we think about not just the Hall of Fame, but about baseball itself. This book taught me much about the Hall of Fame, but it taught me even more about baseball. I am smarter for having read it, and, even better, it's a blast to read." —Will Leitch, author of Are We Winning? and God Save the Fan, senior writer for Sports On Earth, and founder of Deadspin
"Jaffe pulls no punches here, yet he shares enough pure information to make this nearly indispensable for informed debate." —Booklist (starred review)
"For those who like to wade into the statistical weeds of baseball – to analyze player performance using today's advanced metrics – The Cooperstown Casebook delivers." —The Christian Science Monitor

"Jay Jaffe's The Cooperstown Casebook reminds me so much of vintage Bill James writing, like the New Bill James Historical Abstract, in the best possible way." —Keith Law, ESPN.com senior baseball writer
Thomas Dunne Books, 9781250071217, 464pp.
Publication Date: July 25, 2017
About the Author
JAY JAFFE is a contributing baseball writer for SI.com. He is the founder of the Futility Infielder website, one of the oldest baseball blogs, and from 2005-2012 was a columnist for Baseball Prospectus. He has been a recurring guest on MLB Network's MLB Now and Clubhouse Confidential shows and a member of the Baseball Writers Association of America since 2011. He lives in Brooklyn. The Cooperstown Casebook is his first book.
or
Not Currently Available for Direct Purchase