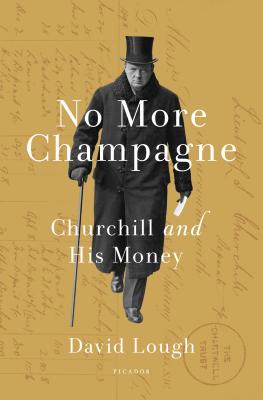 No More Champagne
Churchill and His Money
Hardcover

* Individual store prices may vary.
Other Editions of This Title:
Digital Audiobook (3/2/2016)
Digital Audiobook (8/10/2020)
Paperback (6/1/2016)
Description
Named a Best Biography of the Year by The Wall Street Journal and The Times of London

The fascinating story of Winston Churchill's lifetime of tangled personal finances

Meticulously researched by a senior private banker now turned historian, No More Champagne reveals for the first time the full extent of the iconic British war leader's private struggle to maintain a way of life instilled by his upbringing and expected of his public position.

Lough uses Churchill's own most private records, many never researched before, to chronicle his family's chronic shortage of money, his own extravagance, and his recurring losses from gambling or trading in shares and currencies. Churchill tried to keep himself afloat by borrowing to the hilt, putting off bills, and writing "all over the place"; when all else failed, he had to ask family or friends to come to the rescue. Yet within five years of the war, he had taken advantage of his worldwide celebrity to transform his private fortunes with the same ruthlessness as he waged war, reaching 1945 with today's equivalent of £3 million in the bank. His lucrative war memoirs were still to come.

Throughout the story, Lough highlights the threads of risk, energy, persuasion, and sheer willpower to survive that link Churchill's private and public lives. He shows how constant money pressures often tempted him to short-circuit the ethical standards expected of public figures in his day before usually pulling back to put duty first-except where the taxman was involved.
Praise For No More Champagne: Churchill and His Money…
"The money troubles—and solutions—that preoccupied Churchill, an aristocrat who cut his political teeth in a plutocratic age, make for spicy reading in our own increasingly plutocratic times...Lough, a banker himself...doggedly pursues the ins and outs of Churchill's finances."—The Atlantic

"Astonishing revelations...This book makes you wholly rethink the received wisdom about the icon....There is still rich ore to be found in the best-mined streams."—The Guardian (London)

"[A] fascinating study of Churchill's finances....No More Champagne recasts many aspects of Churchill's well-known biography. Interestingly, for instance, Mr. Lough suggests that Churchill's famous periods of depression, what he called his "black dog," coincided just as much with low points in his finances as they did with political events."—The Wall Street Journal

"David Lough's No More Champagne may become a classic. It will transform the way that Churchill is interpreted and understood."—Timothy Congdon, The New Criterion

"A surprising page-turner."—The Economist (London)

"To view someone from just one angle is usually to deform them, but David Lough, drawing on compelling material including Churchill's tax records, more than justifies his audit....Astonishing."—The Daily Telegraph (London)

"Debut author Lough, an investment advisor, succeeds beyond any reasonable expectation in making this unique chronicle of Winston Churchill's money problems fascinating, even for those with limited interest in financial matters."—Publishers Weekly (starred review)

"Just when you thought there could not be another angle to this endlessly fascinating character, here's a serious, thorough look at Winston Churchill's lifelong struggle to pay the bills....Chockablock with credits, debits, taxes, and inheritances, the book is nothing if not meticulous. Moving in a stringent chronology, the author's impressive nuts-and-bolts account finds Churchill's golden years crowned by selling his memoirs and film rights." —Kirkus Reviews

"[Lough] is a courteous guide, whose knowledge of the arcane world of investment (and its pitfalls) enables him to explain what went wrong and how Churchill managed to scrape through. The result is a fascinating read."—The Times (London)

"[An] excellent and entertaining work."—Prospect (London)

"There is a voyeuristic thrill in peering into the finances of any famous family, and Lough supplies plenty of eye-opening detail to keep his narrative flowing. But Churchill buffs and economic historians too will find valuable insights in the light Lough sheds upon the man and his times."—Financial Times (London)

"This book brilliantly illuminates one of the few unexplored aspects of Winston Churchill's life-his private finances. Based on a wealth of fresh documentary evidence, it also reveals much about his larger-than-life character. In these fascinating pages, Churchill emerges as extravagant in every way, especially in his addiction to risk." —Piers Brendon, former Keeper of the Churchill Archives Centre

"David Lough's minutely researched and richly enjoyable study reveals Churchill's political career and private financial dealings are united by a common thread of exceptional risk-taking and extraordinary recklessness." —Paul Mason, author of Postcapitalism

"Churchill made history. He also made money-and spent it. This fascinating piece of historical accountancy goes through the books and opens up new insights into the life and lifestyle of Britain's most famous twentieth-century leader." —David Reynolds, author of In Command of History: Churchill Fighting and Writing the Second World War

"Lough exposes the reader to completely new elements in Churchill's thinking, which have remained largely untouched by biographers and historians...compelling." --History Today
Picador, 9781250071262, 544pp.
Publication Date: November 3, 2015
About the Author
David Lough studied history at Oxford under Richard Cobb and Theodore Zeldin. After a career in financial markets, he founded a business that advises families on looking after their investments, tax affairs and estates. No More Champagne is his first book.
or
Not Currently Available for Direct Purchase