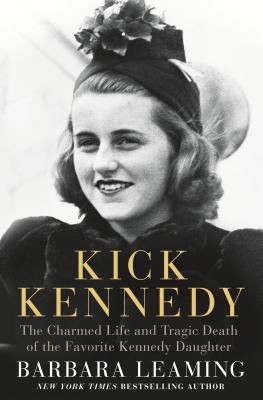 Kick Kennedy
The Charmed Life and Tragic Death of the Favorite Kennedy Daughter
Hardcover

* Individual store prices may vary.
Other Editions of This Title:
Digital Audiobook (4/11/2016)
CD-Audio (4/12/2016)
Paperback (4/11/2017)
Description
A Los Angeles Times Bestseller

Kathleen "Kick" Kennedy was the incandescent life-force of the fabled Kennedy family, her father's acknowledged "favorite of all the children" and her brother Jack's "psychological twin." She was the Kennedy of Kennedys, sure of her privilege, magnetically charming and somehow not quite like anyone else on whatever stage she happened to grace.

The daughter of the American ambassador to the Court of St James's, Kick swept into Britain's aristocracy like a fresh wind on a sweltering summer day. In a decaying world where everything was based on stultifying sameness and similarity, she was gloriously, exhilaratingly different. Kick was the girl whom all the boys fell in love with, the girl who remained painfully out of reach for most of them.

To Kick, everything about this life was fun and amusing—until suddenly it was not. For this is also a story of how a girl like Kick, a girl who had everything, a girl who seemed made for happiness, confronted crushing sadness. Willing to pay the price for choosing the love she wanted, she would have to face the consequences of forsaking much that was dear to her.

Bestselling and award-winning biographer Barbara Leaming draws on her unique access to firsthand accounts, extensive conversations with many of the key players, and previously-unseen sources to transport us to another world, one of immense wealth, arcane rituals and rules, glamour and tragedy, that has now disappeared forever. It was a world of dukes and duchesses, of grand houses, of country house weekends, and of wild rich boys. But it was also a world of blood and war, and of immeasurable loss.

It was a time of complete upheaval, as reflected in the life of this most unlikely and unforgettable central character. Kick Kennedy reveals her story, that of a young girl learning about love, sex, and death—and doing it all at warp speed as the world races toward war and then reels in the war's chaotic aftermath. This is the coming-of-age story of the female star of the Kennedy family, and ultimately a tragic, romantic story that will break your heart.
Praise For Kick Kennedy: The Charmed Life and Tragic Death of the Favorite Kennedy Daughter…
Praise for Kick Kennedy

"It is Barbara Leaming's achievement to have coaxed some reticent upper-class Englishmen and Englishwomen—all now dead—into sharing their candid memories of Kick. The resultant book is supremely an exercise in European ancient-regime nostalgia—and therefore more strikingly original than yet another tome on the self-seeking Kennedys."—The Wall Street Journal

"Biographer Leaming candidly demystifies the life of one of the least-known Kennedys and vividly illuminates the complex world of British aristocracy." —Booklist

"The fascinating, little-known story of an unforgettable woman…Riveting." —Examiner.com

"Barbara Leaming evokes the luminous spirit of Kick Kennedy." —Vanity Fair

"The age of Downton Abbey offers fresh context for this story of American royalty and its more tradition-minded British counterpart." -Kirkus Reviews

"The memories of Kennedy's contemporaries…bring to life Kick's effervescence...Leaming excels in providing a rich historical backdrop to Kick's story." —The Washington Post

"Barbara Leaming reveals fresh insight into the Kennedy daughter who died in a plane crash." -People Magazine

"Leaming, author of groundbreaking books about both John and Jacqueline Kennedy, delivers a vivid, sympathetic portrait of the irresistible charmer known to most as Kick." -Austin American-Statesman

"An absolute must-read biography that flows like a richly woven novel." -The Knot

"Poignant...Leaming ably intertwines Kennedy family history and English war history into a lively personal drama that is also an important historical record." -The Missourian

"Leaming, a Kennedy scholar, has the distinct advantage over Byrne... Leaming's account is more nuanced, more authoritative, more compelling." -The Sydney Morning Herald

"Barbara Leaming weaves a colorful, interesting tale…Masterfully written…I found myself intensely reading like there was no tomorrow." -momzinga.com

"Barbara Leaming provides by far the more perspicacious and politically astute of the two books. Extensive interviews with surviving members of the Devonshire circle richly supplement the Kennedy archive to present a complex portrait of how English Protestant power and privilege came to admit this American Catholic during the social upheaval of the second World War." -The Irish Times

"Leaming's huge amount of research made the story real...an impressive work." -Redding Record Searchlight
Thomas Dunne Books, 9781250071316, 304pp.
Publication Date: April 12, 2016
About the Author
Barbara Leaming is the author of three New York Times bestsellers, including her recent book Jacqueline Bouvier Kennedy Onassis. Leaming's book Churchill Defiant received The Emery Reves Award from the International Churchill Centre. Her groundbreaking biography of America's 35th President, Jack Kennedy: The Education of a Statesman was the first to detail the lifelong influence of British history and culture and especially of Winston Churchill on JFK. Her articles have appeared in the New York Times Magazine, Vanity Fair, the Timesof London and other periodicals. She lives in Connecticut.
or
Not Currently Available for Direct Purchase