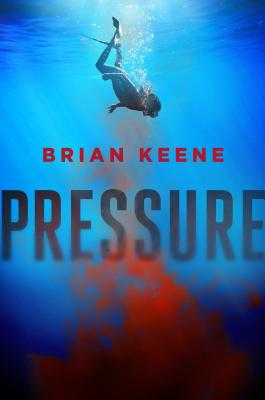 Pressure
Hardcover

* Individual store prices may vary.
Description
Off the coast of tropical Mauritius, an ecological catastrophe with global implications is occurring. The ocean's floor is collapsing at a rapid rate. World-champion free diver and marine biologist Carrie Anderson joins a scientific expedition determined to discover the cause-and how to stop it. But what they uncover is even more horrific. Deep beneath the surface, something is awake. Something hungry. Something...cold. Now, the pressure builds as Carrie and her colleagues must contend with the murderous operatives of a corrupt corporation, an unnatural disaster that grows bigger by the day, and a monstrous predator that may spell the extinction of all mankind.
Pressure is this summer's hot new thriller from bestselling author and World Horror Grandmaster Award winner Brian Keene.
Praise For Pressure…
"Compelling, crowd-pleasing…Keene's winning formula of pairing a cast of strong characters with fastpaced, detailed action scenes (which include some of the best descriptions of the dismemberment of bodies in all fiction) is on full view here. Don't just suggest to horror readers—although Keene does include a few fun insider references for genre fans. This is a perfect beach read for fans of Michael Crichton, Mira Grant, or Preston and Child—if you dare to take this book anywhere near an open body of water." —Booklist, starred review
"Keene brings fear to the ocean's depths with a brand new story of a monster so petrifying that it makes Jaws look like a goldfish… This frenetically paced, gory novel is filled with action and a protagonist to uphold. Pulp horror of the highest caliber." —Library Journal
"Brian Keene writes like a force of nature." —F. Paul Wilson, bestselling creator of the Repairman Jack series
"Brian Keene's writing is human, honest, and terrifying. If you haven't read his work, you're missing out!" —Christopher Golden, New York Times bestselling author of Snowblind and Dead Ringers

"Scientists discover a widening abyss in the sea bottom. Free diving specialists discover a massive horror welling up from the depths. Biological horror and technological terror collide in Brian Keene's pulse-pounding Pressure, a monstrous mystery of pure imagination and chilling science on the verge of swallowing the world. My kind of thriller!" —Warren Fahy, international bestselling author of Fragment and Pandemonium

"If you thought Jaws dove hard into the fears of the deep, think again. Pressure will take you to depths you never imagined – and not just beneath the ocean. This is a nonstop thrill ride of subterfuge and salty terror. Bring your lifejacket; you're going to need it! You're in for the dive of your life!" —John Everson, Bram Stoker Award-winning author of Violet Eyes

"Few things get me more excited than an action-packed story featuring likable characters and original monsters, and Pressure delivers on all fronts. Brian Keene has refueled my fear of swimming in the ocean." —Jeremy Robinson, international bestselling author of Island 731
Thomas Dunne Books, 9781250071347, 288pp.
Publication Date: June 21, 2016
About the Author
BRIAN KEENE is the author of over forty books. His novel, THE RISING, is often credited (along with Robert Kirkman's The Walking Dead comic and Danny Boyle's 28 Days Later film) with inspiring pop culture's current interest in zombies. Keene has also written for media properties such as DOCTOR WHO, THE X-FILES, HELLBOY, and MASTERS OF THE UNIVERSE. Several of Keene's works have been developed for film. He has won numerous awards and honors, including the World Horror Grand Master award, two Bram Stoker awards, and a recognition from Whiteman A.F.B. (home of the B-2 Stealth Bomber) for his outreach to U.S. troops serving both overseas and abroad. He lives in rural Pennsylvania.
or
Not Currently Available for Direct Purchase