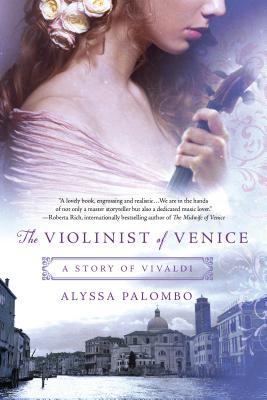 The Violinist of Venice (Paperback)
A Story of Vivaldi
St. Martin's Griffin, 9781250071491, 448pp.
Publication Date: December 15, 2015
* Individual store prices may vary.
Description
Like most 18th century Venetians, Adriana d'Amato adores music-except her strict merchant father has forbidden her to cultivate her gift for the violin. But she refuses to let that stop her from living her dreams and begins sneaking out of her family's palazzo under the cover of night to take violin lessons from virtuoso violinist and composer Antonio Vivaldi. However, what begins as secret lessons swiftly evolves into a passionate, consuming love affair.
Adriana's father is intent on seeing her married to a wealthy, prominent member of Venice's patrician class-and a handsome, charming suitor, whom she knows she could love, only complicates matters-but Vivaldi is a priest, making their relationship forbidden in the eyes of the Church and of society. They both know their affair will end upon Adriana's marriage, but she cannot anticipate the events that will force Vivaldi to choose between her and his music. The repercussions of his choice-and of Adriana's own choices-will haunt both of their lives in ways they never imagined.
Spanning more than 30 years of Adriana's life, Alyssa Palombo's The Violinist of Venice is a story of passion, music, ambition, and finding the strength to both fall in love and to carry on when it ends.
About the Author
ALYSSA PALOMBO is the author of The Violinist of Venice and The Most Beautiful Woman in Florence. She has published short fiction pieces in Black Lantern Magazine and The Great Lakes Review. She is a recent graduate of Canisius College with degrees in English and creative writing, respectively. A passionate music lover, she is a classically trained musician as well as a big fan of heavy metal. She lives in Buffalo, New York.
Praise For The Violinist of Venice: A Story of Vivaldi…
"This panoramic novel of composer Antonio Vivaldi's life sweeps readers into a world of beautiful melodies and forbidden passion. Palombo allows music, more than the characters, to be the key to her sumptuous novel. One can almost hear the sweet notes while reading of the passionate and tragic star-crossed lovers. Those who adore the music and history will find what they desire in these pages." - Romantic Times

"Mesmerizing... So gorgeous are the relationships and music reflected here that the reader will want to spend hours listening to truly beautiful music created by both Antonio Vivaldi and Adriana d'Amato. Stunning, lovely historical fiction that is a must-read!" - The Historical Novel Society
"Alyssa Palombo's training as a classical musician is evident in her first novel, The Violinist of Venice, a historical romance set in the 18th century [...] Palombo skillfully blends historical facts with innovative and colorful fiction, creating a delightful, fast-paced romance that is sure to please music lovers and romance readers alike." - Shelf Awareness
"A lovely book, engrossing and realistic. In simple, spare prose, Palombo gives life to an improbable romance between Vivaldi, the 'Red Priest' and Adriana D'Amato, the lovely daughter of a wealthy merchant. Music is Adriana's downfall - she falls deeply and passionately in love with the composer - and ultimately her salvation. The most compelling aspect of the novel is Adriana's love of music and the author's virtuoso descriptions of the Vivaldi's compositions. The passages are so evocative one can almost hear the ebb and flow of the music. We are in the hands of a not only a master story teller but also a dedicated music lover." —Roberta Rich, international bestselling author of The Midwife of Venice
"Utterly captivating! Palombo brings the world of Vivaldi to life in a sweeping tale of love in all its many forms. Beautiful, poignant, and at times heart-wrenching, this should be at the top of everyone's list to read." —Jessica Leake, author of Arcana and The Order of the Eternal Sun
"The Violinist of Venice by Alyssa Palombo is a warm and compelling story of the secret love affair in the life of the famous Baroque composer, Antonio Vivaldi. Vivid and alive and thrumming with the exquisite strains of violin music, the novel explores the impossible choices between love and duty and the demands of art in the decadent world of early 18th century Venice." —Kate Forsyth, international bestselling author of Bitter Greens
"A passionate, heartbreaking love story between a brilliant young violinist whose father forbids her to make music and the gentle, gifted composer Vivaldi who restores it to her. I was utterly swept away by their impossible love and the rich worlds which grew from it in this moving novel set among the aristocrats and musicians of 18th century Venice." —Stephanie Cowell, author of Marrying Mozart and Claude and Camille: A Novel of Monet
"Vivid, emotional, and profoundly satisfying. This marvelous debut is a sumptuous tale of a passionate affair between Vivaldi and a promising student set to a masterful musical score. Palombo has created a fascinating portrait of both the beauty and limitations of life in aristocratic Venice." —Jennifer Laam, author of The Secret Daughter of the Tsar
"Debut author and musician Palombo creates a lovely fictional account of a great love affair... a nicely crafted first effort that reimagines Vivaldi's life in a bittersweet narrative." —Kirkus Reviews