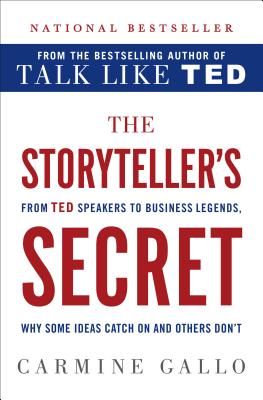 The Storyteller's Secret (Hardcover)
From TED Speakers to Business Legends, Why Some Ideas Catch On and Others Don't
St. Martin's Press, 9781250071552, 288pp.
Publication Date: February 23, 2016
Other Editions of This Title:
Digital Audiobook (2/22/2016)
Paperback (6/27/2017)
CD-Audio (2/23/2016)
* Individual store prices may vary.
Description
How did a Venice Beach T-shirt vendor become television's most successful producer? How did an entrepreneur who started in a garage create the most iconic product launches in business history? How did a timid pastor's son overcome a paralyzing fear of public speaking to captivate sold-out crowds at Yankee Stadium, twice? How did a human rights attorney earn TED's longest standing ovation, and how did a Facebook executive launch a movement to encourage millions of women to "lean in"?
They told brilliant stories.
In The Storyteller's Secret: From TED Speakers to Business Legends, Why Some Ideas Catch on and Others Don't, keynote speaker, bestselling author, and communication expert Carmine Gallo reveals the keys to telling powerful stories that inspire, motivate, educate, build brands, launch movements, and change lives. The New York Times has called a well-told story "a strategic tool with irresistible power" - the proof lies in the success stories of 50 icons, leaders, and legends featured in The Storyteller's Secret: entrepreneurs like Richard Branson, Sara Blakely, Elon Musk, Steve Jobs, and Sheryl Sandberg; spellbinding speakers like Dr. Martin Luther King, Jr., Bryan Stevenson, and Malala Yousafzai; and business leaders behind famous brands such as Starbucks, Southwest Airlines, Wynn Resorts, Whole Foods, and Pixar. Whether your goal is to educate, fundraise, inspire teams, build an award-winning culture, or to deliver memorable presentations, a story is your most valuable asset and your competitive advantage.
In The Storyteller's Secret, Gallo explains why the brain is hardwired to love stories - especially rags-to-riches stories - and how the latest science can help you craft a persuasive narrative that wins hearts and minds. "The art of storytelling can be used to drive change," says billionaire entrepreneur Richard Branson. And since the next decade will see the most change our civilization has ever known, your story will radically transform your business, your life, and the lives of those you touch. Ideas that catch on are wrapped in story. Your story can change the world. Isn't it time you shared yours?
About the Author
CARMINE GALLO, bestselling author of The Presentation Secrets of Steve Jobs, is the communications coach for the world's most admired brands. A former anchor and correspondent for CNN and CBS, Gallo is a popular keynote speaker who has worked with executives at Intel, Cisco, Chevron, Hewlett-Packard, Coca-Cola, Pfizer, and many others and writes the Forbes.com column "My Communications Coach." He lives in Pleasanton, California, with his wife and two daughters.
Praise For The Storyteller's Secret: From TED Speakers to Business Legends, Why Some Ideas Catch On and Others Don't…
*Washington Post Bestseller*
"I believe there are seeds of greatness in each and every one of us. In The Storyteller's Secret, Carmine Gallo unlocks the techniques that have made some of the greatest entrepreneurs, speakers, and leaders of our time as great as they are. The chapters are filled with inspiring stories and specific tips that will help you elevate your personal brand, move your business forward and, quite possibly, change the world." —Lewis Howes, author and podcast host of The School of Greatness
"I believe your adversities are your advantage. Carmine Gallo shares this philosophy. In The Storyteller's Secret, he shows us how overcoming challenges - tension over triumph - is the stuff by which great stories and great successes are made." —Darren Hardy, Publisher, Success Magazine
"After I lost my legs I got a second chance at life. I learned that the only limits we have are the ones we place on ourselves. I started to ask myself the question, 'If life were a book, and I was the author, how would the story go?' In The Storyteller's Secret, Carmine Gallo not only gives you the tactical steps to sharing your ideas, he also digs into the psychology of storytelling to explain why the stories we tell ourselves are the most important and empowering ones of all." —Amy Purdy, world-class snowboarder, motivational speaker, and television personality
"Having facts on your side isn't enough. You have to do storytelling. In The Storyteller's Secret, Carmine Gallo shows you how to frame ideas to make an irresistible, memorable, and emotional connection with your audience. We have very big problems to solve and we have entrepreneurs with great ideas, but knowing the science isn't enough. Stories educate, inform, and ultimately inspire us to change the world." —Vinod Kholsa, founder of Kholsa Ventures
For years I've come to trust Carmine Gallo's sage wisdom on learning to be a better communicator and I've made his book, Talk Like TED, required reading for my staff. I'm excited about The Storyteller's Secret because in my business communication and leading teams to victory are most certainly related!–Brigadier General Kenneth E. Todorov, USAF (Ret)