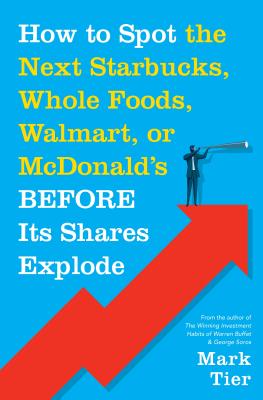 How to Spot the Next Starbucks, Whole Foods, Walmart, or McDonald's BEFORE Its Shares Explode
A Low-Risk Investment You Can Pretty Much "Buy-and-Forget"—Until You Want to Retire to Florida or the South of France
Hardcover

* Individual store prices may vary.
Description
Everyone knows the basic golden rule of investing: "Buy Low, Sell High," but how many of us ever really understand the stock market, how to recognize the "next big thing," and how to capitalize off of it once you do? ...the truth is not many or we'd all be millionaires.

It seems like early investors in big companies like Facebook and Google had to have won the lottery of investing and just gotten really lucky, but there's more to it than that. There's a science to the "Next Big Thing" strategy, and Mark Tier understands it. In How to Spot the Next Starbucks, Whole Foods, Walmart, or McDonald's BEFORE Its Shares Explode, Tier shows readers that explosive brands like Starbucks, Whole Foods, McDonald's, and Walmart didn't become successful on accident. Through in-depth and accessible case studies, Tier pulls back the curtain on the early Key Performance Indicators that each of these major companies showed even at their earliest stages. Once you learn how to recognize these makings of success, you too will be able to spot the next Starbucks.
Praise For How to Spot the Next Starbucks, Whole Foods, Walmart, or McDonald's BEFORE Its Shares Explode: A Low-Risk Investment You Can Pretty Much "Buy-and-Forget"—Until You Want to Retire to Florida or the South of France…
"Mark Tier is a master of relating the numbers of successful investing with the personalities needed to execute. His writing is exceptionally clear and as much fun to read as anything since the Jerry Goodman books of last generation, and Goodman, alias Adam Smith, did not lay out a recipe for investment success. That Mr. Tier lives off this recipe is a powerful statement. Be prepared to dog ear pages of this singular book, which is equally at home on your night table and your investment library." —Stephen Leeb, Chairman Leeb Group

Praise for The Winning Investment Habits of Warren Buffett and George Soros:
"Tier's approach is especially valuable because Soros's and Buffett's methods are so often different- yet, as Tier shows…amazingly similar. Great book – something I rarely say about this genre." —Doug Casey, editor, International Spectator.

"Great read…I recommend it" —Chris Weber, editor, The Weber Global Opportunities Report

"Tier has written an excellent book. His chapter on exit strategies alone...is worth the price of the book." —Dr. Mark Skousen, editor, Forecasts & Strategies
St. Martin's Press, 9781250071569, 320pp.
Publication Date: August 8, 2017
About the Author
Mark Tier is an Australian writer and businessman who has lived and worked in Hong Kong since 1977. He has been a marketing consultant and counselor, and has helped start up five new investment publications. He graduated from the Australian National University with a degree in economics and is pursuing his Ph.D. in economics through UCLA. Mark is the author of The Winning Investment Habits of Warren Buffett & George Soros.
or
Not Currently Available for Direct Purchase