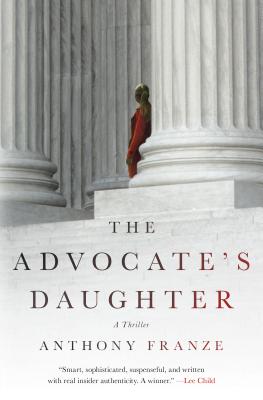 The Advocate's Daughter: A Thriller (Hardcover)
A Thriller
Minotaur Books, 9781250071651, 320pp.
Publication Date: March 22, 2016
Description
A young law clerk finds himself caught in the crosshairs of a serial killer in this fast-paced thriller set in the high-pressure world of the Supreme Court written by renowned lawyer Anthony Franze.
Things aren t going well for Grayson Hernandez. He just graduated from a fourth-tier law school, he's drowning in student debt, and the only job he can find is as a messenger. The position stings the most because it's at the U.S. Supreme Court, where Gray is forced to watch the best and the brightest from the outside?the elite group of lawyers who serve as the justices law clerks.
When Gray intervenes in a violent mugging, he lands in the good graces of the victim: the Chief Justice of the United States. Gray soon finds himself the newest?and unlikeliest?law clerk at the Supreme Court. It's another world: highbrow debates over justice and the law in the inner sanctum of the nation's highest court; upscale dinners with his new friends; attention from Lauren, the co-clerk he can t stop thinking about.
But just as Gray begins to adapt to his new life, the FBI approaches him with unsettling news. The Feds think there's a killer connected to the Supreme Court. And they want Gray to be their eyes and ears inside One First Street. Little does Gray know that the FBI will soon set its sights on him.
Racing against the clock in a world cloaked in secrecy, Gray must uncover the truth before the murderer strikes again in this thrilling high-stakes story of power and revenge by Washington, D.C. lawyer-turned-author Anthony Franze.
About the Author
ANTHONY FRANZE has garnered national praise for his work as a lawyer in the Appellate and Supreme Court practice of a major Washington D.C. law firm. The New York Times, Washington Post, and other prominent news outlets have quoted or cited Franze concerning the Supreme Court, and he has been a commentator on high-court issues for The New Republic, Bloomberg, and National Law Journal. He lives in the Washington D.C. area with his family.
Advertisement