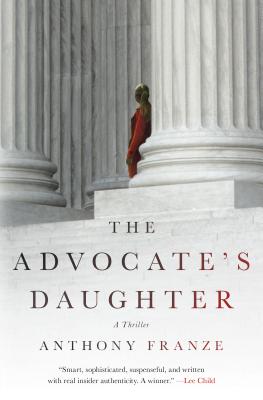 The Advocate's Daughter (Hardcover)
A Thriller
Minotaur Books, 9781250071651, 320pp.
Publication Date: March 22, 2016
* Individual store prices may vary.
Description
A Washington, D.C., lawyer and frequent major media commentator on the Supreme Court, Anthony Franze delivers a high-stakes story of family, power, loss, and revenge set within the insular world of the highest court in our country.
Among Washington, D.C., power players, everyone has secrets they desperately want to keep hidden,including Sean Serrat, a Supreme Court lawyer. Sean transformed his misspent youth into a model adulthood and now has one of the most respected legal careers in the country. But just as he learns he's on the short list to be nominated to the U.S. Supreme Court, his daughter, Abby, a talented and dedicated law student, goes missing. Abby's lifeless body is soon found in the library of the Supreme Court, and her boyfriend, Malik Montgomery, a law clerk at the high court, is immediately arrested. The ensuing media frenzy leads to allegations that Malik's arrest was racially motivated, sparking a national controversy.
While the Serrat family works through their grief, Sean begins to suspect the authorities arrested the wrong person. Delving into the mysteries of his daughter's last days, Sean stumbles over secrets within his own family as well as the lies of some of the most powerful people in the country. People will stop at nothing to ensure that Sean never exposes the truth.
An excerpt of Franze's new legal thriller The Outsider, coming out this March, is now available at the end of The Advocate's Daughter ebook.
About the Author
ANTHONY FRANZE is a lawyer in the Appellate and Supreme Court practice of a prominent Washington, D.C. law firm, and a critically acclaimed thriller writer with novels set in the nation's highest court, including The Last Justice, The Advocate's Daughter, and The Outsider. Franze has been a commentator on legal and Supreme Court issues for The New Republic, Bloomberg, National Law Journal, and other major media outlets. He is a board member and a Vice President of the International Thriller Writers organization. Franze lives in the Washington, D.C. area with his family.
Praise For The Advocate's Daughter: A Thriller…
"Smart, sophisticated, suspenseful, and written with real insider authenticity. A winner." —Lee Child
"Gripping... fans of Brad Melzer should be satisfied."—Publishers Weekly
"The Advocate's Daughter keeps twisting and turning right up until its shock of an ending. Long-buried secrets and shadowy agendas murderously collide-smack in the middle of a heated Supreme Court nomination clash. Anthony Franze evokes the inner workings and backstage machinations of this hidden world with deftness and verisimilitude. Read and marvel." —Gregg Hurwitz, New York Times bestselling author of Orphan X
"Franze's first fiction foray centers around a potential Supreme Court nominee whose secret involvement in a murder as a young teenager returns to haunt him... a nifty little read."—Kirkus Reviews
"The Advocate's Daughter is a smart, suspenseful thriller filled with insider knowledge of the Supreme Court, D.C. politics, and collisions between the two. It's also an absorbing story about families and the sacrifices we make for the people we love." —Alafair Burke, New York Times bestselling author of All Day and a Night
"Fans of House of Cards will love The Advocate's Daughter, a thriller that gives us a real insider's view of a Washington most of us will never see. The tension starts on the very first page, and keeps ratcheting up. Once it grabs you it won't let go." —Joseph Finder, New York Times bestselling author of The Fixer
"Fast paced, sharply plotted, and smartly written with an insider's knowledge of the land's highest court. A blast!" —Robert Dugoni, New York Times bestselling author
"A taut and twisting thriller, The Advocate's Daughter is also a sensitive meditation on family and the price of secrets we keep from each other -- and from ourselves. It crackles with authenticity and moves with an irresistible momentum. Fans of Brad Meltzer and John Grisham need to add Anthony Franze to their must-read list." —Lisa Unger, New York Times bestselling author of Crazy Love You
"Anthony Franze is back and better than ever with THE ADVOCATE'S DAUGHTER-a brilliant thriller that's smart, well-written, and heart-stopping." —Linda Fairstein, New York Times bestselling author of Devil's Bridge
"[T]he 'best of the best' when it comes to suspense."—Suspense Magazine
"[G]ives readers an inside peek at the world of the Supreme Court, and tossing in an intriguing mystery only adds to the thrills."—Library Journal
"This fast-paced thriller will appeal to fans of Brad Meltzer, Joseph Finder, and Scott Turow."—Booklist
"[The Advocate's Daughter] deals with legal issues ripped from the front pages...a strong family and legal drama...entertaining." - Above the Law
""This is an impossible business to predict, but as a person and a writer Franze seems to have that little bit extra – whatever it is that makes the difference. Certainly 'The Advocate's Daughter' came out a cut above. With a bit of luck, Franze should be around for a long time – which will be good for readers and his fellow writers, too." - Lee Childs, from an interview with the Detroit Legal News
"I haven't read a legal thriller this good in a long time . . .There are a lot of variables in this story and the pacing is relentless, making this an all nighter for me. The characters are well developed and the family scenes especially rang true. And I loved all the details about the Supreme Court, a place most of us don't know much about (and be sure to read the notes at the end, but only after you read the book!) This book put me in mind of The Tenth Justice by Brad Meltzer, his first book and still one of my favorite legal thrillers ever. Franze is in excellent company here and I look forward to more from this author." - Bookbitch
"Enlightening…The mystery grows thick and dark, but the book's major appeal lies in sorting out the real stuff about the court from the hectic fiction." - The Toronto Star
"A gripping tale of politics, law and secrets, "The Advocate's Daughter" displays Franze's expertise as a Washington lawyer and commentator on the high court. As he weaves a stunning story that makes "House of Cards" look like "Little House on the Prairie," readers of all ideological stripes will find it a splendid tale of grief and grievance, crime and corruption, power and perfidy." - The Richmond Times-Dispatch
"Lawyers by trade are storytellers, and good lawyers tell good stories — Franze's book is a case in point." - LA Review of Books