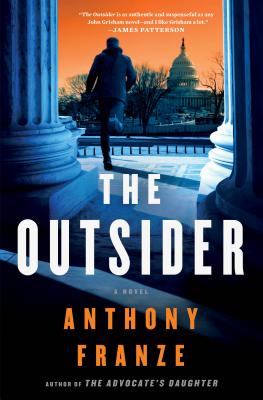 The Outsider
A Novel
Hardcover

* Individual store prices may vary.
Other Editions of This Title:
Digital Audiobook (3/20/2017)
CD-Audio (3/21/2017)
Description
A young Supreme Court law clerk finds himself caught in the crosshairs of a serial killer in The Outsider, a breathtaking thriller #1 New York Times bestseller James Patterson called "as authentic and suspenseful as any John Grisham novel."
Things aren't going well for Grayson Hernandez. He just graduated from a fourth-tier law school, he's drowning in student debt, and the only job he can find is as a messenger. The position stings the most because it's at the Supreme Court, where Gray is forced to watch the best and the brightest—the elite group of lawyers who serve as the justices' law clerks—from the outside.
When Gray intervenes in a violent mugging, he lands in the good graces of the victim: the Chief Justice of the United States. Gray soon finds himself the newest—and unlikeliest—law clerk at the Supreme Court. It's another world: highbrow debates over justice and the law in the inner sanctum of the nation's highest court; upscale dinners with his new friends; attention from Lauren Hart, the brilliant and beautiful co-clerk he can't stop thinking about.
But just as Gray begins to adapt to his new life, the FBI approaches him with unsettling news. The Feds think there's a killer connected to the Supreme Court. And they want Gray to be their eyes and ears inside One First Street. Little does Gray know that the FBI will soon set its sights on him.
Racing against the clock in a world cloaked in secrecy, Gray must uncover the truth before the murderer strikes again in this thrilling high-stakes story of power and revenge by Washington, D.C. lawyer-turned-author Anthony Franze.
Praise For The Outsider: A Novel…
"Descriptions of the law and how the Supreme Court operates are engaging, and Franze knows how to showcase the ins and outs of that world without diving into too much legalese…Readers unfamiliar with elements of the justice system will still find this a satisfying mystery. It's like a mix of John Grisham and Scott Turow alongside the inner workings of the court system. Toss it all together and the end result is this winning novel." —Associated Press on The Outsider
"There is so much to like about The Outsider, I don't know where to start. Anthony Franze has fashioned a potboiler of a tale that channels John Grisham, David Baldacci and Thomas Harris all at the same time…'The Outsider' moves at a blistering clip, never letting up or letting us down for a moment, as it realizes every bit of its considerable ambition." —Providence Journal

"As more murders take place, Franze raises the ante and with an astute piece of misdirection keeps the reader guessing. A lawyer in a prominent Washington firm and an expert on the Supreme Court, he uses his experience and knowledge to create an authoritative, taut tale of power and revenge that focuses on a justice-minded, admirable protagonist." —Richmond Times-Dispatch on The Outsider

"As we delve into (yet another) extremely good suspense by writer Anthony Franze, things are not looking up for character Grayson Hernandez… The mind of this author is so quick that he weaves a story so exciting it becomes a one-day read automatically." —Suspense Magazine on The Outsider
"The Outsider is as authentic and suspenseful as any John Grisham novel—and I like Grisham a lot."—James Patterson, #1 New York Times bestselling author
"Crafty and clever! Franze's insider knowledge of the Supreme Court sets this twisty legal thriller apart. The sympathetic plight of the outsider hero, Grayson Hernandez, will keep you glued to the pages; the explosive plot will leave you breathless."—Lisa Gardner, #1 New York Times bestselling author on The Outsider
"Truth, justice, and the American way, Franze-style. From the first page to the last, The Outsider is a stellar look inside the Supreme Court, and a killer thriller to boot. Franze has cemented himself as a top-notch legal thriller writer. If you like Grisham, you will love this book."—J.T. Ellison, New York Times bestselling author
"With an insider's eye for detail, Franze delivers supreme wickedness in a world few of us will ever be privy to. Franze is taking the legal thriller to new heights."—Linwood Barclay, New York Times bestselling author on The Outsider
"The Outsider is a thriller of the first order. Anthony Franze brings that rare combination of great storytelling and insider knowledge that will keep readers turning pages well into the night."—James Grippando, New York Times bestselling author of Most Dangerous Place
"Anthony Franze proves the adage that great lawyers make great storytellers. In The Outsider, Franze pulls off a remarkable feat: an adrenaline-fueled thriller that simultaneously illuminates Supreme Court history, precedent, and procedure. It's a must-read for lawyers and law students—and anyone who savors getting lost in a great book."—David Lat, Managing Editor of Above the Law, author of Supreme Ambitions

"The two plots converge when Hernandez discovers something in a colleague's computer, and detective work alternates with fights, chases, and Hernandez's life among the privileged, all ingredients of a fine thriller, and that's exactly what this one is." —Booklist on The Outsider

"Fans of House of Cards will love The Advocate's Daughter, a thriller that gives us a real insider's view of a Washington most of us will never see. The tension starts on the very first page, and keeps ratcheting up. Once it grabs you it won't let go." —Joseph Finder, New York Times bestselling author of The Fixer
"Fast paced, sharply plotted, and smartly written with an insider's knowledge of the land's highest court. A blast!" —Robert Dugoni, New York Times bestselling author on The Advocate's Daughter
"A taut and twisting thriller, The Advocate's Daughter is also a sensitive meditation on family and the price of secrets we keep from each other -- and from ourselves. It crackles with authenticity and moves with an irresistible momentum. Fans of Brad Meltzer and John Grisham need to add Anthony Franze to their must-read list." —Lisa Unger, New York Times bestselling author of Crazy Love You
"Smart, sophisticated, suspenseful, and written with real insider authenticity. A winner." —Lee Child on The Advocate's Daughter
"Gripping... fans of Brad Melzer should be satisfied."—Publishers Weekly on The Advocate's Daughter
"Franze's first fiction foray centers around a potential Supreme Court nominee whose secret involvement in a murder as a young teenager returns to haunt him... a nifty little read."—Kirkus Reviews on The Advocate's Daughter
Minotaur Books, 9781250071668, 320pp.
Publication Date: March 21, 2017
About the Author
ANTHONY FRANZE is a lawyer in the Appellate and Supreme Court practice of a prominent Washington, D.C. law firm, and a critically acclaimed thriller writer with novels set in the nation's highest court, including The Last Justice, The Advocate's Daughter, and The Outsider. Franze has been a commentator on legal and Supreme Court issues for The New Republic, Bloomberg, National Law Journal, and other major media outlets. He is a board member and a Vice President of the International Thriller Writers organization. Franze lives in the Washington, D.C. area with his family.
or
Not Currently Available for Direct Purchase