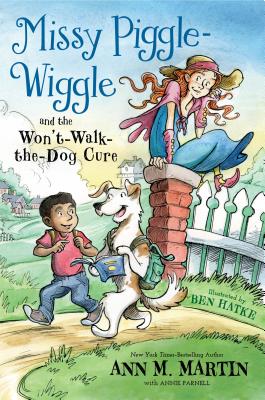 Missy Piggle-Wiggle and the Won't-Walk-the-Dog Cure (Hardcover)
Feiwel & Friends, 9781250071705, 240pp.
Publication Date: September 5, 2017
Other Editions of This Title:
Paperback (9/4/2018)
MP3 CD (5/1/2018)
* Individual store prices may vary.
Description
Missy's back for a second adventure in this spin-off series of the beloved Mrs. Piggle-Wiggle books from Ann M. Martin and Annie Parnell!
Missy Piggle-Wiggle is finally starting to feel settled in at the upside-down house, and the families in town have come to trust her magical cures for all sorts of childhood (mis)behavior, just like her great-aunt.
But right when everything is going so well, a terrible storm blasts through Little Spring Valley, damaging the upside-down house. Now the house is in need of repair (and isn't happy about it one bit), and money is becoming pretty tight for Missy.
And, on top of that, the children of Little Spring Valley continue to need Missy's inventive cures, such as the Smarty-Pants Cure, the Whiney-Whiners Cure, and the Won't-Walk-the-Dog Cure. Luckily, Missy knows just what to do!
About the Author
Ann M. Martin is the New York Times-bestselling author of Rain Reign and many other award-winning novels and series, including the much-loved Baby-Sitters Club. She lives in upstate New York.

Annie Parnell worked for nearly a decade with some of the most successful writers and producers in television. Today she works as a mommy, photographer, and writer, and lives in Los Angeles with her husband and their two children. Annie's books include Missy Piggle-Wiggle and the Whatever Cure and Missy Piggle-Wiggle and the Won't Walk the Dog Cure.

Ben Hatke is the author and illustrator of the New York Times–bestselling Zita the Spacegirl trilogy, the picture books Julia's House for Lost Creatures and Nobody Likes a Goblin, and the graphic novels Little Robot and Mighty Jack. He lives and works in the Shenandoah Valley with his wife and their boisterous pack of daughters.
Praise For Missy Piggle-Wiggle and the Won't-Walk-the-Dog Cure…
Praise for Missy Piggle-Wiggle and the Whatever Cure:
"Betty MacDonald's beloved Mrs. Piggle-Wiggle always had one-of-a-kind ways to remedy children of their annoying or impolite habits. Now, nearly 70 years later, her singular magic can enchant a new generation, thanks to this delightful contemporary follow-up." —Publishers Weekly, starred review